It's that time of the year again, Allergy & Anaphylaxis Awareness Week & last night on the news I saw a study looking into Allergies & Anaphylaxis in the pregnant mother.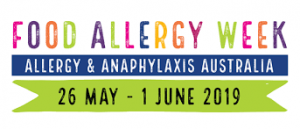 While I do love & welcome each & every study that is conducted into how we can prevent allergies & anaphylaxis developing, this story made me groan, sigh & then feel extremely heavy hearted for all the pregnant women out there with a history of allergy & anaphylaxis.
If you have a baby or child who has allergies and/or anaphylaxis. It is NOT your fault Mumma!
My own mother (who may or may not have had me over 40yrs ago) even says there seems to be so much more pressure on Mums to be about anything & everything. From diet & exercise to exposing bub to be to music & culture we are constantly bombarded with stories of what we should & could be doing to grow the perfect baby.
The story on 7 News states…. "Adelaide researchers believe what pregnant women eat could be the key to preventing babies developing potentially deadly allergies.
A world-first study is looking for expectant mums to take part in a landmark study that aims to discover whether eating more eggs and nuts during pregnancy can prevent allergies developing. "Some of these babies develop these allergies before they start eating solid foods," Dr Netting said. "So we think something's happening early on."
Two groups – Participants will be divided into two groups. One will be asked to eat six eggs and 60 peanuts per week, while the other will consume half that amount"……End Story Quote
Do you know what? I was part of a trial like this when I was pregnant with my daughter. I have allergies & anaphylaxis & so does my Dads side of my family. The idea was that if I could keep my own allergies under control & not have a reaction during my pregnancy I would not "turn on" the allergy gene.
Well, my pregnancy was perfect, I did not have a single allergic reaction or anaphylaxis during pregnancy. Also, interestingly (in relation to the current story) I lived on poached & scrambled eggs & ate crunchy peanut butter straight from the jar as well as mixed nuts.
And guess what my daughter is anaphylactic to?
Yep, Eggs & nuts.
The truth is WE DO NOT KNOW what causes allergies & anaphylaxis. So, while I understand that it is important for studies like this to be conducted because we may unlock a key here, I don't want anyone blaming themselves for their child's medical condition. Sometimes you just can't beat genetics & what will be will be. Being pregnant & living up to everyone's expectations can be tough enough, so you just do you Mumma. You already know what is best for you & your Bub.
And I happen think, My daughter is perfect just the way she is.
You may also like to read:
Allergies and Special Occasions