No matter how many children you have breastfed, each child and each experience can be different. One thing is for certain… people are keen to offer you their opinions, whether they are a family member, friend, or even (especially) a complete stranger. Despite being offered with the best of intentions, these opinions can sometimes put a dampener on your confidence and ability, or cause concern over whether or not your breastfeeding relationship and your child's feeding habits are 'normal'.
As parents, our lives are wild enough, without having to sift through the bad advice to find the good, supportive stuff. So, we decided to do the hard work for you!
Kiddipedia and Mama Clothing asked parents to share their top breastfeeding tips because let's face it… parents are wise. That's why we stay up late, eat the secret stash of chocolate, and binge watch new seasons of our favourite shows.
Breastfeeding journeys can teach us so much, and the parents who offered their words of wisdom are no exception. The following gems are from fellow parents, not medical professionals.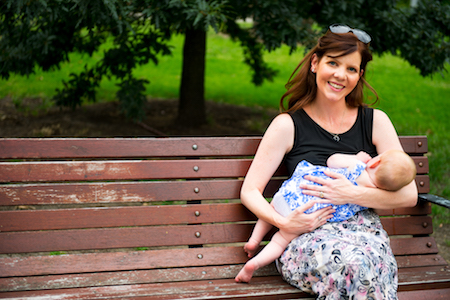 Please remember that these are things that worked for these individual parents during their breastfeeding journey/s; we all experience different circumstances. So, if you are experiencing difficulties with any aspect of parenting, breastfeeding or health, please don't hesitate to seek assistance from a relevant professional. We have included some contacts at the end of this article.
Breastfeeding can be a practical choice for many parents. Breast milk is portable and goes wherever we go; it's always at the right temperature; and it needs no immediate preparation (assuming you are feeding your child breast milk directly from the source… not everyone does, but that kind of dedication deserves an article all to itself – high five and boob on!).
However, breastfeeding doesn't always become second nature immediately, and most of us begin our journeys with a pretty steep learning curve. So, it seems fitting to start with some practical tips shared by parents:
Always look for early cues that baby is hungry and offer a feed then. Cues can be easier to notice if baby is situated close to your chest, such as in a wrap or carrier. Jessie, VIC
No-one tells you that the first 3 weeks are going to be tough, really tough. No sleep, a baby drinking off you at all hours of the day, the sore nipples… but hang in there, honey. You will get through this and it will be one of the most rewarding things you will do in your life – supplying your baby with the best gift to start a happy, healthy life. Narelle, NZ
It's all about supply and demand. Emma, QLD
Relax your shoulders. Bec, QLD
Learning to breastfeed is much like learning to ride a bike… but with your breasts. Letitia, QLD
If you're struggling, ask for help and find a supportive lactation consultant. I had a horrible 2 weeks with each bub, but it was followed by 18 months of easy boobin'! Melanie, QLD
See an international board certified lactation consultant (IBCLC) as soon as you can, if you have any issues! Kelly, VIC
Go to an ABA class before you start. It gave me so much confidence to start our breastfeeding journey. Kylie, NSW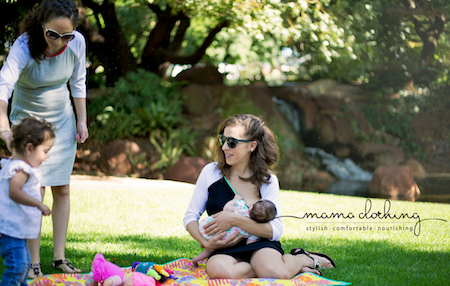 As many parents have discovered, there can be a complex emotional component to breastfeeding. When approaching a new breastfeeding relationship, a lot of thought and preparation is often dedicated to the practical side of things, sometimes leaving the emotional side of breastfeeding to sneak up and surprise you. It's so important to know you're not alone, and these hot tips from wise parents totally hit the spot:
No matter how hard it seems today, it will be easier tomorrow; never give up on a bad day. Jackie, NSW
The first 6 weeks are the hardest, then it starts getting easier. Every journey is different; even if you couldn't breastfeed one bub, doesn't mean you can't breastfeed another 😉  Symonne, QLD
Get help when you need it, and don't let anyone shame you if you're struggling! Breastfeeding isn't always easy. Sarah, NZ
Please don't ever let the fear of being judged stop you from doing the most natural and beautiful (not to mention, bonding moment) thing in the world. Jen, QLD
When the going gets tough, just take it one breastfeed at a time. Ashley, VIC
Whatever happens, you're not a failure. Try your best and find what works for you. Robyn, QLD
Last, but not least, here are the top three tips, as chosen by Kiddipedia:
Be sure to have the correct latch to avoid painful breastfeeding; experiment with different feeding positions to find the most comfortable way for you; make sure you have an amazing support team to help you when you're feeling down; and lastly, think positive thoughts as your precious baby feels what you feel and that will affect the way your baby feeds. Jordan, QLD
Embrace your baby. It can be so easy to help baby latch then spend the next 30 minutes staring at your phone. From putting down my phone I've realised how it improves my bond with my beautiful babe even more. Instead of staring at videos, baby clothes and news articles whilst watching my baby feed, massaging her little body and helping her to be comfortable, has improved our breastfeeding relationship ten-fold. Jacquie, NSW
My tip: stay positive. Breastfeeding is hard, physically and mentally. Everyone around you seems to have an opinion about it, even strangers.  It can be as beautiful and rewarding as it is challenging. Every time you breastfeed you are doing something wonderful for your baby, every feed is a victory. You and your body are amazing. Keeping positive can get you through the hardships you will face in your feeding journey. Ashley, VIC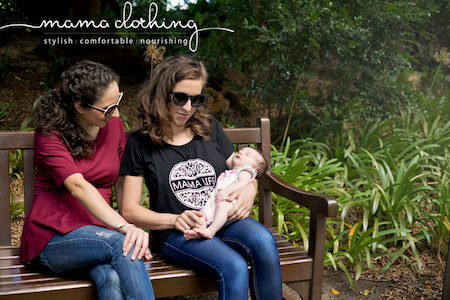 Thank you to all the parents who shared their wisdom; you make the world a little safer and the journey a little less lonely. I'm rarely short for things to say, but on this occasion, I think all our fabulous contributors have left me redundant. So, I shall summarise: you are not alone, you are brilliant, and in the wise words of Shelley from WA, "always pee before you feed; who knows how long you'll be feeding". Right on, Shelley. Right on.
Support services
Some comments have been edited for clarity and/or brevity
You might also like to read:
When can women return to high impact exercise after having a baby?