Media proudly brought to you by ABC Reading Eggs
Not sure how to support your child's development in the early years? Worried they won't be ready for school? Want to give your child the best start for a love of lifelong learning? We ask Zara Demeris, from Zara's Play Tribe, a primary school teacher and mother of two to Aiden and Evie, for her tips on how to ensure young children develop a love for learning, and it starts with developing an early love of reading!
Special trial offer: ABC Reading Eggs is the multi-award winning online reading program for kids aged 2–13. For a limited time only, you can claim a special 4 week FREE trial at https://readingeggs.com.au.
 6 Tips to Make Reading Fun at Home:
Often parents are juggling so many priorities but Demeris explains that nurturing young children's reading skills at home will not only assist them academically but socially and emotionally too, "It is vital. I believe, creating a close relationship between yourself and your child is the best way to nourish their developing mind."
Read with your toddler. "Reading with your toddler will help to create an association between books and family togetherness which is a powerful way to encourage a love for reading. Not only do you get to create lasting memories, but you get to give them the opportunity to develop language and listening skills. I have so many fond memories of curling up with my parents and listening to books, so special!"
Provide your toddler with constant access to books. "Have books everywhere, put a couple of books in the lounge room, bedroom, even the kitchen. Integrate books into the everyday by having them there and redirecting behaviour to books during those in-between times. Read a book on the floor while you wait for the kettle to boil – make those little moments amazing!"
Making it fun is exactly that, fun! "To me, this is the best part of reading with Aidan and Evie. When you are reading to your children exercise your voice, use exaggerated expressions for speech, be loud when the story is loud and be really quiet when the book is quiet. Even alter your body language, if the book becomes sneaky and quiet start to whisper, make your body small and crouched. Your children will love seeing you move and talk differently!"
Choose purpose-led learning on digital devices. There are so many educational apps available so choosing the right one for your child can be overwhelming. ABC Reading Eggs is an award-winning program that makes learning to read easy and fun for children aged 2-13. Based on scientific-research it has been designed by expert Australian educators and aligned to the Australian Curriculum, making it the best choice against other children's apps. It includes hundreds of one-on-one reading lessons that teach children essential early literacy skills, including phonics and sight word recognition. You can claim a special 4 week free trial here.
Get moving with books! "Aidan is a very active toddler so getting active with books has been a wonderful way to encourage him to feel excited about reading. If someone in the book is stomping, he acts like them and stomps his feet, if someone yells, he yells. It's noisy, it's big but it is so much fun!"
Don't let the reading experience end just because you finished the book. "Bring the characters and scenarios out of the book and into your toddler's play. Just read a book about a farm? Find some farm animals and create a scene from the book. Just read the 'The Very Cranky Bear'? Grab a stuffed bear and re-enact him being oh so cranky!"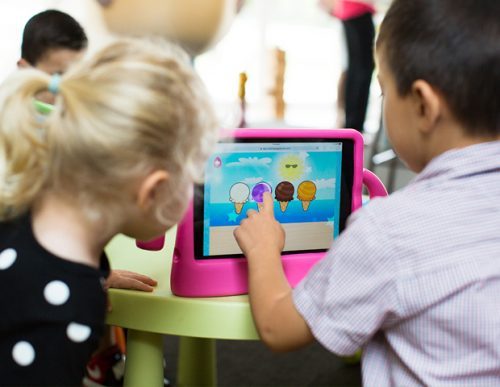 3 Ways Digital is Reshaping Education:
Purpose-led learning on digital devices is becoming more popular with parents who choose to give their child a smartphone tablet. We ask Demeris what digital trends are entering learning in the classroom?
Changes to the modern classroom. Whilst we need to limit screen time for young children, we can't avoid them all together, Demeris explains, "Computers, laptops, tablets and interactive whiteboards are becoming standard additions to the modern classroom."
New learning opportunities. "When used to their full potential, these digital tools can redefine a learning opportunity, providing something that previously was not possible! For example, instead of simply writing their understanding of a topic, students can create an interactive file with multimedia. Using audio, video, pictures and text to add depth to the explanation of their understanding."
Investment from schools. "It is great to see schools investing not only in these devices but in the education and training of their staff so that this level of digital integration is possible."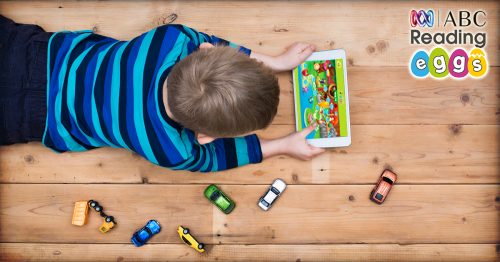 ABC Reading Eggs is a digital tool that redefines how a child learns with 91% of parents reporting a noticeable improvement in their child's learning.
For a limited time, ABC Reading Eggs is offering a 4-week trial of their award-winning highly motivational online program. To keep your child engaged while they learn to read register for your free trial today at https://readingeggs.com.au.
Your child will join over 10 million children worldwide who participate in a progressive sequence of highly interactive lessons, games and activities with over 2,500 e-books.
Your trial will include access to ABC Reading Eggs Junior, the most comprehensive learning program for toddlers aged 2–4, ABC Reading Eggs for ages 3–7, and ABC Reading Eggspress for ages 7–13. There is also a dedicated maths program, ABC Mathseeds, which makes maths fun for ages 3–9.
To find out more about ABC Reading Eggs visit https://readingeggs.com.au or view their Instagram, Facebook or YouTube.
You may also like to read:
Tips to get Children Excited about Reading
On a tight budget? 5 easy ways to support Home Reading