This month I caught up with Bree Hanson, a Mother of 3 children aged under 7 who loves making music for children and delivers music classes in Childcare Centres, Kindergartens and Community Centres. Naturally, I  asked her about her music however I was also keen to ask her about some of the issues the Child Care Sector is facing (after all it's where a lot of our children go for many hours each week), and of course, some good tips and hacks! Seriously, who doesn't love a good parenting hack!

As an Early Childhood Educator and a mother of three, what things make parenting easier for you?
Pick your battles.

If it's not worth fighting over then don't do it. This way when you do stand your ground, your child is less likely to resist because they are not always being challenged.
Give your children many choices.

We control so much of what happens on a daily basis. It is so important that children feel like they have some control over their lives as well. This can be as simple as choosing what they wear, asking them what they would like to eat or where they would like to go. If you think that their decisions are not healthy or safe choices, then it becomes a perfect opportunity educate them on making healthy and safe choices and to talk about the consequences of their actions so that they can learn from this.
Allow children to take risks. Children need to play away from their parent/guardians and be able to explore in a manner where there is no interruption from adults. This is vital in children's development to be able to make decisions when they are older. This is a tricky one in today's times but you can watch your children from a distance so that they feel like they are playing solo but in actual fact they are still safe.

Okay Bree, I love a good parenting hack. With your 13-years' experience in child care and having 3 children of your own you must have a few!
Pre prepare everything!!! It makes life so much easier.

Pack everyone's bags and get out everyone's clothes the night before. I actually have my eldests school uniforms in piles including stocking and undies at the start of each week so that I don't have to deal with it on a week day.
Mass produce dinners that can be frozen in to smaller portions so that you can have a few nights off cooking a week. I cook up 2kg of bolognaise sauce each time and then freeze it in smaller containers which lasts a few months if we have it once a week. I also do this for chicken stir fry, fried rice, vegetable slice, soups and sausage rolls.
Baby proof the house. If your house is fully baby proofed then you can go about your business whilst your children explore and play. There is no need constantly redirect them as everything is ok to play with.
Put a baby gate on your childrens bedroom door when they transition from cot to toddler bed. This way you can sleep soundly knowing that they are safe in their bedroom and not roaming around the house in the middle of the night or early hours of the morning.

Place an elastic band on the nozzle of a soap dispenser so that the children don't use too much soap.
Use art work as wrapping paper. You are not only helping the environment but you are giving someone a personalized wrapping paper AND you it saves you from throwing it away and upsetting your child.
Also take a picture of all artwork before you either dispose of it or give it away. If you keep them all in one file, it's a lovely way to watch how our child has progressed over time.
When cleaning up cooked rice and cous cous off the floor, spread a little sand over rice. It helps cleaning the floors so much easier.
Wash toys by placing in a bra bag and pop them in to the dishwasher or washing machine. ***Make sure that they don't contain batteries
If you have a grazer or a child who doesn't like to eat meals. Have a platter at the table or on the bottom shelf in the fridge containing all of the food that you would like them to eat for the day, eg: veggie sticks, cheese, sandwiches, crackers, meat, fruit etc. Encourage them to access it whenever they are hungry.
This is how my 7 year old ate between the ages of 1-2.5 years. It was so much easier than wasting energy on trying to get her to sit down and eat a meal when I wanted her to.
Have a present box. Whenever I see a cool toy or a great present on sale, I buy it and put it in to the present box. That way when the children get invited to their millions of parties during the year, it doesn't cost as much.
This is not a hack, but something I am very passionate about.
Keeping Children harnessed for as long as possible (at least until 8 years) and extended rearward facing for at least the first 2 years but even longer if below the height markers.  This is a great page that has taught me loads about car seat safety. https://www.facebook.com/groups/childrestraints/
Bree has been working as an Early Childhood Educator for 13-years and making music for children aged 0-7, for 6-years.
After a couple of years of running music sessions at her child care centre, B Minor Music was born and Bree expanded her wings and shared her music program with other centres.
"Two years ago, I published a nonsense song book called The Dibble Dabble Ding Dang Bonkers Song as requested by my daughter who asked me if I could make up a silly song for her. I enjoyed the process so much that last year, I produced my very first album Let's Make Music which features all of my original songs that I use during my music sessions."
Describing her music as eclectic, each song has a different style which includes hints of rock, country, pop, orchestral music and even reggae. Most of Bree's music is made with the intention of getting children to be active through creating action dances or songs which include props where the children are encouraged to follow directions through the lyrics.
Why do you love making music for children and working in the Early Childhood Sector?
My favourite part about creating music for children is seeing their reactions when they hear the music. It brings me so much joy when I see children happily bopping away and singing to my tunes.
Music plays such a valuable role in children's development. It is one of the few activities that actually activates, stimulates and uses both sides of the brain. It is the perfect tool for practicing language and helps children as young as babies to learn the meanings of words and sounds. The repetition of the songs help to develop communication skills and broadens children's vocabulary. Amongst many other skills, music strengthens cognitive skills through following direction, gross motor skills through movement, social skills through taking turns and sharing the love of music with other children. I love my job. It truly is the best job ever!
Children's passion for the little things in life is truly beautiful and they radiate love and happiness over the most simple of things.
The early years of a child's life have so much importance. It is a time in which children develop all of their major milestones and find out who they are as people and where they fit in to society. Being a part of such an important time in a child's life is such an honour and I cherish my time as an Early Childhood Educator.
What issues are the Early Childhood Sector facing?
The Early Childhood Sector faces many issues with low pay rates as one of the biggest issues that we face. Working full time in Childcare for the long term is not really sustainable if educators are wanting to buy a house, raise a family and go on the occasional holiday. Wages for a full time Educator can range from as little as $18-28 per hour which is The Children's Services award 2010. If the centres were to pay above this wage then the parents would have to cover this in their already high fees, so we really need the government to step in and help out.

Another issue we have is being called Childcare workers. A lot of people, including the media, still refer to us Childcare workers but we would prefer to be referred to as Early Childhood Educators as it is a much more apt reflection of our role
Most centres also lack the funds to buy and update resources so a lot of Educators buy their own or spend many hours making their own. I remember spending days driving around during hard rubbish searching for things that would be great for my centre. Although it was loads of fun, you don't see doctors and lawyers driving around looking for the tools that help them to do their jobs to the best of their ability.
Also getting the word out about the importance of play can at times be a struggle. Play based learning is the most effective way for a child to learn. Climbing trees and running around outside, playing with balls and riding bikes and scooters are great ways to develop gross motor skills. Drawing, playing with lego, playing with play dough even opening and closing pegs are great ways to develop fine motor skills.

Reading, singing and talking are fabulous ways to further develop language skills. Any form of role play, dressing up, playing with dolls, playing in home corner are fantastic ways to develop social and emotional skills. Puzzles, weighing items on scales, cause and effect toys for younger children and matching games are also wonderful experiences to help develop Cognitive skills. These forms of play are only just scratching the surface of the important role that playing has in the early years of a child's life.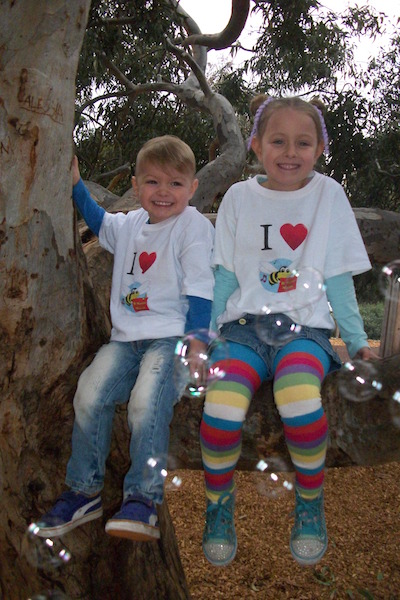 You can find Bree at http://www.bminormusic.com/
You can hear B Minor Music and more music for children daily on Little Rockers Radio.
This article was written by Sarah Morrissey, founder of Little Rockers Radio, 24/7 Music for children from birth to 6. Switch on for daily music, nursery rhymes, story time, yoga and meditation plus lullabies to soothe all night.
You might also like to read:
5 Ground rules for successful co-parenting
5 Things To Let Go of in Parenting that will Save Your Sanity
The Dangers of "Too Good" Parenting: Dr Simon Kinsella, Clinical Psychologist