By Becky Searles – Family Garden Life
Hands down, homegrown produce tastes better, is higher in nutrient value, and is the one form of 'organic' that you know is real, well that's if you choose to grow an organic food garden.
To be completely honest, in my eyes, an organic food garden is the only way to go and it's not that hard to achieve. With some basic knowledge and understanding of how you can work with nature and the right setup, you'll be on your way to growing and harvesting in no time.
You'll find the set up will be your biggest cost and it will depend on what you want to achieve. From a small raised garden bed to a big plot, the set up will take into account a number of factors.
Then it comes down to the way you go about it and the process of learning and applying each season. To see a return on investment you need to commit to your food garden because that's how you move closer to achieving the right supply/demand balance. Not only will you improve your skills you'll also absorb the setup costs. Then the magic happens and growing your own organic food starts saving you money.
Setup costs
You'll be spending money on things like raised beds, soil, seedlings, seeds, organic fertiliser, mulch, a type of compost and garden tools. Another thing you need to consider is water. Most vegetables have shallow roots and they like free draining soil so regular watering is a must.
Overtime, you'll get better at growing what you need and what you can use efficiently in your garden kitchen. Here are some of my tips to growing for less.
Saving money growing tips
Composting
Each season when you start preparing your beds, you'll need to review your soil and make sure it's rich in organic matter. An organic gardener will use compost to achieve this. Most of the time, this will ensure your new season crops are getting the right nutrients through their roots to grow strong and healthy.
Composting is really simple, and you can easily turn your food scraps (varies on which system you choose) and garden litter into organic matter for your garden and reduce your family footprint at the same time. It's a win, win.
Planting crops that can be harvested over time
By selecting and planting crops which you can pick continually over a season like silverbeet, tomatoes, cucumber, eggplant, ornate lettuce, beans & capsicum, you'll be getting more for less.
These veggies will just keep on giving. You only need a few plants of each and you will have a continual supply for months. Imagine filling your harvest basket to the brim on a regular basis.
Planting at intervals
This technique is called staggered planting and can really extend your crop. For example, you could start 2 tomatoes plants in August and then another 2 in November. When the first crop is exhausted the second crop takes over and continues your supply.
You can use this same technique with crops you grow in the cooler weather like cabbage, beetroot and cauliflower. Plant approximately 4 weeks apart and the supply will be continued.
Think smart with space
When you first start out you might not be thinking about how much you can fit in your space, but as the seasons pass, you'll be eyeing off that trellis, hanging basket, pot or bucket. I run by the philosophy that if it can hold soil, it's sure to grow something.
Getting more in your space is always going to be more rewarding. Plants that climb are great to grow vertically like pumpkin, beans, snow peas and even cucumbers. Wall gardens, a teepee frame, climbing frames, pots, planters, they all offer an opportunity of more food for your family.
Seed raising and collecting
This can be a little scary at first, but as soon as you've done it once, you'll see how much it saves you and I'm talking BIG savings.
Start off with heirloom seeds. These seeds are going to be the best for saving. Not all seeds can be regrown. Seed raising can be commenced 4-6 weeks before they go into the ground. Start your seeds using seed raising mix and keep them in a protected spot.
When you master seed collection, this is just like banking money. From one single heirloom cucumber seed, I can grow up to 20 cucumbers. You'll be having all your friends over for a salad party with that number!
Picking herbs fresh
It's simple maths here. Buy a herb plant for $3 which you can harvest multiple times and eat fresh, or buy a set amount of cut herbs from the supermarket in a plastic sleeve for $3 and I bet you'll throw half of it out.
Growing herbs saves you money, end of story.
 Preserving, drying and storing your excess
When you have been growing for a couple of years and you have a really great understanding of your output each season, then making your excess last outside of the season is a real cost saver. I'm talking dried herbs, pickled tomatoes, tomato sauce, blueberry jam, beetroot conserve, pesto, frozen roast vegetable sauces, the list goes on and on.
It's the ultimate form of self-sufficiency and minimal waste. We love that at Family Garden Life.
So now is the time to get started and keep going on your family's organic home grown journey. We love helping families grow so if you are serious about making a difference to your families health, we can help.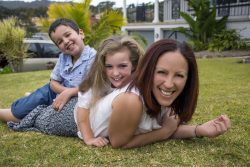 Becky Searles – Family Garden Life
You may also like to read:
How to Teach Children the Value of Money
How to Stop Children from being Materialistic