Media brought to you by Spriggy.
Every parent wants the best for their child with the hope they have a happy, healthy and prosperous life, and one that surpasses ours.
Without knowing it, a parent is a child's first teacher. It is our role to coach, tutor and in-grain essential skills to help prepare and best navigate their lives through challenges. Irrespective of how our lives have played out, it is our duty to make them acquainted with our achievements and disclose the lessons we've learnt from in the hope they will not repeat them.
If our children are to grow to have bigger better lives than ours, the ability to avoid bad debt and money stress is a critical life skill to acquire. Whether you are materialistic or not, the strength of our financial smarts is the foundation on which we build our lives.
For many children, their first interaction with money is generally one of observing their parents experiencing financial stress. Not a great introduction we would all agree. Australian households debt is now one of the highest in the world and has steadily risen over the past three decades with the ratio of household debt to disposable income continuing to rise to record highs.
Once children have had a negative exposure with money, we have to rewire the brain to re-introduce the experience to a positive one, not that of worry and stress. If only there was a product on the market to foster a positive introduction to money and learn savings goals.
Practical experiences with real money can help develop discipline and proficiency. As parents opening a bank account for them is usually how we start. This has been standard practice for generations however recently Australians have started to lose trust in the four big banks through their lack of honesty and loyalty to consumers. An example of this is the recent breach of trust by the Commonwealth Bank where retail branch staff fraudulently manipulated children's accounts in order for staff to meet their targets. It is the belief of many Australians that these financial institutions should do more to help users live happier financial lives whilst they continue to boast about record profit margins.
Cash is important to early development, but in reality, children will not use it. With our busy lives, pocket money often gets forgotten making it difficult for children to build skills in saving. With the introduction of new technologies and contactless payment apps, Australia is moving closer to a cashless society.  We're removing money from the physical world and harming their ability to learn but not providing a viable alternative.
In a world where we are losing trust in banks and simultaneously moving towards a cashless society, how in our digital age do we teach children the value of money?
If only there was a product in the market that bridged the gap and provided parents with a safe, convenient and supervised way to turn pocket money into practical life lessons.
Well, would you believe there is, and it's called Spriggy!
 Spriggy are on a mission to help Australian kids raise their financial skills.
They are fully independent of the banks which, allows them to focus on delivering education to our kids – not a marketing tool for credit cards and mortgages when they are older. How refreshing is that in today's society?
In the last 18 months, Spriggy has grown to over 115,000 members (how have we not heard of this before) and families getting real results with their kids.
So, how does Spriggy work?
It is a fresh and fun way to teach kids the value of money, how it is earned, how to save for the things they really want and spend wisely.  The Spriggy app allows kids to apply real-world experiences in a controlled and transparent way.
Excitingly, Spriggy helps families by encouraging open, honest conversations about money,  providing opportunities to teach responsibilities that come along with it and life lessons that are not taught in school. As a bonus, it's a huge time and stress saver for us busy parents, as let's face it, life is busy.
Spriggy provides an app for parents where they can:
View all their kids in one place
Instantly transfer money
Set automatic pocket money payment – so no more arguments over what was paid when
Track spending in real time
Lock cards instantly if needed
Kids also get an app which includes:
A child-friendly interface they can understand
Their own login that can be used on their phone/tablet or from the parents
Visual savings goals to help develop delayed gratification and an understanding of needs vs wants
A spending tracker
Separate savings and spending accounts
Kids also receive a personalised prepaid pocket money card:
The card is limited to preloaded funds (excluding those in saving), no credit
Can be locked instantly
Is powered by Visa so kids can spend their own money in-store, online and at app stores – no more borrowing mums card!
Is safer than cash with complete visibility on where the funds are spent.
For kids, Spriggy helps build responsibility and independence. It teaches them to make better decisions with their own money while encouraging them to use their visual saving goals.
Kids learn how to balance earning, saving and spending providing a positive experience with money. Over time parents can give more and more responsibility to kids helping them manage larger budgets and extending the tie between pocket money to more closely match the real world.
Learn more about How Spriggy Works
The team at Spriggy identified that kids need real-world experiences that they can relate to. "Spriggy teaches positive savings habits with visual savings goals that help develop smarter spending behaviours" says Mario Hasanakos, Co-founder of Spriggy "Mistakes are good, that's how we learn – better when they are 8 than 28"
"Spriggy helps teach financial literacy by introducing kids to real, relevant money. Allowing them to experience daily budgeting and building an understanding of needs vs wants all under the supervision of parents. Thus, opening conversations and the taboos around talking about money" says Mario Hasanakos.
"We are of an age now that we can't leave it to banks and school to teach our kids"
 Spriggy is a super convenient tool for parents to stay on top of their kid's financial education and is safer than using cash – saving time and back and forth to the bank to make deposits. Oh, Spriggy is highly rated by the busy mums of Australia too. Read some of the amazing Spriggy app reviews.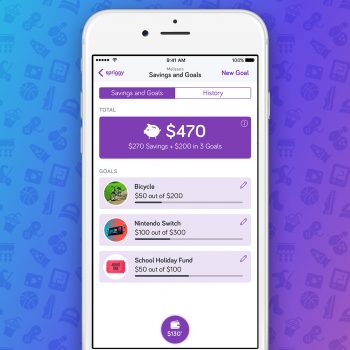 The revolutionary app is available for children aged 8-17 years, and from August 6th, children aged 6-17 years.
"Due to members demand we have extended the age to 6. Many families start the pocket money journey when kids start school, so we have brought this into line.
Many families also did not want to leave one of the kids out of the Spriggy experience and needed a solution that catered for the whole family"
Spriggy, provides parents with an opportunity to build memorable experiences through technology.
It's heartwarming to know there is a product on the market you can trust and can help make a difference in your child's life to build a bigger, better future for them, and generations to come.
TRY SPRIGGY WITH YOUR FAMILY TODAY
——————————————-
Resources:
https://www.businessinsider.com.au/australias-household-debt-is-now-one-of-the-highest-in-the-world-2018-1
https://www.corelogic.com.au/news/household-debt-levels-continued-climb-throughout-2017#.W0qtaNgzbXQ
http://www.abc.net.au/news/2018-05-19/commonwealth-bank-staff-manipulated-childrens-accounts/9779010
https://au.trustpilot.com/review/spriggy.com.au