With Christmas and New Year done and dusted, we can practically hear parents screaming, "Where am I going to fit the new toys? Why are our kids toys and craft taking over our home? I need to get more organised this year!"
New business owners Natalie Figueroa and Naomi O'Rourke have got you covered. With 15 years of combined experience in the childcare industry, they have just launched Harmonious Homes, which is aimed at helping families organise their spaces to encourage children to explore, learn and thrive, while maintaining a sense of order and calm. Yep, they'll even cue your children to pick up after themselves!
If that sounds too good to be true, read Natalie and Naomi's 9 steps for creating space if, like the rest of us, you feel overcluttered with new toys from the Christmas-present influx.
Step 1: Purge
A purge is a difficult but necessary step to get your home organised as you try to start fresh in 2021. Clear out all the toys that are broken or no longer age-appropriate – anything that hasn't been played with in the last six months should be moved on too, as your child has most likely lost interest.
Step 2: Make Piles
Time to organise the toys you have left into categories: soft toys, building blocks, dolls, craft… The list is endless, depending on the toys your child has collected! Sorting your toy stash will make the next steps easier – trust us!
Step 3: Create Purposeful Zones
Turn these categorised piles into zones, ensuring that every place makes sense. This will aid in making things tidy and helps your child learn where everything belongs. A great way to create these zones is through shelving: a shelf for craft, one for books, another for dress-ups… It's important to remember that your space should be visually appealing and functional. For instance, if you want your child to have access to some things (like stuffed toys) but not others (think: craft supplies), you should display and stash accordingly. Give your child easy access to certain things and place ones that require supervision out of reach.
Step 4: Contain the Fun
Look for different ways to store toys: containers, buckets and baskets are a great starting point. A hot tip is to stick to neutral colours, allowing the toys to be the pop of colour in your room. It's also a good idea to have accessories such as hooks that your child can hang things on, such as dress-up clothes, as this promotes self-care – your child is learning to take pride in their possessions, rather than just throwing everything in a dumping tub.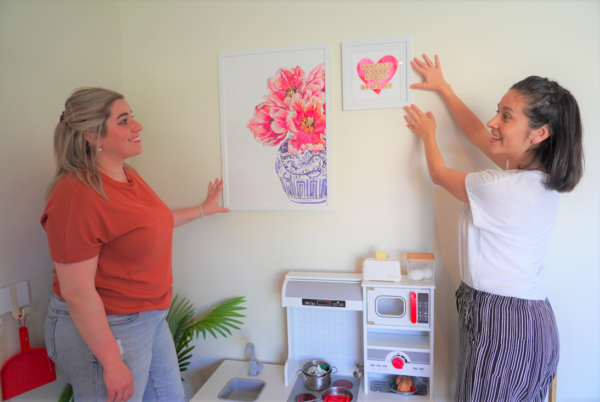 Step 5: Don't Over-Stock
There's no need to have 1,001 versions of the same toy, and this can often end up happening if you have too many toys, as you forget what you had to begin with! A great hack here is to only stock your containers three-quarters full. Kids need to be able to lift them and pack them away – the aim, after all, is for your child to not only enjoy their toys, but to clean up after themselves. Too full makes it too hard for them to lift and often creates more mess as your child will need to sift through to find a favourite toy. If you do
have too many toys, you can put some that you are not prepared to throw out in a storage bin and rotate the toys periodically. This will make old toys feel fresh to your child as they are cycled back through!
Step 6: Use Every Inch of Space
If you need storage units, place them at the edges of the room, so your kids have space to play. Shelves and hooks are also a great way to free up floor space.
Also, don't limit yourself to using kid's furniture. You want your home to be enjoyable (both physically and visually) for both your child and you. Remember that your child won't be young forever, and if you invest in more grown-up-looking furniture, you will be able to use it for years to come.
Step 7: Time for a Site Inspection
Introduce your child to their new and improved space! Show and explain to them the purpose of each new zone and storage solution. We truly believe in respecting children as young human beings, and one way you can do this is to empower your child with the responsibility of looking after the new space. When they are comfortable in their space, they will want to look after it.
Step 8: The Chat
Ideally, your child is now inspired by the gift of their new playroom. Use this time to remind your child that, firstly, they have a cool new room. Then, you could suggest that for each new toy they received for Christmas, they will have to make space for it by giving away an old toy.
Now is also a great opportunity to gently explain to your child (if you haven't already) the impact that purchasing has on the environment. For example, plastic toys will end up in landfill once thrown out. Purchasing fewer toys is one way to counter this, but you could also make an effort to look for toys that are made from eco-friendly and recyclable materials.
Step 9: Give your toys a second home
Remind your child of how lucky they are having so many toys and how much fun they have had playing with them. This can start the conversation on how other children can be less fortunate and could possibly get the same enjoyment if you were to donate them. It may be difficult for them to understand, however you may be surprised at how empathetic they will be. Once they understand look through the toys you've decided to toss together so they can pick out the special ones that can be donated.
To find out more about Harmonious Homes, visit www.harmonioushomes.com.au/
You can also listen to Natalie and Naomi's podcasts The Childcare Diaries, for tips, knowledge and understanding about the childcare landscape, and What's Been Going On? for discussions about current events and topics that are affecting families.