Media kindly brought to you by VTech
Cars can accelerate, reverse, slow down, go uphill, and change lanes, so it's no surprise that young kids are captivated by their sheer range of movement! Toddlers take to toy cars like ducks to water, because it puts them in the driver's seat when exploring a variety of scenarios during playtime that are inspired by the world around them.
Toy cars are a surefire way to develop a child's motor skills and boost overall brain development, but it's worthwhile to know that they can also teach enduring lessons and ignite life-long passions. Whether it's simply going from place A to B, taking part in a race, or taking the (toy) car to the mechanic, these simulated activities teach kids about cause and effect, acting safely on the road, and associated hazards.
Introducing Toot-Toot Cory Carson
Toys, along with the help of a guided narrative, can work wonders in bringing real-world concepts to life for kids. Just ask Cory Carson! Star of the popular animated Netflix series Toot-Toot Cory Carson, Cory is an adorable kid car with an engine full of fun! He explores the town of Bumperton Hills along with his friends, and under the watchful eye of the grown-ups. While an eager and playful spirit often gets him into challenging, yet entertaining forks in the road, kids love Cory's adventures, as they learn about his abilities and limitations together.
Better still, VTech has just launched a range of products based on the series, featuring the six main
character vehicles and playsets inspired by locations from the show. They are an excellent resource for parents in encouraging their kids to play along as they model/imitate the healthy behaviour of their TV hero.
Let's now take a look at how toy cars like Toot-Toot Cory Carson can actually support children's development.
Toys to develop cognitive and motor skills
Wheeled toys are a fantastic choice for encouraging wide-ranging movement through play. This applies to younger kids in motivating them to move themselves around the room in pursuit of their car's destination, or alternatively, for more confident movers who are beginning to experiment with different heights and terrain as their imagination fuels the journey with their car. In both cases, toy cars let them practice task-focused movement and regulate their balance and coordination.
Paired with the flexing of their fine motor skills during this pretend play, opportunities abound for cognitive development as toddlers make meaningful associations with their head and their hands. The repetition of their 'driving' patterns will strengthen their memory and attention span, trial and error learning will take place as they zigzag and inevitably cause collisions, they'll learn to problem solve and engage in creative thinking to overcome tricky 'road' obstacles; all while experiencing a healthy outlet to model the real-world scenario of mum and dad steering the family car as they watch on from the back seat.
Toys to teach cause and effect
The start and stop movements associated with cars, offer an invaluable lesson for kids and an appreciation for movement and its consequences. Interaction with a toy car will demonstrate to young children that they have the power to change an aspect of their environment and encourage intentional play that adjusts for this cause and effect.
Here are just some of the dualities or 'flipped' concepts that kids learn by pushing a toy car around its environment:
Go versus stop
Fast versus slow
Smooth versus bumpy (terrain)
Straight versus winding
Safe versus dangerous
Propulsion, and the excess or lack thereof, is another, trickier concept kids don't get to experience as well with non-wheeled toys. How quickly a car will roll down or move up an elevated surface, based on the pressure they apply, is a powerful lesson in gravity and also of their own strength! And this takes on a whole new level of experience and meaning if your child is old enough, and has access to a ride-on car device. These days, such toys feature some impressive, mock functionality such as a moving/clicking ignition and working horn, to enhance kids' awareness and full-body motor skills.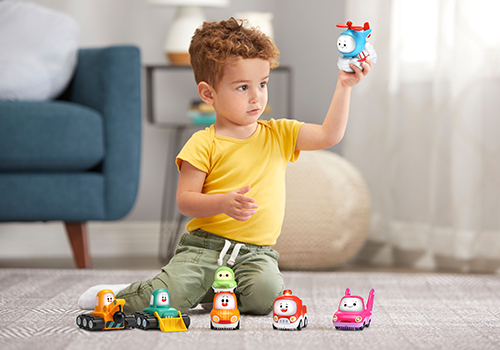 Toys as a gateway to early STEM education
It's never too early to encourage STEM education, and believe it or not, hands-on playtime with toy cars is a first step for kids in developing an interest and basic appreciation of STEM. A love of cars may turn out to be a passing phase for your child as they outgrow the toy equivalent, but they will still gain valuable exposure to basic engineering principles such as velocity and mass (how quick the toy car moves according to its weight). Whether they realise it or not, they are doing calculations as they play to get a desired effect, and it may well spark a lifelong curiosity that parents can nurture through further education.
Car-based toys can scale as your kids grow, and while novelty items like a car-shaped bed are super cool and bound to get them excited, it doesn't hurt to think a little deeper, and for the long term. This means gradually upgrading simpler toys with more complex, age-appropriate ones, such as kits to construct their own toy car. In the meantime, while their training wheels are still on, Toot-Toot Cory Carson is sure to keep your preschooler delighted!
Visit the VTech website for more information on the new toy range, and don't forget to add the Toot-Toot Cory Carson series to your Netflix favourites list! Season 1 and 2 have now been released, along with 3 other special episodes – The Chrissy, Toot-Toot Cory Carson Summer Camp and a Toot-Toot Cory Carson Halloween.
You may also like to read: