Most children go through a stage in their lives where they become fussy eaters. This often happens when the children's growth has slowed down and they do not need to eat as much as they did previously. My eldest had a small appetite and little interest in food when she was younger so I would like to share with you the strategies that I put in to place to ensure that her daily dietary needs were being met.
Firstly, in order to maintain a healthy relationship with food, it is important to never place pressure on children to eat.
Not all children like to eat full meals
Place a plate of food that includes your child's daily nutritional needs on the bottom shelf of the fridge or at a table at their level with a drink bottle filled with water so that they can eat throughout the day as they need.
This might include foods such as veggie sticks, cut fruit, frozen peas, dips, dried biscuits, croutons, sandwiches, pumpkin seeds, pasta, special K without milk, dried fruit etc.
Include your child in preparing their meals
Include your child in preparing meals. I encourage my children to help with peeling and cutting the veggies (there are great child-friendly peelers and knives on the market for children these days) and also serving their own portions. It gives them a sense of ownership which in turn encourages them to eat.
I also find that if children are able to be included in the cooking process that they will often pick at the food whilst it is being prepared which means that they may not have to eat as much of their meal.
*My children often eat a carrot each whilst I'm cooking dinner so I don't include it in their meals if we are having a meat and three veg meal.
Hide veggies in everything.
There are loads of meals that you can hide veggies in that children would never know about.
Spaghetti bolognaise and sausage rolls are my favourite secret veggie meals.
Veggie pikelets, mini quiches, fried rice made with cauliflower instead of rice are also winners in my house.
Make food fun
One of the most successful ways I was able to get my daughter to eat during her fussiest period was to create what I call fun food plates. Making faces with the food or serving it in a fun way makes eating fun and creates a positive experience when it comes to eating.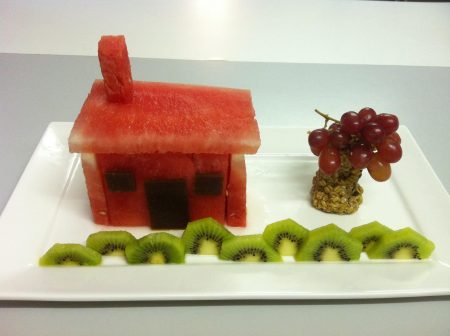 Watermelon House
House = Watermelon
Door and windows = Fruit roll up
Garden = Kiwi fruit
Tree = Muesli bar and grapes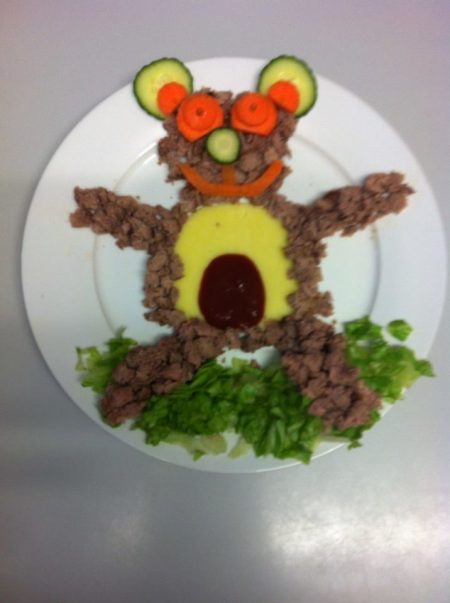 Teddy Bear
Bear = Chopped up steak
Belly = cheese slice and tomato sauce
Ears and nose = Cucumber
Eyes and ears = Carrot
Mouth = Carrot peel
Grass = Lettuce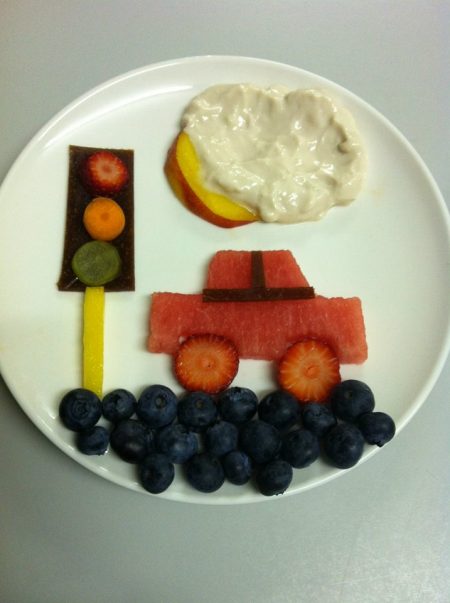 Car and Traffic Light
Car = watermelon
Wheels =Strawberries
Windows = Fruit roll up
Road = blueberries
Sun = Peach
Clouds = Yoghurt
Traffic light = Fruit roll up
Pole = Peach
Green light= Grapes
Orange light = Carrot
Red light = Strawberry
Home amongst the Gumtrees
House = cheese
Roof = Sandwich, (fillings as requested)
Windows and door = Fruit roll up
Tree = Broccoli drizzled with lemon juice
Sun = Lemon slice
Grass = Spinach leaves
Flowers = Grapes with Spinach leaves stalks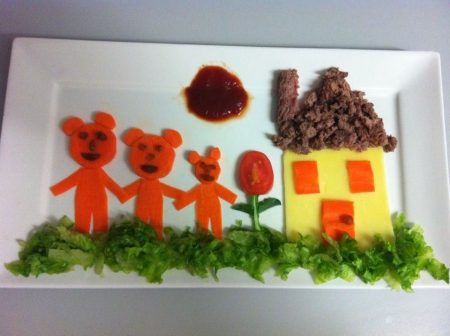 Three Bears
Bears = Carrots
Eyes, nose and mouths = Sultanas
House = Cheese
Roof = Chopped steak
Windows and doors = Carrots
Doorknob = Sultanas
Grass = Lettuce
Sun = Sauce
Flower = Tomato slice and broccoli leaf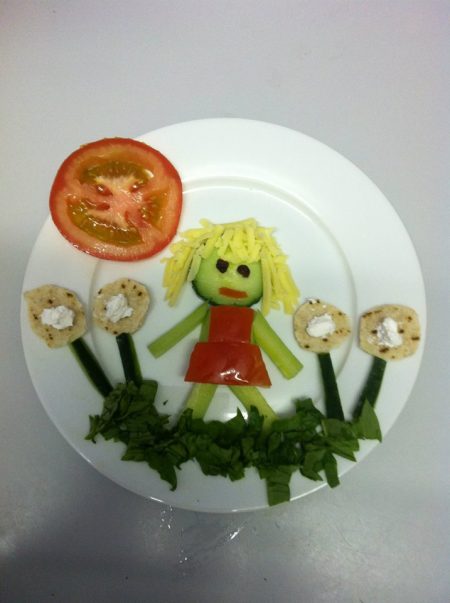 Goldilocks
Goldilocks = cucumber
Dress and mouth = Tomato
Hair = Grated Cheese
Eyes = Sultanas
Sun = Tomato
Flowers = Pita bread, cucumber and tofuti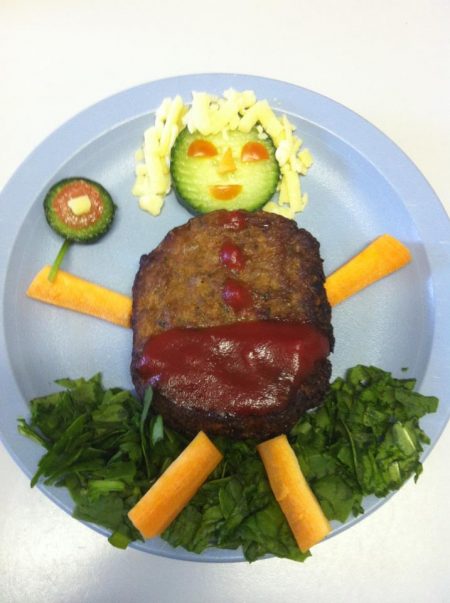 Lollipop Lady
Torso = Risole
Arms and legs = Carrot
Face = Cucumber and tomato
Hair = Grated cheese
Clothes = Tomato sauce
Grass = Spinach leaves
Lollipop = Spinach stem, cucumber, tomato and
cheese