We are sure you have already noticed rainbows, pastel colours, sparkles and unicorns are the trends right now. They are all over social media and our kids are going wild about them. Any food item decorated, dyed and added with accessories of colourful designs to look like into anything related to unicorns.
These food items look so magical and instead of eating something normal and boring, better to start preparing your chic cupcakes or frappes with these wonderful ideas we have compiled and collected. The kids would definitely want to help and decorate while you try your best to make them look glittery and eye-catching.
Enjoy!
'Healthy' Unicorn Food Ideas
Rainbow Smoothie
A colourful smoothie made up of fruits, berries and spinach. You just have to get all the colours from whatever fruits you have. What a healthy and colourful smoothie this would be.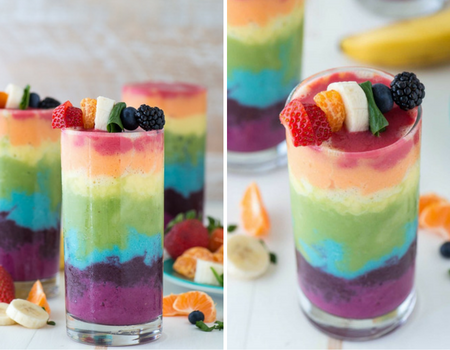 Source: www.thefirstyearblog.com
     2. Unicorn Sushi
What a colourful way to eat sushi. This is an all-natural recipe to make unicorn sushi, which I'm sure the kids would love to eat. This would be a great idea to make the kids eat healthy food.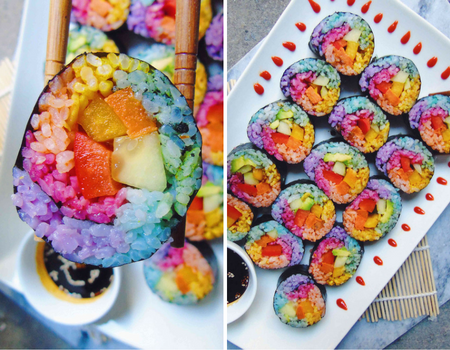 Source:  www.theindigokitchen.com
  3. Unicorn Noodles
Have you seen anything like it? Colourful noodles that you can eat with however you like, you can add vegetables, meat or tuna. Enjoy!
Source: www.theindigokitchen.com
    4. Unicorn Spring Rolls
Now that you know how to make unicorn noodles, why not try these unicorn spring rolls as well. These are summer rolls filled up with vegetables, fruit and herbs.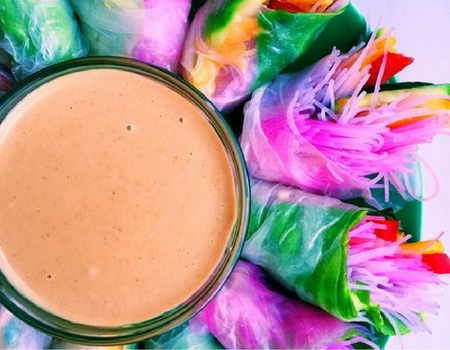 Source: www.realsimple.com
   5. Rainbow Cauliflower Crust Pizza
Do you want to make your kids eat cauliflower, broccoli and other vegetables all in one recipe? Then try to make this pizza recipe packed with all the vegetables you never imagined the kids would like plus its colourful and trendy.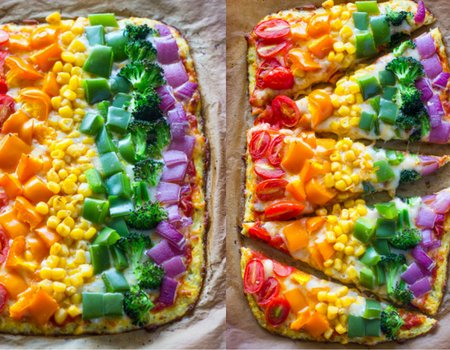 Source: www.gimmedelicious.com
6. Rainbow Salsa Recipe
Do you enjoy eating your chips with dip or salsa, then try this tasty rainbow salsa recipe. This would be a delight to eat with the whole family.
Source: www.gimmesomeoven.com
Unicorn 'Sweet Treats'
1. Unicorn Toast
A simple toast bread made into a unicorn food item. An easy recipe made up of toast, cream cheese or yogurt and a few sprinkles.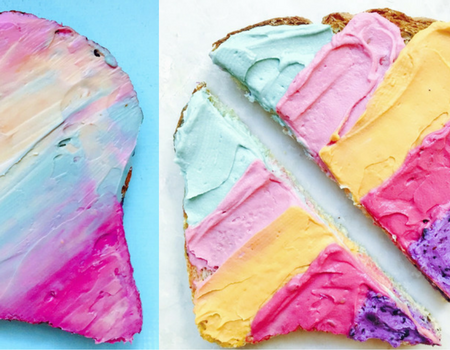 Source: www.culturetrip.com
Courtesy Adeline Waugh | Vibrant&Pure
Unicorn Popcorn
Wouldn't you be excited to have this colourful popcorn snack while watching a movie? I'm sure I would, so try making this one today.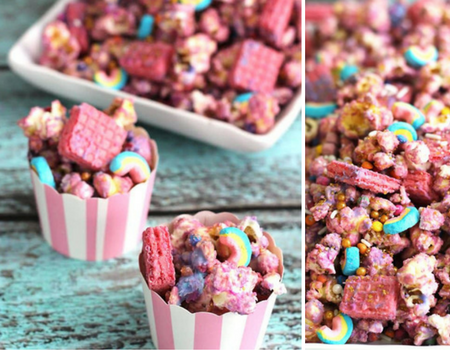 Source: www.sweetmakesthree.com
    3. Watercolor Cake Roll
A simple roll cake but covered with pastel watercolour pattern. This is not so fancy decorated as with the other items we have on this collection but still has a sense of rainbow and unicorn to it.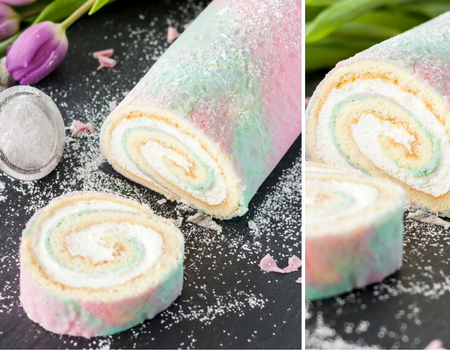 Source: www.livforcake.com
       4. Rainbow Swirl Buttercream Frosting
The frosting is very easy to do. You just have to mix a few coloured of sugars and just be creative in combining.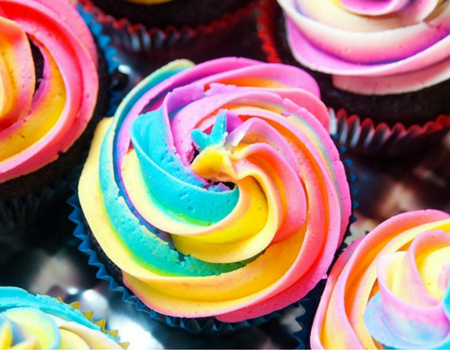 Source:  www.thebewitchinkitchen.com
5. Unicorn Milkshakes
Does it look too much? Not for unicorn milkshake, enjoy this milkshake with a coconut-strawberry ice cream base and a daze of anything unicorn, starting from the straw, candy swirl, the sprinkles, the rainbow candy and the unicorn head.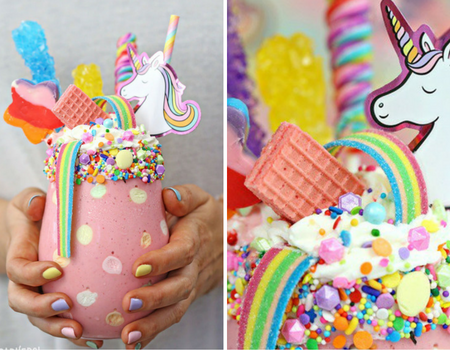 Source: www.sugarhero.com
     6. Unicorn Marshmallow Dream Bars
This gooey and chewy bar is made up of Fruity Pebbles cereal, butter and marshmallow. Kids would love looking and biting these treats.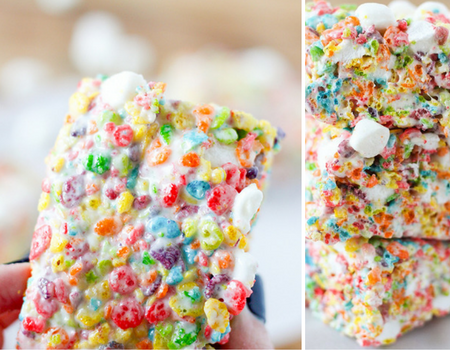 Source: www.number-2-pencil.com
    7. Unicorn Marshmallow Pops
These unicorn heads would look so cute to serve at kiddie parties. These are very easy to make with marshmallows and white fondant.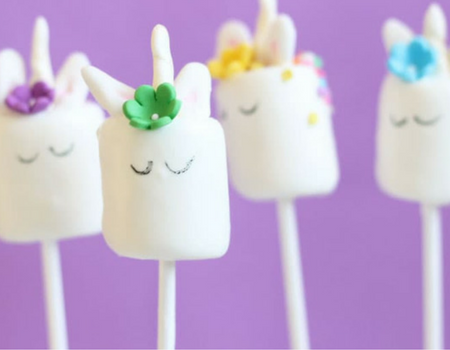 Source:  www.thedecoratedcookie.com
8. Unicorn Cheesecake
Everybody loves cheesecake and why not make it into a unicorn. This is a pretty quick and easy, no-bake unicorn cheesecake everybody will enjoy.
Source:  www.recipe-diaries.com
    9. Colorful Homemade Doughnut Glaze
This is a recipe for a homemade glaze, so you can use this same recipe to put frosting on cakes. Just add a few sprinkles and small candies to add to the décor.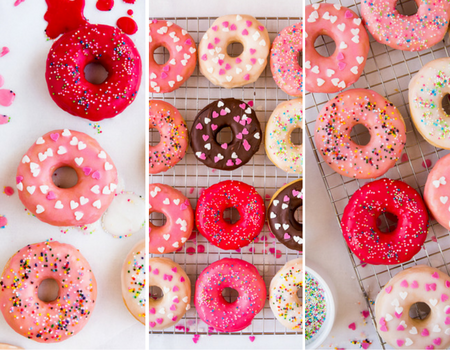 Source:  www.asubtlerevelry.com
You may also like to read:
Kid-Friendly Recipes for Summer