I love rhubarb and when I was little had it all the time. Not only was it a firm favourite at the dinner table, it was also grown in the backyards of family friends and ours as well.
The flavour of rhubarb is so yummy and conjures up warm winters and nights by the fire with a rhubarb pie or crumble after dinner.
Rhubarb is super versatile, it can be baked, used in sweets and puddings, as a marinade, jam/chutney, added to ice creams/sorbets and so much more!
This amazing vegetable is now in season, so grab some at your local fruit and veg shop and get cooking.
Did you know?
The leaves of Rhubarb are poisonous and should never be eaten or given to animals.
Rhubarb is high in iron and vitamins C and A.
Rhubarb is a vegetable and not a fruit. Although Americans "in the 1940s, took rhubarb to court and changed its classification to fruit for the purpose of regulations, thus changing the taxes and tariffs associated with it." (SBS.com.au)
Rhubarb was only used in 1800's in the UK and America for cooking. Previously it was used medicinally for digestive issues and as a treatment for cold sores.
The words, "Rhubarb Rhubarb Rhubarb" is used in acting to pretend you are talking about something but not actually saying anything. Some people use this phrase to also convey silliness and nonsense when they need to. Maybe when all the kids are going silly yell, "Rhubarb Rhubarb Rhubarb!" And see what happens.
Since rhubarb is available now, I wanted to make a few dishes. I was keen, as I have never cooked with Rhubarb before.
I started my Rhubarb experience with a classic, Apple and Rhubarb Crumble.
Apple and Rhubarb Crumble
Preheat oven to 180°C and 160°C if fan forced oven.
I used the Taste.com.au recipe
Ingredients
5 Apples cored and chopped up – I used Pink Lady apples. The recipe initially asked for granny smith apples.
6 rhubarb stems washed & trimmed. Cut into 3cm pieces
1/3 cup caster sugar
1/2 teaspoon Ground Cinnamon
1 teaspoon finely grated lemon rind
2 teaspoons plain flour
1 cup rolled oats
1/2 cup plain flour, extra
1/2 cup firmly packed brown sugar
80g butter – I zapped it in the microwave as it was too hard
1/4 cup flaked almonds
Equipment
Large capacity baking dish
Method
Step 1: Place apple, caster sugar, cinnamon, lemon rind and 2 tablespoons of water in a large saucepan over medium heat. Ideal if covered but I didn't.
Cook for 5 minutes or until apple starts to soften. Now add the rhubarb and flour. Cook for a further 3 minutes until the rhubarb softens.
Step 2: Transfer apple and rhubarb to the baking dish.
Step 3: Combine oats, extra flour and brown sugar in a bowl.  Using your fingertips rub the butter into mixture until it looks like breadcrumbs. Add the almonds.
Add the crumble mixture to the top of the rhubarb mixture.
Bake for 35 minutes or until golden. Cool for 5 minutes, it will be super-hot so be careful.  Now eat your yummy dessert.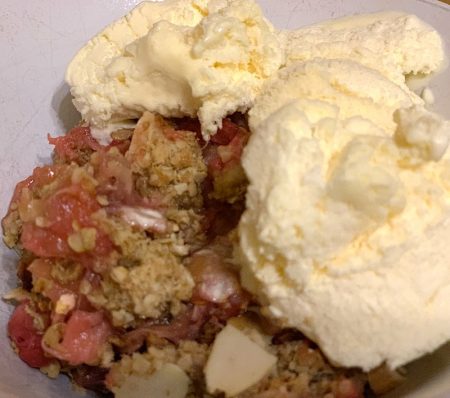 Rhubarb Compote
Ingredients
500 grams of rhubarb
100 grams of sugar
50 grams of water
1 orange juiced and zested
Method
Step 1: Cut up the rhubarb stems into 3 cm pieces
Step 2: Juice 1 orange and get as much zest as you can
Step 3: Add the orange juice, orange zest, water, sugar and rhubarb to a saucepan.
Step 4: Cook for about 10-15mins or until the rhubarb is super soft and the water and juice have reduced. It should look like a sauce.
Once cooked take off the heat and allow to cool. You can then add it to an airtight container or use it for a meal straight away.
Rhubarb Marinade – Same as the compote
Use the rhubarb compote to marinade meat. I marinated beef steak, but you could use chicken, pork or fish.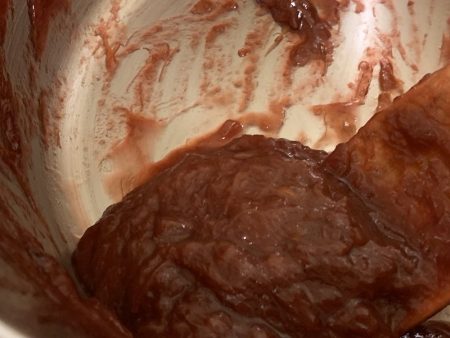 Method
Step 1: Put your chosen meat into a container
Step 2: Smoother the meat with the rhubarb compote
Step 3: Cover the container and put in the fridge and leave for a few hours
Step 4: Cook the meat, be aware that the rhubarb marinade will come off but make sure to add it to the meal,  it is so tasty and adds so much flavour.
Rhubarb works well with ginger, honey, chilli, cinnamon, cardamom, coconut, tomatoes, strawberries, apples, pears, blackberries, blueberries, dates, lavender, maple syrup, and custard.
The steak was chopped up and served with broccoli, mushrooms & beans in a chilli and honey sauce with sesame seeds. I used 90-second rice so that made it even easier to make.
It was so yummy and easy to make.
Rhubarb Breakfast Jar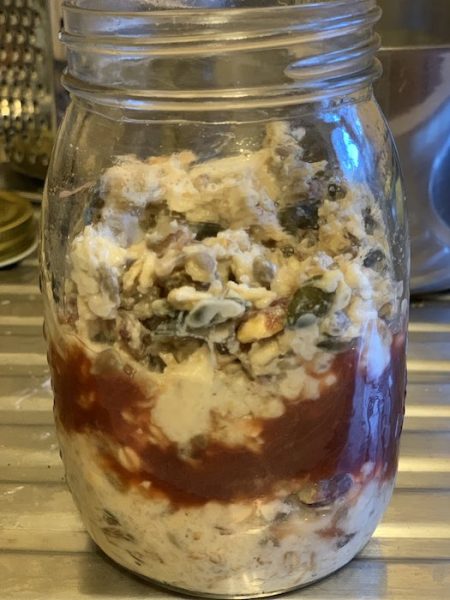 Method
Step 1: Get a mason jar, make sure it is washed and clean
Step 2: Use some oats that you have soaked or oatmeal. Add nuts and anything else you would like with the oats/oatmeal
Step 3: Layer the jar with Oats, Rhubarb Compote (that you made earlier), other fruit and yoghurt.
Step 4: Once the jar is complete put the lid on and put it in the fridge for tomorrows breakfast.
This is a simple and easy way to get breakfast quick and eat it on the go.
You can also create a different compote of Rhubarb and Strawberries or other berries as well. Why not add blueberries to the different layers and some flaked almonds to add a different texture.
I hope you enjoy these recipes and ideas to add rhubarb to your meals.
Which Rhubarb recipe would you like to try?
Let us know what you create by sending in pictures to our Facebook page.
You may also like to read:
10 Tips for getting kids to eat more fruit and vegetables
Kid-Friendly Recipes for Summer