Written by Alice Zsembery
Are you sick of packing a suitcase full of toys for a quick holiday trip? Unsure of how you could possibly go on a holiday with kids without packing a single toy?
Here are some easy practical play ideas to do on holidays with kids that won't take up any room in your boot at all!
Nature Noughts and Crosses
Beach, forest, country, snow… whatever the destination, use the materials on hand to create a noughts and crosses game with a difference!
Great items to use are sticks, shells, rocks, leaves, gumnuts…
Even better, the act of collecting items is an adventure in itself!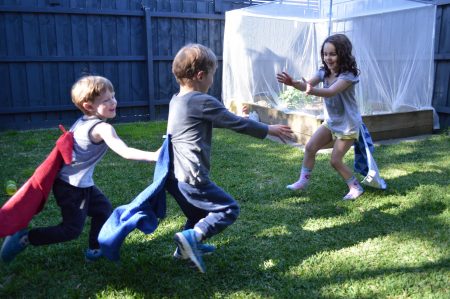 Pin the Tail
Simply peg a tea towel (or, if in a hotel room, hand towel or face washer) to the bottom of each child's t-shirt (or tuck it in their pants) and let them chase each other around trying to steal each other's tail.
Fine Motor Skills
Find a container, some tongs (or tweezers or even chopsticks for older kids) and some cotton wool balls and let them practice their fine motor skills by sorting them into and out of the tray.
If you do not have cotton wool balls on the holiday, simply find other items that can be picked up by tongs; such as socks, pegs or complimentary soaps.
Memory Game
Put 5 objects on the floor and ask your child to memorise them. Cover the objects with a blanket and take one object away whilst the child's eyes are closed. Uncover and test your child's memory on which item is missing.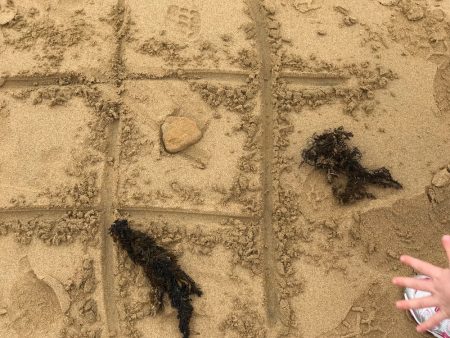 Scavenger Hunt
 Think everyday items to find. You can draw a picture of each item to find or alternatively, why not do a nature scavenger hunt and get the kids to find items in the world around them.
Sock Toss
Simply roll up a couple of socks, find some buckets or mixing bowls (or even suitcases), and let the kids have a shoot-out. As soon as they get it in the bucket, take a step back and try again. For bigger kids, you can even try using cups.
And if you are looking for a few more entertaining ideas to keep the kids entertained for free whilst on holiday (or at home), then be sure to download our guide: 18 fun activities to do around the home using household items.
Happy playing!
You may also like to read:
Active vs Passive Participation in Play
How to clean and organise toy rooms