Media kindly brought to you by U. Games
We get it – you're probably convinced that you've tried every form of at-home entertainment while your family has wrestled with pandemic-induced cabin fever. Saddled with the 'new normal' for a while yet, you may be wondering how else to engage your family when you've exhausted all the tabletop games new and old, baked your hearts out, and find yourself longing for a unique and dynamic experience that we often associate with the outside world.
Bringing the outside world into your home for family fun is an enticing proposition to beat the boredom blues, and teamwork-inspired activities that induce a little adrenaline, could be just the ticket. While a high-octane game such as paintball ticks these boxes, it's almost certain to be a disaster if replicated in your house or yard. But what about an escape room?
The novelty of escape rooms has led to an explosion in popularity in recent years, and what could be more exhilarating than working as a team to find clues and solve a real-world puzzle against the clock? Traditionally taking place in a specially designed room, our clever friends at U. Games have recognised that the premise is also ripe for at-home play! Read on to learn about the benefits of escape rooms more generally, and how you can play at home with U. Games' new TRAPPED escape room games.
Benefits of escape rooms
Perhaps your family has never experienced the thrill of an escape room, or, you're wondering why they are so fun and engaging. Here's a breakdown of how they blend fun and education, for the immersive and memorable experiences we crave; especially in the current climate.
A sensory-rich experience
An escape room cleverly uses the surrounding environment and effects to engage all of the senses, and it's an adventure of your own making, where you are the subject. Compared to passive participation (for example, watching a TV show or movie), it amplifies your senses in a whole-body experience. 
Teamwork and social cohesion 
You won't succeed in an escape room without strong communication, and it's a great bonding exercise to draw on each other's strengths. In fact, cooperation to achieve a set goal is psychologically proven to boost camaraderie in teams. 
Critical thinking & problem solving
Evaluating supplied information to form conclusions and set a course of action, is a key skill for childhood development, and escape rooms deliver this skill in spades. It's also a great gauge of how confident your kids are in solving problems, and a way to identify areas for improvement. 
Escape rooms give you a chance to see your family members in a different light or discover hidden talents, such as mum having razor sharp logical reasoning skills she doesn't necessarily get to showcase in daily life, Dad being a super sleuth in uncovering clues, or the kids having a knack for riddles.  
Props are a fundamental aspect of escape rooms, and they reinvigorate our sense of touch in an increasingly digital world with reduced physicality. Tabletop board games are a novelty for kids due to this factor, and escape rooms dial things up a notch, to provide cues for imaginative play to flourish. 
What elevates escape rooms from many other (non-sporting) games is that they provide us a healthy dose of adrenaline that simulates a high-stakes situation in a safe, and controlled way. They activate the 'fight or flight response' and encourage us to adopt quick-thinking and fast reactions to secure an outcome.
Escape rooms get everyone moving unlike most tabletop games, which is a great drawcard for what is essentially indoor-based and all-weather play.
Creativity & out-of-the-box thinking 
Tied to critical thinking, escape rooms challenge players to think beyond the obvious to arrive at the correct answers or solutions, which is a great example of lateral thinking that will serve your kids well into adulthood, and sharpen parents' minds too!
TRAPPED game
It's little wonder families love escape rooms, and for the times when you can't gain access to a public escape room, you'll be thrilled to know that you can bring such adventures to your own home! Courtesy of U. Games, the Trapped Escape room game series features a fun twist of irony, where a room in your house is easily transformed to become the setting for the escape.
Melissa Hamilton, Product & Marketing Manager at U. Games Australia, explains the premise and appeal of TRAPPED:
"Escape rooms are hugely popular, but have been restricted due to COVID-19, so we're bringing the fun to everyone to enjoy within the comfort of their own homes. People are looking for new home-based entertainment that promotes family interaction, which TRAPPED does in abundance,"
How it works:
Escape room in a box. Play in groups or race head-to-head with your friends and family
Turn your house into an escape room. Solve the puzzles… score points along the way … win the game
Not a card game. Real codes to crack and tests to pass in an interactive family game. Just like a real Escape Room this game has no board. Choose a room and using the materials provided, turn it into your very own Escape Room
Players: 2-6
1-2 hours game play.
Suitable for children 8+
There are three thrilling TRAPPED game scenarios to choose from: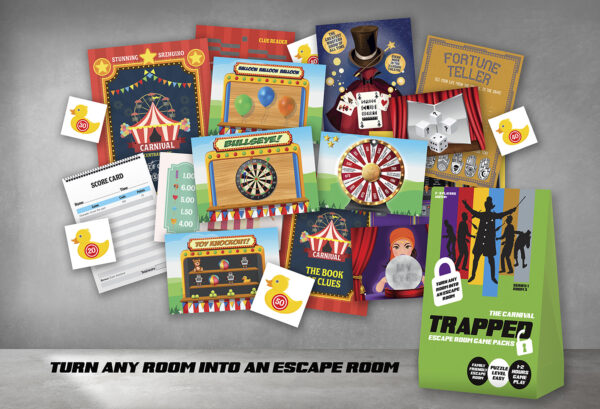 Carnival:
Solve the puzzle: Live the Dream. In Carnival, your lifelong dream is to work among the jaw-dropping performers of Muggins Carnival – but wait…
Nothing is what it seems as you race to solve the Ringmaster's baffling puzzles. Work together as a team or go head-to-head with other players to see who'll be crowned King or Queen of the carnival.
Difficulty level: EASY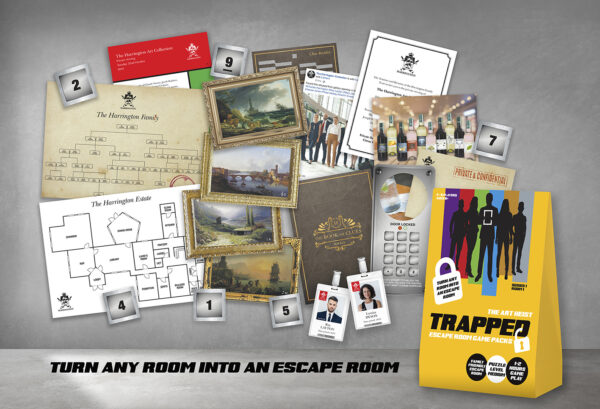 Art Heist:
Steal the Painting. Flee the Room. In Art Heist, the obscenely-rich Harrington family invites you to an exhibition of their priceless art. Upset that his family hoards wealth, though, their youngest son, Charles, asks your party to steal a painting… Fearing detection, Charles leaves only a series of clues to help you find the right artwork. But you're not alone! Charles has also convinced one of the staff to help you escape… Can you find the painting, steal it and flee the scene – all in 60 minutes? Difficulty level: MEDIUM. Players: 2-6 1-2 hours game play. Suitable for children 8+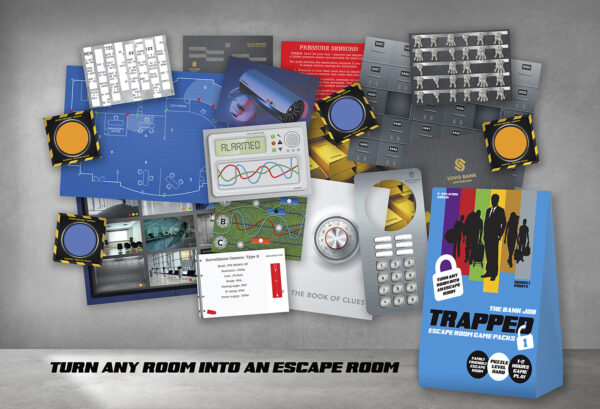 Bank Job:
Crack the clues. Open the vault. In BANK JOB, you and the other players are a gang of bank robbers… Intel suggests that if you're a party to this one job, you'll be set for life! Locked in a secure vault and under heavy surveillance, can you work together as a team to pull off the crime in the nick of time? Sleeping gas has knocked out the security guards and everyone else in the building so you're safe for now… But hurry! In sixty minutes, you'll need to choose your strategy: finish the mission or abort – and run! Difficulty level: HARD Players: 2-6 1-2 hours game play. Suitable for children 8+
Ready to escape your at-home boredom and embark on a thrilling family mission? You can find TRAPPED at all good toy and games retailers.