When I was pregnant with my second child and excitedly upgraded my car, I deliberately chose a car with integrated booster seats as my eldest was soon to be four and I liked the idea of only having one car seat in the back row.
Little did I know that my idea of car seat safety was about to change forever and that my children would be in a 6 point harness until at least eight years old.
One night in the hours when only parents who need time to themselves are awake, I asked the question on a parenting Facebook page "what side of my car should my babies capsule go on?" I was given a ridiculous amount of info but amongst it was a car seat Facebook page which has totally changed my way of thinking when it comes to traveling with children.
The Bad News!
Although car seat standards in Australia are amongst the most stringent in the world, our laws are slack. Really slack.
*Babies can legally forward face at 6 months.
*Children may move from a harness to a booster at just 4 years of age.
*Children can sit in an adult belt and get ready for it…they can actually sit in the front seat at only 7 years.
The Good News!
There are some great seats out on the market that can enable children to rearward face until around 4 years and forward face in a 6 point harnessed seat until around 10 years.
Five tips and facts to keep your children safer when traveling in a car
If a child weighing around 15kg was in a crash traveling at 50km, the force would be equivalent to approx 500kg.
Harnesses help to spread this force evenly through six points whereas lap sashes only spread the force through three points.
Children under 4 years are 5 times safer when traveling in rearward facing mode.
Twisted straps can cause broken bones and internal injuries. Straps that are flat on the body help to spread the force.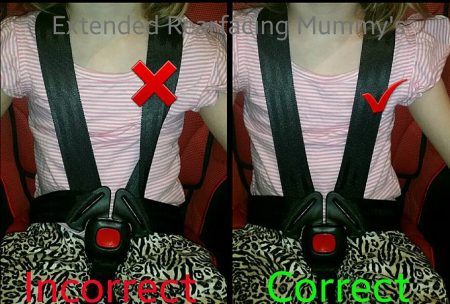 If 7 years or older, children should pass the 5 step test before using an adult belt.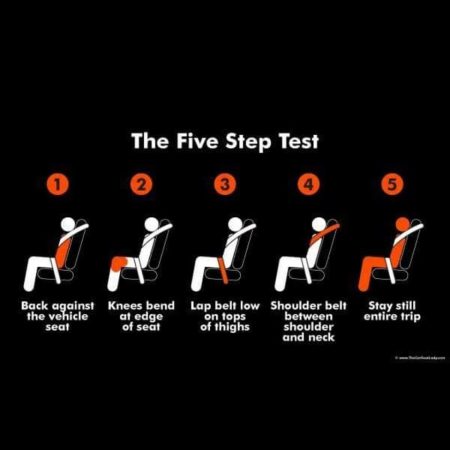 A step up in car seats is a step down in safety
*Photo credits: Infasecure, Car seats for littles, Secure tot and Extended rearward facing mummy
You may also like to read: