It's been a pretty tough few months for Australians. We've had drought, fire, floods and now the COVID-19 pandemic. We're certainly feeling it here at Teach Ted. Read on to hear what we are doing and download some fun activities you can do at home.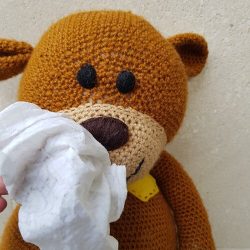 As parents, we feel exhausted from not only the usual chaos of day to day life with kids but also from continually monitoring our children's mental health and anxiety levels. There are often tears and meltdowns for no obvious reason and a constant need to know where we are going and when we'll be back. When my kids started behaving this way, my first concern was that something was going on at school – they're in that age group where kids' relationships start to get a bit tricky… but then I remembered that anxiety can come out in all sorts of ways and we've certainly had a lot of challenging things to deal with this year.
It's no surprise that their resilience is down right now but there are plenty of simple steps we can all take to help minimise the impact on our kids. We've included some fun activities below as well as our new Staying C.O.O.L with Ted poster, with four easy steps to reduce anxiety. Check out this article on helping kids manage emotions from Raising Kids.
I ASKED MY ELDEST #TEDHEAD WHAT STRATEGIES HE IS USING RIGHT NOW AND HERE'S WHAT HE HAD TO SAY:
Cuddles with Ted of course!

Talking to my family about it what worries me

I feel better when I know what is going to happen

Playing with stress toys takes my mind off things

Remembering that the media often exaggerates

It's also great if you can take some time out to rest and work through it in your head
For younger kids they might find talking about it a bit tricky which is where play therapy can help. You can read more about how play therapy can help in challenging situations here. Sometimes talking through toys can help too. More on that in our How do germs spread? activity.
HOW WE ARE SUPPORTING FAMILIES
We're for profit, for purpose so your purchases help us to provide more free resources to families in need.
ADDITIONAL RESOURCES
Reach out to us if you have resource suggestions, are interested in collaborating or would like to share your story with us. You can also share with us on Facebook and Instagram – just tag @teachted.
To view on Youtube:

You may also like to read:
 Resolving Stress During COVID-19
Ways to Engage your Baby during Lockdown