The hot December sun has made seafood a mainstay of many a Xmas lunch for decades. Prawns, oysters, scallops, but what about…mussels? Some leading restaurateurs predict mussels will soon stake a place at the Xmas table spread, not only because of their rustic charm, but also their health and environmental credentials.
Mussels are not only a carbon sink, they require virtually no food, pesticides, or land clearing.
"I think Australian consumers are beginning to realise the fantastic health and environmental benefits that mussels quite literally bring to the table," said Tony Ford, Head Chef of South Australia's Boston Bay Winery.
"They're great to cook with, super easy if you're cooking at home… as consumers become more health and environmentally conscious. I really pick mussels to replace prawns as a go-to item in the traditional Aussie Christmas spread."
Adrian Meder, Manager of the Australian Marine Conservation Society (AMCS), is urging people to this Christmas "be less selfish by eating more shellfish!"
"With a very low overall impact on our ocean, farmed mussels are among the most sustainable seafood choices available to Australians," said Mr Meder.
"Because blue mussels are farmed on ropes suspended in the sea, they have a negligible impact on their habitat or other species. They are listed as a "better choice" in our sustainable seafood guide."
Andrew Puglisi, fifth-generation mussel farmer and Executive Director of Australia's biggest mussel exporter, Eyre Peninsula Seafoods, is "blown away by the enormous increase in demand for mussels this year".
"It doesn't come as a huge surprise. People are catching on to how affordable, healthy and great for the planet they are," Puglisi explains.
"Mussels feed off the extra nutrients in our water systems, like those resulting from tuna and kingfish farming, for example… mussels are like the mate that stays over and gets up in the morning before you wake up to help clean your house. The magic vacuum cleaners of the sea!"
Jam packed with iron, protein, omega-3 fatty acids, B2, B12, phosphorus, iron, selenium and iodine, the crustaceans are champions when it comes to health benefits.
Andrew Puglisi recommends the 'heat and eat' Boston Bay cooked mussel packs available from leading retailers for an easy, time efficient and delicious meal this Summer.
"They're delicious enough to eat alone, or you can go the extra mile and use them in a recipe. Either way, they're a super easy and affordable way to incorporate mussels into your holiday season spread."
Marinated Kinkawooka Mussels Charcuterie Board (designed by Richard Longden of Eyre Peninsula Seafoods)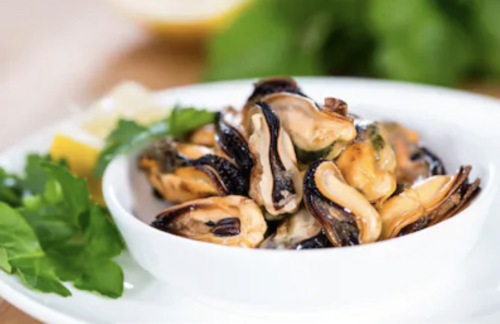 Ingredients
1kg Kinkawooka Pot Ready Mussels
1 cup white wine vinegar
1 cup of water
1 teaspoon whole black peppercorns
1 tbsp sugar
2 chillies. sliced
1 teaspoon mustard seed
3 bay leaves
2 cloves of garlic, sliced
1 teaspoon smoked paprika
Method
Open the pack of Kinkawooka Pot Ready mussels and strain off the water, give them a quick rinse under cold water
Heat up a pot with approximately 1cm of water, when the water is boiling add the mussels, cover with a lid, steam them for a couple minutes stirring every minute or so until they open
Remove from the heat and strain the mussels off keeping some of the liquid in a bowl
Heat the cup of white wine vinegar, sugar and water in a pot until it reaches boiling point. Add garlic, chilli, mustard seeds, peppercorns and paprika and put aside to cool
Remove the mussel meat from the shells and place in a sterilised jar
Once the marinade is cooled, pour over the mussels and seal the jar
Mussels will last up to 3 months in the jar refrigerated
Spread on a cheeseboard, add buffalo mozzarella, pickled onion, green pear, pickled yellow peppers, grissini and crisp flatbread, anchovies — or your own selection of cheeses, fruits, meats and/or breads!