Media kindly brought to you by Purebaby
You may be wondering how kids swimwear ties into our changing climate and the state of the environment, and we're glad you asked! First, let's backtrack a little, to reflect on how global events have reinforced the fragility of our planet and the need to protect Earth for our kids and future generations.
The 2019-20 bushfires that ravaged parts of Australia and made headlines across the world, are still a painfully raw memory for many Australians. Their link to global warming was a watershed moment in understanding the gravity of climate change and the importance of environmental sustainability.
Feeding into a broader global movement, Australians are changing their attitudes and embracing new behaviours. We're becoming more environmentally conscious of our human footprint, and it's affecting our decisions as citizens and as consumers, from the food and clothing we buy, to the brands and companies we choose to support.
So, how can swimwear reflect these needs and values of the modern, Australian parent? It's a question Purebaby asked and sought to answer, in the design of their first-ever swimwear range for babies and toddlers. As Australia's first organic babywear company, Purebaby's founder Mirabai Winford, explains hers and the brand's passion for sustainability: "What we do now will affect future generations. The choices we make in our purchasing will either benefit the environment, or not. Creating alternative products that are equally accessible, and beautifully designed is really important for me to be able to create".
Understanding the importance of sustainable apparel in our future and giving extra protection to children against the Australian sun, Purebaby set out to combine care and performance through use of the recycled fabric 'Repreve'. Mirabai is excited by the benefits of the range for discerning parents: "The new range meets the needs of parents by providing a sustainable, ethical product. It's a much better environmental choice."
To coincide with the launch of this game-changing swimwear, Purebaby shares some insights into how manufacturing can address environmental impacts, while still meeting the needs of young children whether they're at the pool or at the beach.
What is Repreve fabric and how does it support the environment?
The use of recyclable materials is beginning to gain momentum; embraced by leading brands that have made a commitment to sustainable manufacturing. Repreve is a fabric that repurposes 'post-consumer products' such as plastic bottles that are found in oceans and landfill. At time of writing, Repreve has recycled over 21 billion plastic bottles! And it's not just about breathing new life into old materials. It's also about encouraging a manufacturing process that avoids the use of new petroleum, emits fewer greenhouse gases and conserves water and energy. This feeds into the Purebaby ethos, with founder Mirabai Winford pointing to "an enormous benefit to the environment with this choice of purchasing something that is made from recycled plastic water bottles".
But should parents be worried about the quality of clothing made from recycled fabrics such as Repreve? Durability and comfort are usually top of mind when buying clothes for your kids, and you might be thinking that an article of clothing made from plastic bottles won't feel as soft or be as strong as standard or synthetic fabrics. It's a natural assumption, but parents can be rest assured that Repreve does not compromise on quality. It's a unique, resilient fiber with intrinsic performance properties, such as moisture-wicking, thermal regulation, odour control, and cushioning.
Materials such as Repreve are proof that high-performance clothing can still be sustainable, and are a huge step forward in changing the perception that recycled materials are inferior. Getting this right was super-important for Mirabai: "we spent a long time developing beautiful designs that conform to Australian standards. We have tested the range on a lot of children and they love the fit, comfort and prints. It is a superior quality recycled fabric compared to other brands".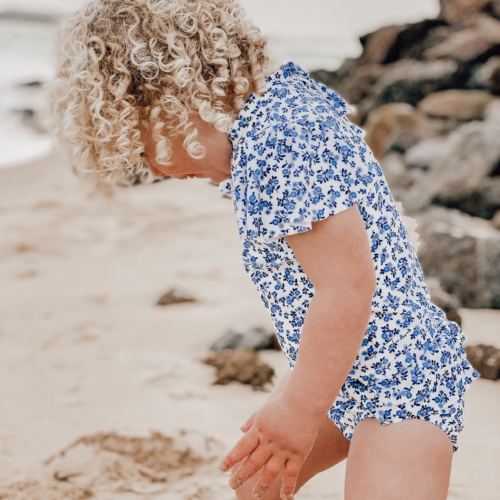 How does UPF rated material protect against the sun?
Exposure to ultraviolet (UV) radiation during the first 15 years of life greatly increases the risk of developing skin cancer later in life. With record-breaking heat across Australia over the past few years linked to climate change, it's more important than ever before to ensure your kids are protected from the harsh Australian sun. While most parents understand the risk the sun poses, it can be a struggle to make the right decisions amid a plethora of health advice and emerging SunSmart products.
Aussie parents may recall the SunSmart campaign of 'slip, slop, slap!' growing up, which embedded the use of sunscreen amongst families as a key strategy against the damaging effects of the sun. Although there are merits in the use of sunscreen, experts now agree that UV-protective clothing provides a more thorough and reliable shield from the sun compared to sunscreen. Sunscreen is particularly limited when it comes to young children during water-based play. On the simplest level, sunscreen washes off and needs to be reapplied frequently during water activities which is often resisted by restless kids, and is not recommended for babies under 6 months.
The right clothing and swimwear can provide an almost complete block against UV rays on the area(s) of skin that it covers. It is strongly recommended for parents to check the 'UPF' rating of a garment, which stands for 'ultraviolet protection factor', and involves tightly woven fabrics to protect your child's skin from the sun. To get a sense of this in practice, hold your child's current swimwear up to sunlight to see how much sun gets through the fibres. If the fabric lets a lot of light through, chances are that it will also let a lot of UV rays through.
To equip your child with the best sun protection, ensure you choose the highest UPF rating available (UPF 50+), which means that only up to 1/50th or 2% of ultraviolet radiation will penetrate through the garment's fibres.  This was top of mind for Mirabai when designing Purebaby's new swimwear range: "As we know, in Australia, we have a problem with the ozone layer. For this reason, it was really important to us that the new swimwear range was 50+ UPF. This protects children by putting an extra layer of fabric over their skin".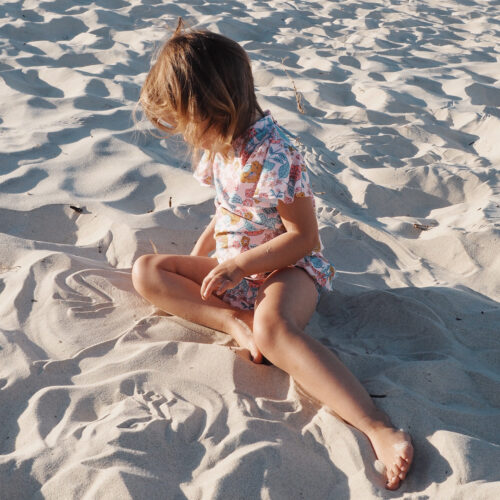 Swimwear as a commitment to children's health and their environment
The vast majority of swimwear on the market is made from synthetic fibres such as polyester and nylon, and it's not surprising to see why. They're inexpensive to produce, contain the necessary stretch and resilience, and can handle exposure to chlorine, saltwater, and sunlight. Of course, the downside is that the manufacturing process takes a toll on the environment. Cue the use of 'Repreve' with UPF 50+ qualities that will protect your little one while serving the greater good. As Mirabai puts it, "in many ways, it is a better way to protect you from the sun, as well as applying sunscreen throughout the day, as you know it's too easy to miss a spot". Purebaby bathers add an extra layer of protection, on top of sunscreen which still needs to be used at all times.
Protective swimwear is an important defence against the sun, but did you know that its use can also support the environment? An estimated 14,000 tonnes of sunscreen is deposited into the oceans each year, and scientists have revealed that chemicals found in sunscreen have serious consequences in depleting the health of reefs and coral life. In choosing UPF 50+ swimwear for your child, it reduces the need to constantly reapply sunscreen, and contributes to the future of oceans and marine life for our kids and future generations.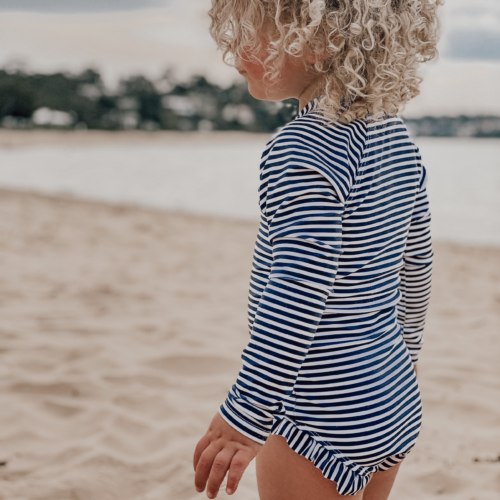 The Purebaby swimwear range
Purebaby is committed to protecting the wellbeing of babies, toddlers and their parents, and is delighted that their new swimwear range also supports sustainability projects. It harnesses sustainable UPF 50+ materials – not through any chemical treatment like some other UPF-rated swimwear – but rather, through the thickness and quality of the fabric.
Purebaby founder Mirabai Winford sees this range as another milestone in the brand's push for innovation and progress: "for the last 18 years, Purebaby has raised awareness and expectations for products in the wider marketplace. We have hopefully put pressure on other brands to look at their supply chain and ensure they adopt sustainable practices".
Ready to keep your baby or toddler SunSmart while supporting sustainable apparel? Browse the Purebaby range in-store or online on the Purebaby website. All styles in the Swimwear range are available from sizes 000 – 5, and are marked with bottle-shaped Repreve tags alongside the usual Purebaby swing tags.
To view on YouTube:

You may also like to read:
A day at the beach with Eczema