By Sarah Smith from Bayside Dietetics
FB Bayside Dietetics Twitter #BaysideDietetic Instagram @baysidedietetics
I think cucumber was the worst. Tomato was a close call on making the bread soggy but cucumber had that tangy smell by 12pm. Poor Dave from 6C didn't know about the unspoken rule avoiding egg sandwiches. Or maybe it was just his Mum.
I can now relate to Mums ignoring the kids' cries to refuse all sorts of sandwich fillings. Otherwise it is a daily battle of "tell me what you would actually eat then" closely followed by "no you still can't have fairy bread".
So how about we start the new school year with some alternatives to sandwiches for the lunchbox. As the sandwich is usually the main food in the lunchbox, our alternatives also must provide the key nutrients required for a busy day at school. I've done the work on that for you, so read on, trusting these are all nutritionally great alternatives to sandwiches.
Replacement Idea #1: Crackers
Slightly more processed than bread, we need to add lots of fresh vegetables to crackers to keep the balance. The benefit of crackers is that kids seem to respond to them being served separately to their toppings so everything keeps its crunch to lunchtime. Grab a lunchbox that has at least 3 sections: one for crackers, a section for a "protein filler" like sliced cheese, leftover sliced chicken or hommus, and finally a section for sliced vegetables like cucumber or capsicum.
Good for: Kids who like to touch and be involved with their food.
Not good for: Kids who will just take the crackers and bring you home a box full of cheese and cucumber!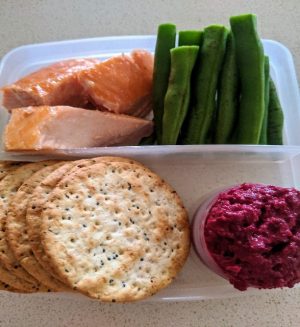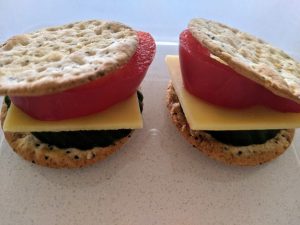 Replacement Idea #2: Pasta
Cooked and cooled pasta is high in resistant starch that is incredibly healthy for children's guts. As well as traditionally leftover pasta dishes, try plain pasta separated as an Italian-style Bento Box.
Good for: Fussy or sensory eaters who like their food separate and plain.
Not good for: Kids who just want to get out and play.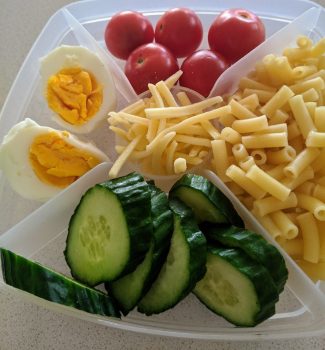 Replacement Idea #3: Potato
Like pasta, cooked and cooled potato is great for the body.  Baked beans is an easy, simple and high fibre topping for a baked potato. Roast whole potatoes in advance on a Sunday night to prepare for the week ahead.
Good for: Kids who struggle with vegetables – baked beans are a great alternative to provide fibre.
Not good for: Kids who have food rules – hot food has to be hot right!
Cook potatoes for the week in advance
Cut potatoes at home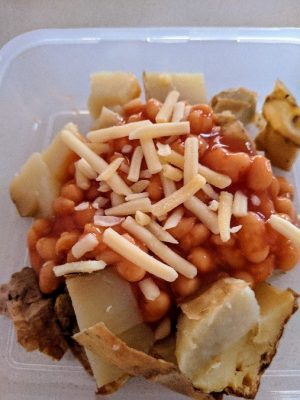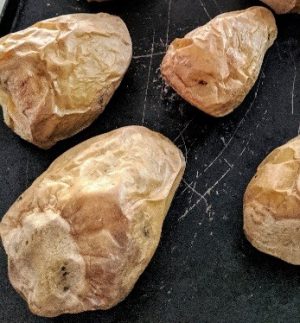 Cook potatoes for the week in advance
Replacement Idea #4: Rice
Rice is a staple lunch for many children around the world. For many kids in Australia, fried rice is one of the few effective ways to get vegetables into a lunchtime meal.
Good for: Kids who won't eat their vegetables unless they are mixed in.
Not good for: Kids who won't sit and eat lunch with a fork.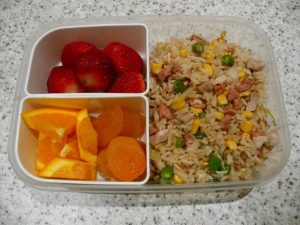 Replacement Idea #5: Pita Bread Nachos
Interestingly, when I experimented for the blog by preparing all these foods, I let my kids help themselves to all ideas at once. Pita Nachos was the first one taken by both.
Pita breads can be made into healthy crunchy nachos in a few minutes. Simply cut into shape then put in the oven.
Make up a complete nacho meal by adding a salsa or hommus and beans.
Good for: Kids who love to crunch.
Not good for: Kids who hate messy food.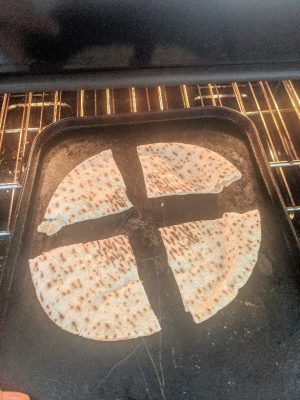 Replacement Idea #6: Make any of the ideas easy to eat with a paddlepop stick…
This idea makes use of some of the previous ideas – pasta or potato, or you could also use cubes of bread or bagels. The difference is in the presentation to kids; kids will often take the easiest route around food. By cutting lunch foods into cubes and sticking onto a paddle pop stick aka a lunch 'kebab', many kids will eat a food they they make not have bothered to bite into otherwise. It's just easier for them to eat as bite size pieces ready to go!
Good for: Kids on the go.
Not good for: Using certain vegetables – this only works for vegetables you can pierce with the stick.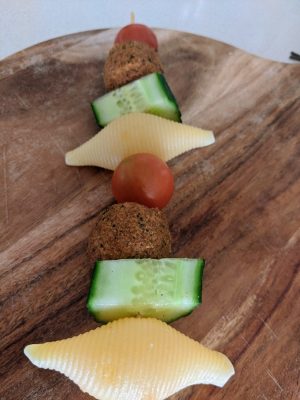 Replacement Idea #7: Pikelets
Simply make pikelets in advance, preferably wholemeal ones, then use them in either the same way you make a sandwich, or as an alternative to crackers/pasta in a bento-style box.
Good for: Kids who eat sandwiches, but get bored of them.
Not good for: Time-poor parents.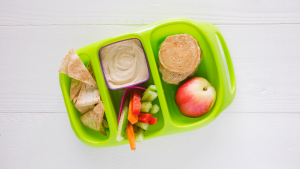 Replacement Idea #8: Wholesome vegetable muffin
This one takes some effort but is genuinely a fabulous way to get kids eating vegetables, eggs etc in one. Use a recipe that uses wholemeal flour and lots of vegetables.
I love this one: https://www.healthylittlefoodies.com/vegetable-savoury-muffins/
 Good for: Kids on the run.
Not good for: Non-baking parents.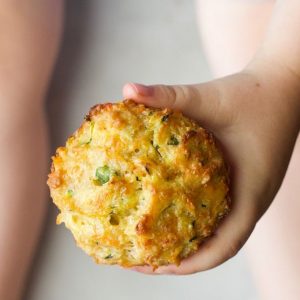 Happy New School Year! I hope it goes well.
Sarah
You may also like to read: