With World Chocolate Day approaching on 7 July, it's time to jazz up your kids' afternoon snacks and inject a bit of chocolate without compromising their health.
Leading dietitian, nutritionist and mother of two, Susie Burrell, says that children should enjoy discretionary foods like chocolate as part of a balanced diet and indulging in a few sweet treats occasionally actually helps to foster a healthy relationship with food.
"There is nothing wrong with enjoying foods that are higher in sugar such as chocolate occasionally and there are also plenty of ways to strike a balance between taste and nutrition. For example, a great way to incorporate chocolate in after school snacks is by pairing it with other foods that make you feel fuller for longer, such as peanut butter, bananas, strawberries and cheese." Susie says.
Susie suggests coupling chocolate with Mayver's Peanut Butter, which is nutrient rich and contains a high level of protein, around 7-8g per 30g serve. By offering your children this combination, they'll feel less inclined to overindulge and also gain a boost of slow-burning energy, to help them get through to their next meal.
Susie adds that in addition to tasting great, peanut butter works well in chocolate based recipes like cakes, in the centre of cacao based protein balls or swirled on top of brownies, like her Choc Ripple Brownies.
"If you are treating your children to chocolate by itself, dark chocolate with a high percentage of cocoa is a better option as it is higher in antioxidants, and can also be a little lower in added sugar overall,"
"Dark chocolate also contains special antioxidant compounds called flavonols that can help promote heart and brain health.
"Many children love to eat chocolate spreads as an afternoon snack, but unfortunately popular options can often have unnecessarily added sugars and oils. A great alternative is Mayver's Hazelnut, Cashew & Cacao Spread, which is a healthier option in the category made from lightly roasted hazelnuts, cashews, blended with cacao and sweetened dates."
Susie suggests adding a teaspoon or two of Mayver's Hazelnut, Cashew and Cacao Spread to your children's toast, fruit and smoothies, allowing them to enjoy that chocolate flavour minus the sugar.
Whether you're offering children chocolate on its own or including it in a recipe, there is always a healthier and delicious way to satisfy their chocolate cravings.
Here are some recipes you can try now….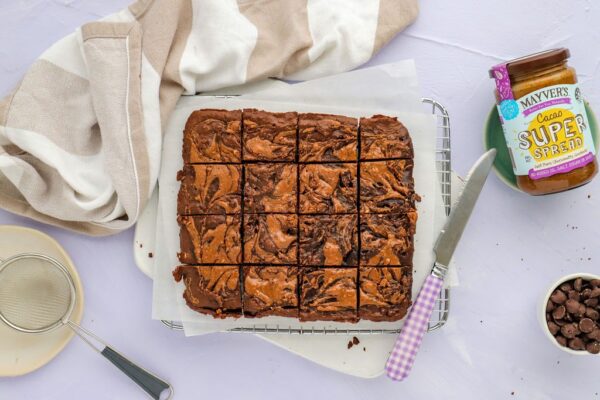 Choc Ripple Brownies
By Susie Burrell
Time: 60 minutes | Serves: 16
Ingredients
3/4 cup Mayver's Cacao Super Spread
2.5 tbsp butter
2 tbsp honey
1/4 tsp salt
1/3 cup cocoa powder
3 eggs, whisked
1/2 cup plain wholemeal flour
1/4 cup dark chocolate chips
Method
Preheat oven to 180°C/160°C fan forced. Line a non-stick 20cm x 20cm baking tin with baking paper.
Place 1/2 cup of Mayver's Cacao Super Spread, butter, honey and salt in a large saucepan over moderate heat. Stir until the butter is melted and ingredients are well combined.
Remove pan from heat and mix in the cocoa powder until smooth. Add eggs and mix vigorously until batter is smooth and shiny. Add flour and chocolate chips and stir to combine. Pour batter into lined tin.
Using a teaspoon, place small dollops of remaining Mayver's Cacao Super Spread over the top of the batter and use a toothpick to create swirls.
Bake for 15 minutes or until edges are firm. Remove and cool in pan for 10 minutes before transferring to a cooling rack. Cut into 16 squares.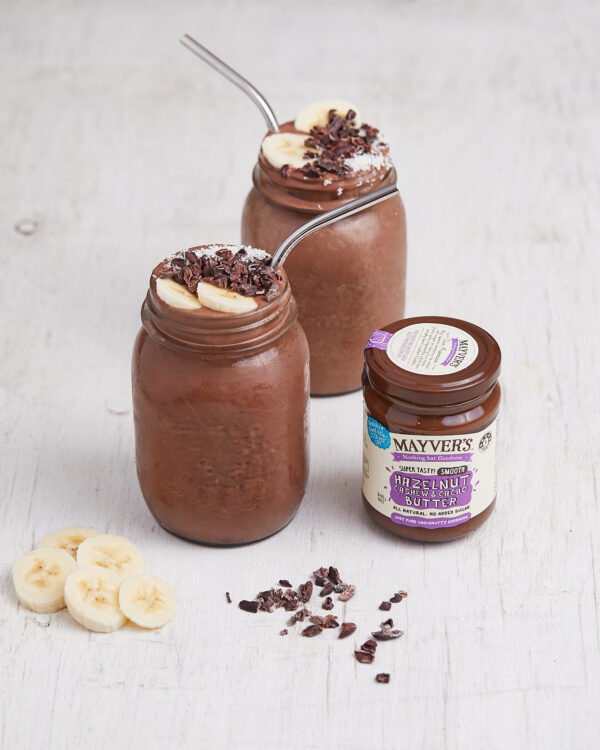 Hazelnut, Cashew & Cacao Smoothie
By Mayver's
Time: 5 minutes | Serves: 1
Dairy Free (optional)/Gluten Free/Egg Free
Ingredients
2 tbsp Mayver's Hazelnut, Cashew & Cacao Spread
1 tbsp cacao nibs
1 frozen banana
1 cup almond milk
1 tsp chia seeds
1 tsp desiccated coconut
Handful of ice cubes
Method
Place all ingredients into a high-speed blender.
Blend ingredients until smooth.
Pour into glass and enjoy!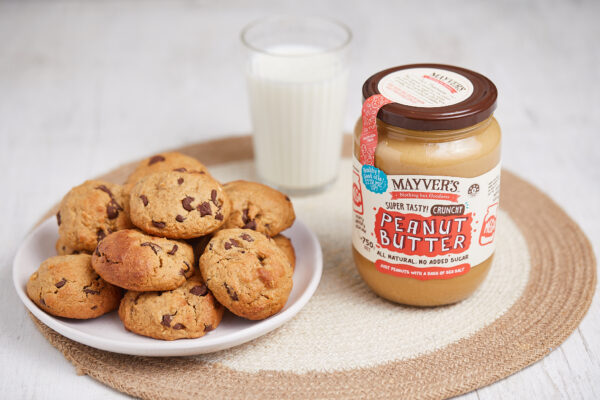 Peanut Butter & Chocolate Chip Cookies
By Mayver's
Time: 30 minutes | Makes: 10 cookies
Gluten Free
Ingredients
2 cups almond meal
3/4 cup coconut sugar
1/4 cup maple syrup
2 eggs
3/4 cup dark chocolate chips
1/2 cup Mayver's Crunchy Peanut Butter
Method
Preheat oven to 190 degrees celsius fan-forced and line a baking tray with baking paper.
Combine all ingredients and mix well until the egg and coconut sugar is fully incorporated.
Place large dollops of cookie dough onto tray using a spoon, ensuring 2cm between cookies.
Bake cookies for 13 minutes or until golden brown on the top.
Remove from oven and enjoy hot or cold!