The decision to enrol your child into childcare is something that takes some time to research. Whether you are heading back to work, study or just needing to have some "me-time", it's important to digest your options to ensure you choose the childcare facility that is right for your child and your family's lifestyle.
My name is Kaylene Harper and I have worked in the childcare sector for 35 years. I am the Operations Manager at Sunkids Brisbane Technology Park, in Eight Mile Plains. My experience in early childhood education has certainly taught me many things, one being that childcare centres are not a one size fits all model.
To help you navigate the important decision of which childcare centre will be best for your child and family, I've compiled a list of the top things you should be looking out for.
Early Learning Approaches
Most childcare centres are founded on an education philosophy or pedagogy which will underpin the services and the learning approach taken. Knowing the different philosophies and pedagogical strategies that are at play and what their fundamental principles are can be a great way to help you choose which childcare centre may be best suited for your child.
Common pedagogies you may come across include:
The Reggio Emilia approach which takes a collaborative approach to learning that encourages children to direct their own learning, to be curious, to ask and question and to play. The approach also places a large emphasis on the space for learning – using the environment as a teacher.
The Montessori approach which encourages children to progress at their own pace and rhythm based on their individual capabilities and interests.
The Explicit Instruction approach which is a structured and systematic approach to learning where children are guided through the learning process with a clear purpose and instructional guidance.
Flexibility
Choosing a childcare facility that fits in with your lifestyle and daily schedule is just important as choosing a centre based on the learning approach you feel is best suited to your child. It is extremely important that your childcare centre has the services to allow you to carry out your day as planned. Flexibility around drop off and pick up times to suit your working arrangements, flexibility of care to work around changing schedules and back to work programs for new parents can make a massive difference in your childcare arrangements and experience.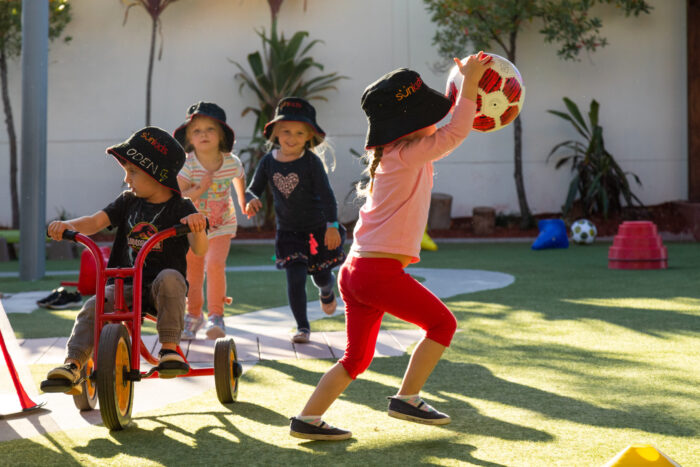 Services
The services on offer for each childcare facility can differ greatly. Ensuring the childcare centre of your choosing has the services on offer that are important to you is key. Many childcare centres now offer sports, yoga, meditation, music classes, dance classes and more, so if you are wanting specific extra-curricular activities, you may need to do some shopping around. Additionally, do you want to provide a day-bag with nappies and wipes for your bub, or would you prefer your childcare centre took care of that? It is possible to have it either way, so think about what is going to work for you best.
Food and meal options
Do you want to prepare lunch and snacks for your child, or would you prefer it be taken care of by your childcare provider? Some offer lower costs and don't provide food, some will provide lunch but not snacks, some will provide all snacks and lunch. It really comes down to your lifestyle and if preparing meals and snacks is something you can and want to do. At Sunkids Brisbane Technology Park we have decided to step the food game up a notch and provide chef-prepared sit-down lunches for parents to enjoy with their children (so handy!).
Facilities
Sending your child to a facility that is safe is, of course, at the top of every parent's must-have list. But does the lay out of the play areas or the addition of a sandpit, ball bit, quiet reading hubs, a Japanese style Zen garden, performance stage or art studio matter to you? If so, make sure you shop around to find the centre that features all the things your child loves to do!
Cost
One of the most pertinent details when hunting for your dream childcare centre is your budget. Childcare centres and offerings can certainly range in prices. Some centres will offer a daily fee plus add-ons and others offer all services and programs under one set fee with no add-ons. Once again, it is something that is a personal choice, however it is important to know what options are out there.
Sunkids Brisbane Technology Park is a next-generation childcare Centre that prides itself on offering a premium facility and services at an affordable price. If you are a Brisbane local and looking for your first childcare Centre or looking for a change, early enrolments are now open and filling fast. To enquire visit: sunkids.com.au/btp
Sunkids was founded in 2004 and is one of Queensland's leading early education providers with 13 centers across South-East Queensland. Sunkids specialises in providing innovative programs, state-of-the-art facilities and high-quality services with a proven curriculum delivered by dedicated and experienced educators to provide children the best start in life.