Are you wondering what to make for your Halloween treats? Would you like some easy and quick ideas that also look amazing?
Below I have five super simple treats to make that will impress your spooky guests for Halloween.
1. Crazy Chocolate
You can use dark, milk or white chocolate it is up to you. It might depend on your party theme what chocolate you use. I love really dark chocolate, so I just use that.
Decorations could be marshmallows, Smarties, M&M's, lolly teeth, candy eyes, flakes, Kit Kats, hundreds and thousands and anything really!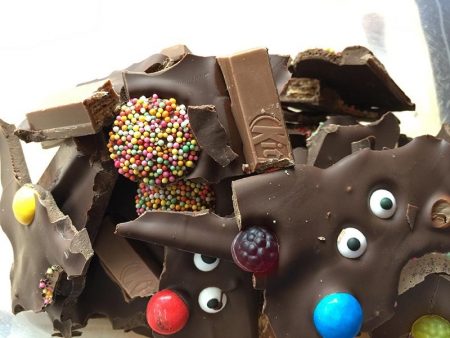 Step 1: Melt chocolate.
Step 2: Pour chocolate onto baking paper.
Step 3: Add decorations.
Step 4: Wait for chocolate to dry and harden, then crack into little bits to serve for your party or as an addition to a cake.
You will be amazed what a HUGE hit this fun chocolate will be.

2. Broomsticks
To make broomsticks you need the following:
Straight Pretzels
Cheese Sticks – I used Bega Stringers as the cheese allows the end to look like a broom)
Chives – to tie around the middle so it looks like the tie holding the broom together.
This is rather fiddly but once done they are very effective.
Cut up the cheese and then make a hole so that the pretzel goes in easily without breaking the pretzel or splitting the cheese too.

3. Zombie Eyes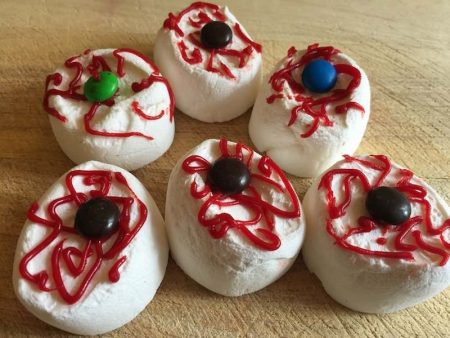 To make Zombie Eyes you need the following:
Marshmallows
Red icing pen
M&M's
I needed flat and round marshmallows but could only find big long ones. To get the size I wanted I had to cut them in half.
I was inspired by the Women's Weekly version and did my own.
Once the marshmallows are cut you need to decorate the eyes with the red icing. Make it look like veins are popping out of them.
When you use the red icing pen you need to do a bit and then stop and then start again. If you keep going the icing can come off the marshmallow.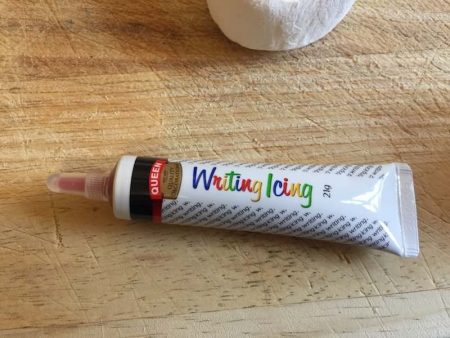 Once the icing is complete you can now add the M&M's in the middle as the eye. You can use the brown coloured M&M's or use any colour to make them look freakier.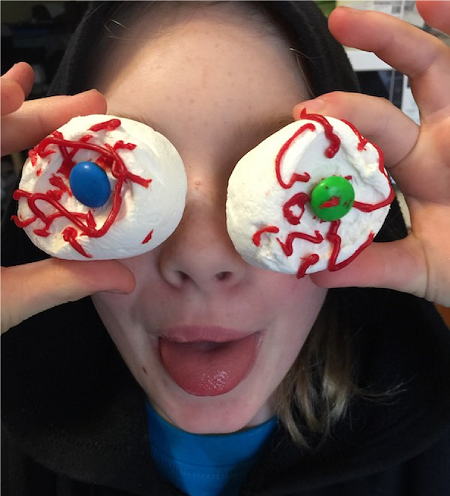 4. Freaky Dip Crackers
What do you need to make freaky dip crackers:
Wraps – You can get wholemeal or plain it depends on what you want. I decided upon Spinach & Herb as I wanted the green colour for the Halloween party.
Cookie cutters; I used a bat, a foot and a dinosaur.
Oil to brush on the crackers (before you bake them)
I used sesame seeds to decorate the crackers to add more taste and texture.
If you wish to add something else other than sesame seeds. You can use poppy seeds, paprika or chilli flakes.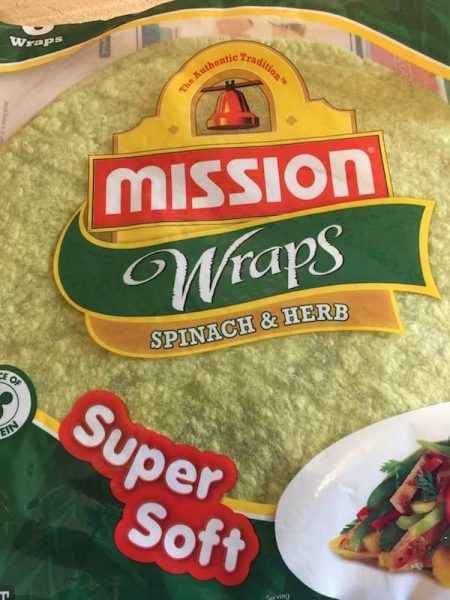 You can make your own dip or buy something from the supermarket. I made it easy for myself and got an avocado dip from the shops.
I chose green to make it freakier. Maybe you can get a chilli two-toned dip that has reds and greens in it so that it looks more evil.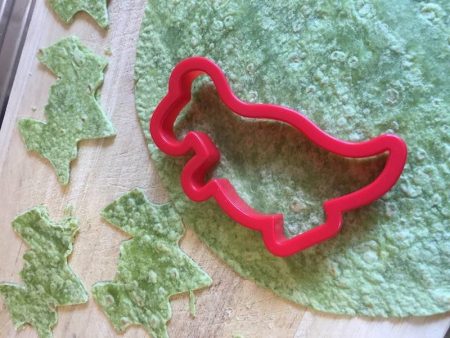 I made bats, dinosaurs and feet crackers for the dip.
Once I cut out all the crackers from the wraps I put them on a tray lined with baking paper.
I brushed them with olive oil and added sesame seeds.
The crackers were baked in the oven at 180°C for about 5-10mins. The crackers need to be turning brown and looking crispy.  Make sure to check them so that they don't burn.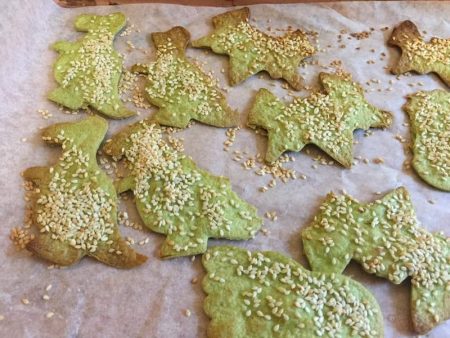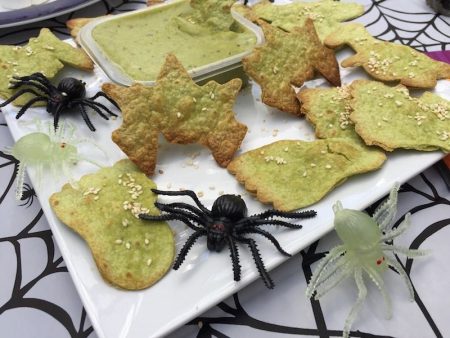 5. Frankenstein Chicken Rolls
I've never made sausage rolls before and wanted to give it a go.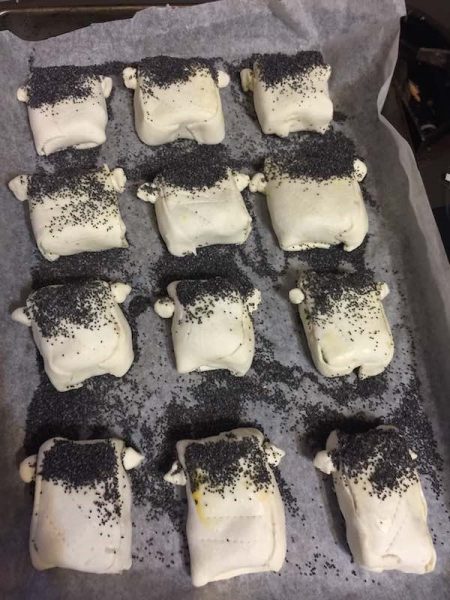 I saw these Frankenstein rolls in the Women's Weekly Food Mag and thought they would be perfect for Halloween.
I have changed up the decorations & ingredients, my faces didn't look exactly like they were meant to, each face looked completely different from each other. I embraced the difference and went with the way each Frankenstein had its own look.
What do you need to create these freaky chicken rolls:
500g of chicken mince
3 sheets of frozen puff pastry thawed of course
1 red onion finely chopped
Half a cup of grated carrot
1 cup of spinach/bok choy – chop finely
1 clove of garlic crushed or 1 teaspoon of minced garlic
1 cup of grated cheese (I used mature extra tasty)
1 cup of dried breadcrumbs
1 egg beaten lightly (for making sure that the pastry sticks and decorations get added easily)
Poppy Seeds for decoration – you might need a 1/4 of a cup. I got a bag of poppy seeds and can easily put the extra into a container or sealed bag.
Tomato Sauce/American Mustard for decoration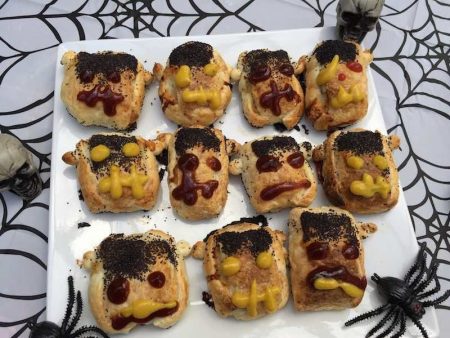 Method
Preheat your oven to 220 °C or 220 °C if it is fan forced.
Take out the puff pastry so that it defrosts. Keep it covered with the plastic, so it doesn't dry out.
Combine the mince, onion, carrot, spinach/bok choy, garlic, cheese, breadcrumbs and mix them all together in a big bowl.
Note: If you would like to add extra bite and taste add some chilli flakes to the mixture.
Separate the mixture into 5 equal amounts
Cut the puff pastry into equal halves, one side of the pastry will be for the decoration and to cover the sides of the rolls.
With one section of the pastry add the chicken mixture in the middle of the pastry. Roll it over and cover it like a parcel. I wrapped it up like a present.
Once each parcel was wrapped up I cut them up to be bite-sized Frankenstein rolls. I took pastry from the decoration pile and made sure that the sides were covered with pastry.
With the decoration pastry, I also made bolts for all the Frankenstein heads.
Take the egg and make sure that all bits are sticking to each other and all rolls are neatly packed so that the filling doesn't fall out.
With the egg put it on the head in a design that will give you the impression of Frankenstein's head. Once egg is all in place sprinkle poppy seeds on each freaky roll before they go into the oven.
Bake for 25 minutes and then decorate with tomato sauce to complete Frankenstein's scary look. I created a unique look for each Frankenstein so just go with what you feel looks good.
You can bake ahead of the party and just pop in the fridge and reheat.
Your guests will be amazed at how yummy and scary they are!
Decorations
If you wish to add more fun to your Halloween party decorations are a must-have.
I picked up the following from Big W and the below only cost me $11 for everything.
Spider tablecloth $2
Black toy spiders $2
Glow in the dark spiders $2
Skulls $3
Halloween napkins $2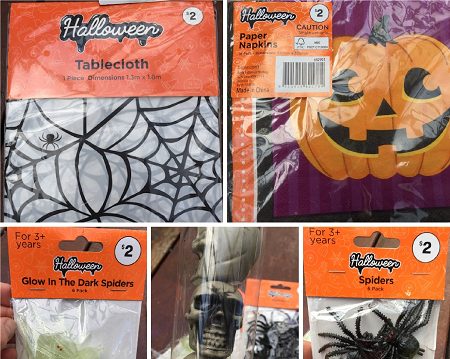 I hope this gives you some ideas to create fun and easy treats for Halloween.
You can also repurpose them for a birthday party if it is a scary or spooky theme.
We would love to see your Halloween creations on our Facebook page.
Share and let us know what you have made to scare your family and friends.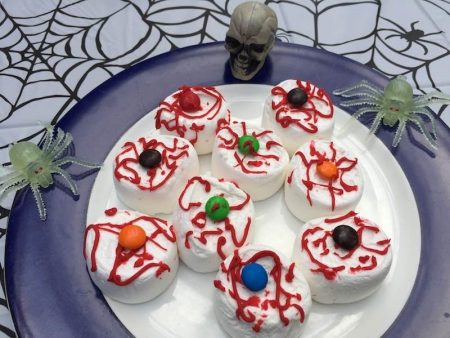 You may also like to read: