Halloween is just around the corner and aside from preparing our kids for their costumes for trick or treating night, we also need our house or particularly our front porch be ready for Halloween.
Not all of us have that creative mind to deal with choosing or deciding how our front door will look like for this occasion. Even if you won't be celebrating at home, children will still be coming to your door to trick or treat and your front door needs to be spooky enough to entertain them.
Here we have some ideas for you to take inspiration from.
Source: blog.chickabug.com
Batty Front Porch – bat cutouts hung from the ceiling, with pumpkin, dried leaves and some broomsticks to add to the Halloween mood.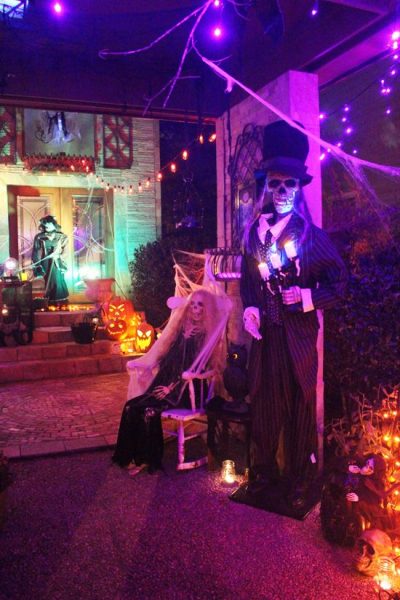 Source: www.confessionsofaserialdiyer.com
2. What A Skeletal Welcome – how spooky it would be if your trick or treaters will be welcomed by skeletons with additional dim lights and jack-o'-lanterns.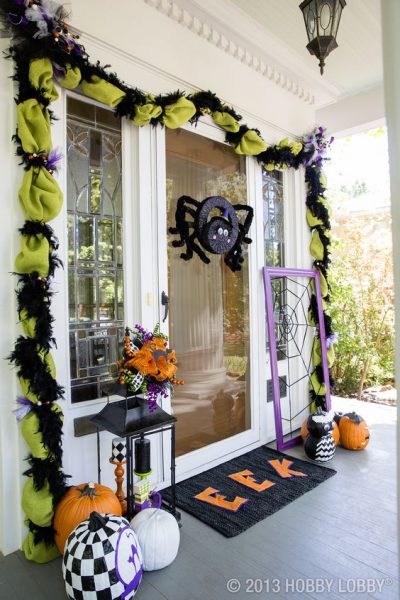 Source: www.hobbylobby.com
3. EEK Spider! – here's a big spider that says hello to your coming guests with an additional color theme of green and purple, aside from the usual black, white and orange.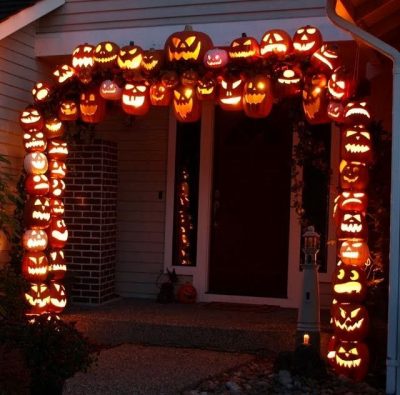 Source: www.ihorror.com
4. Jack-O'-Lanterns – simple décor of only jack-o'-lanterns with different sizes and faces put together around the front porch entrance.
Source: www.grandinroad.com
5. A Witch Lives Here – what a good way to spook the kids with this life-size witch figure. She'll be standing outside the door with all those additional decorations to heighten the touch.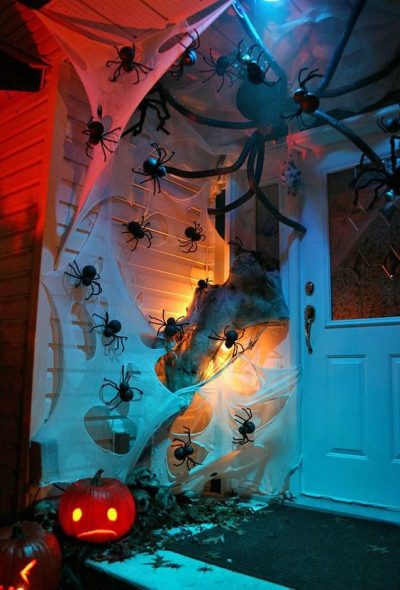 Source: www.ihorror.com
6. Spiders Everywhere – another good way to decorate is with spiders. Imagine a spider queen with all her kids running around just outside your door.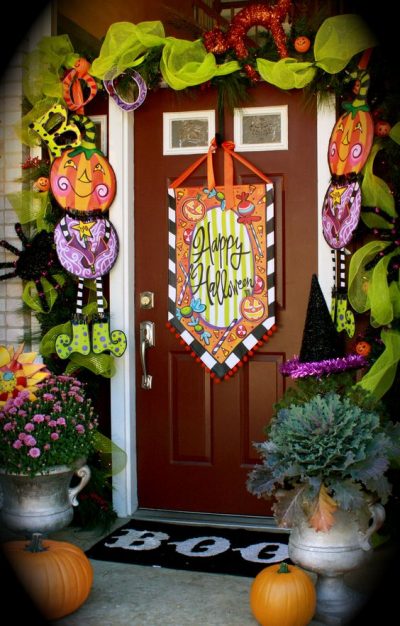 Source: www.lisafrost.com
7. Cute and Colorful Touch – here is a cute and colorful way to display on your front door. Smiling pumpkin cutouts shows a light and not so eerie tune to Halloween but a welcoming one.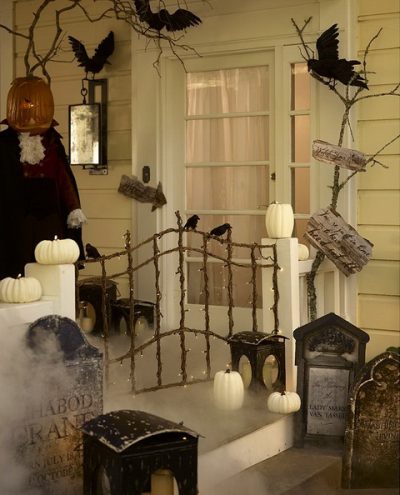 Souce: www.pinterest.com/source/dekorella.hu
8. Graveyard Entrance – this is one of the spookiest front door ever! The graveyard entrance look with matching white pumpkin candles, black crows, the headless horseman and gravestones.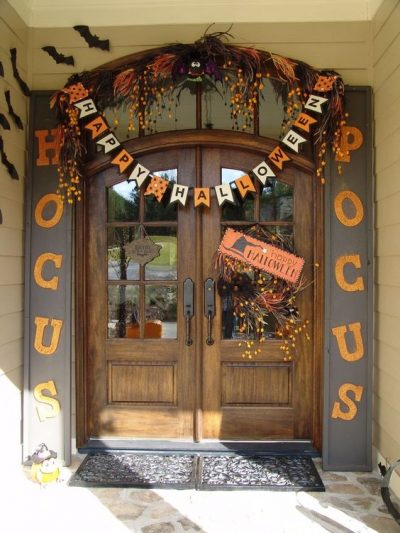 Source: www.thedailybasic.com
9. Happy Halloween Banner – simple and cute, Halloween banners and additional decorations just to enhance the color theme of white and orange.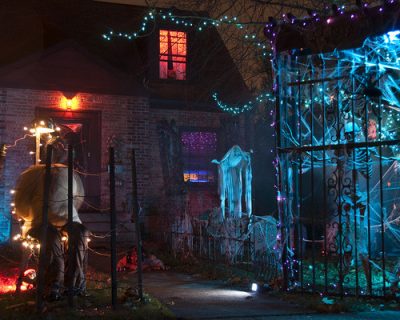 Source: www.halloweenhaunted.com
10. Spooky Midnight – this is an interesting way of displaying decorating your front door including the yard. It is quite challenging but if you really want your guests to be entertained then you better start right away and collect all the things that you might need for this one.
We hope you have been inspired with these ideas that we have collected, we'd love to see what you end up creating. Why not ask all the family how they want it decorated, everyone can contribute. This will be a good time for you and the whole family to spend quality time together. Make it a memorable, fun and exciting time for everyone.