Written by Dirce Guerra
As children go through each stage of life, they are constantly developing, learning, and growing. Kids of all ages need to learn crucial skills that will help them become well-rounded adults in the future. When you provide these important activities for children to do, it can promote happiness and encourage proper development. Not only do these activities give children the tools they need to improve their growth, but they'll also help them long into the future. This guide covers a range of DIY home activities for each stage of their young lives that will help to foster better emotional and intellectual development.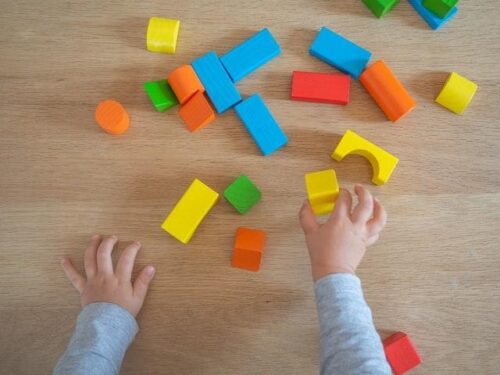 Babies: Ages 0 to 12 months
Learning activities: Even babies can begin the learning process at this age. Start their life out right with simple picture books to help them learn shapes and colors. Practice counting up to a low number with your child aloud to help them learn this skill at a very young age.
Fine Motor: To foster your baby's fine motor skills, encourage activities like stacking safe, lightweight objects such as a set of measuring cups to form a tower. A large wooden puzzle is an excellent activity that will help babies develop their fine motor skills, too.
Multisensory: Make a fun "shaker bottle" filled with dry rice or pasta and seal the lid tightly. The shaking sounds will awaken your baby's senses and help them learn sights, sounds, and tactile feelings. You can also find multisensory toys with flashing lights, different textures, and soft noises to help them sharpen all of their senses.
Sleep Coaching: Babies need a relaxing, quiet, safe place to encourage better sleep. Stick to a regular schedule, so your baby knows it's bedtime. Music boxes and mobiles are great tools to help lull your little one to drift to dreamland.
Entertainment: Gentle clapping is a great way to entertain your baby and encourage happiness. Sing your baby some cheerful songs and introduce them to new objects every day. The variety of stimuli will keep their hands and minds entertained. At this age, television is not recommended, but close interaction with parents and trusted family members is encouraged.
Games: Peek-a-boo is a classic game for babies. Large building blocks and age-appropriate puzzle toys are good options for little ones at this life stage. Blow bubbles and have your baby pop them with their hands to give them a sense of satisfaction and accomplishment.
Indoor: Since babies can't walk just yet, most of your indoor activities will be limited to reading stories aloud, learning the five senses, and crawling. Create a stimulating environment indoors by providing your baby with plenty of toys and activities.
Outdoor: A nice walk outside in a stroller is a wonderful way to introduce your baby to nature. Regular walks will foster their happiness and expose them to fresh air, trees, and the outside world.
Toddlers: Ages 1 to 3 years
Learning activities: Look for age-appropriate books that will encourage your toddler to learn things like colors, animals, counting, and letters. Read these books aloud to your child and ask them questions that will enable them to give you the right answer as their learning skills improve.
Communication Skills: Spend some time talking to your toddler and have simple, daily conversations. Encourage them to talk to you so that you're engaging in a two-way conversation. This is also a great time to let them tell you their own stories aloud. Make sure that you respond so they understand how communication works.
Social-Emotional Skills: Brief interaction with other children is vital at this life stage. A few hours of daycare every week is an excellent way to introduce your toddler to others in their age group, which will help them develop better social and emotional skills.
Fine Motor: Show your child how to wash their hands using soap and water and encourage them to learn how to turn the water on and off. Building blocks and finger painting are both great ways to help toddlers develop fine motor skills.
Multisensory: Make a bag or bin filled with various materials like scrap fabric and small toys that will encourage your toddler to learn touch. Sing to your toddler often to help them learn more about hearing. Introduce them to different smells in the kitchen, and slowly give them new foods to encourage the development of taste.
Sleep Coaching: Start a pre-bedtime routine and keep your toddler on a sleep schedule as much as you can. Teach them how to brush their teeth and put on their pajamas at night, so they associate it with getting ready for bed.
Entertainment: Listen to lots of music with your toddler and practice regular storytimes. Playdough and "pretend cooking" are great ways to help them develop fine motor skills while keeping them entertained.
Games: Make a homemade home bowling alley with some empty plastic bottles and a ball. Look for age-appropriate counting, letter, and color games to inspire learning and fun at the same time.
Indoor: Have fun making cloud dough with your toddler in the kitchen, then give them free time to play with their creation. Simple arts and crafts like coloring and finger-painting are excellent ways to keep toddlers entertained.
Outdoor: Reserve some time each day for outdoor play. Make sure that your toddler is always supervised when outdoors. A simple romp through the backyard can help them develop stronger muscles and give them a few moments in nature as they feel the soft grass and listen to the birds.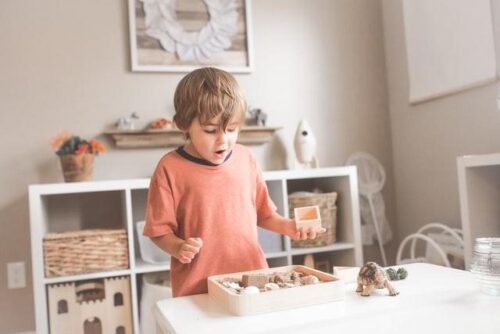 Preschool: Ages 3 to 5 years
Learning activities: Now is an excellent time to teach your preschooler more about counting, color recognition, and writing. Let them practice writing numbers and letters on large, lined paper. Count with your child aloud and ask them to identify different colors any time they see something new.
Academic Skills: Sit down with your preschooler and work on their counting abilities, having them repeat the numbers back to you. Set aside time each day to have them practice drawing, coloring, and writing to feel confident when they attend preschool.
Communication Skills: Continue talking to your preschool-aged child, asking them to respond to you aloud. Ask them lots of questions, make up fun stories, and keep the communication flowing throughout the day.
Social-Emotional Skills: Ask your preschooler how they are feeling to encourage emotional development. Make sure they spend time with other children the same age and find a few friends they can play with each week. A playdate with other children and their parents is a great way to inspire social development.
Fine Motor: Stacking blocks are a great way to help develop fine motor skills at this age.
Multisensory: A keyboard is a wonderful tool to develop multisensory skills. Let your child play with the keys and make their own music as they sing along. Sensory games and toys featuring various sights, sounds, and tactile objects are also excellent tools to help them develop their senses more sharply at this stage.
Sleep Coaching: Make sure your preschooler goes to bed and wakes up at the same time every day, even on the weekends. If they cannot nap during the day, make sure they have at least a few minutes of "quiet time" every day to settle down and unwind since a calm mind will encourage better sleep patterns.
Entertainment: Sing-along CDs or downloads can help keep your preschooler entertained. A few educational television shows are fine but continue to limit TV time as much as you can.
Games: Look for some learning games that your toddler will enjoy as they sharpen their reading, writing, and counting skills. A few great games for this stage include a simple paper ring toss, duck-duck-goose, and musical chairs.
Indoor: Have some fun with arts and crafts, including finger painting, making a handmade birdhouse, and noodle necklaces. There are plenty of indoor activities for kids, especially on those rainy days.
Outdoor: This is a great age to teach your child how to plant a garden. Set aside part of your yard where they can dig in the dirt, plant some seeds, and water them until they grow. Outdoor play is crucial at the preschool stage, so spend time outside as much as possible.
Grade Schoolers: Ages 5 to 12 years
Learning activities: Show your grade-schooler how to use critical thinking by coming up with scenarios, then encouraging them to find a solution. This is also an excellent stage to have your child write down their thoughts to help with writing and expression. You can also start incorporating STEM activities for kids.
Academic Skills: Take time to sit down with your child as they work on their homework. Make this time a positive thing rather than associating it with negative thoughts and feelings. Make nightly homework fun by turning it into a challenging game, and reward your child whenever they complete their assignments with an encouraging word.
Communication Skills: Continue to talk to your child and make sure that they interact with others in their grade. Ask them to write a story or have them tell you a story aloud.
Social-Emotional Skills: Depending on the grade, this is a good time to enroll your child in an extracurricular activity, encouraging social development. If your child expresses concern, allow them to talk about their emotions freely without judgment.
Multisensory: Incorporate as many sights, sounds, feelings, and smells as possible into your child's daily activities. Use wall charts or a dry erase board to help them visualize what they learn. For lower grades, have your child make letters and numbers with clay to improve tactile development.
Fine Motor: This stage is a perfect time to teach your child how to use eating utensils, open and close doors, and learn how to turn on the hot and cold water. Cutting paper with scissors and making sculptures with their hands will also improve fine motor skills.
Reinforce old skills: Continue to practice various things like counting and reading throughout your child's grade school years. This will reinforce the things they've already learned as they improve and grow to learn even more.
Entertainment: Find out what your child really enjoys doing, then use that as a form of entertainment. For example, if they love to paint, designate an area in your home where they can use an easel to paint to their heart's content. Focusing on what they enjoy will keep children entertained for hours, even when they're at home.
Games: Choose educational games that are fun for the entire family. Hold a weekly game night to foster emotional development, better communication, and learning all in one. Look for some printable games that your child can color before you play. Homemade DIY games are fun to make and fun to play. At this stage, chess and checkers are also excellent games to play together.
Indoor: Allow your child to sing and dance when they're indoors. Let them get creative and provide them with some fun costumes to play dress-up or hold a play for the family. Arts, crafts, and hobbies are excellent indoor activities for learning and enterteinment.
Outdoor: Visit a local park or playground regularly to encourage outdoor activity. Arrange for your child to meet a few of their friends so they're learning how to interact while staying active and spending lots of time outside. A visit to the zoo is another great outdoor activity for grade-schoolers.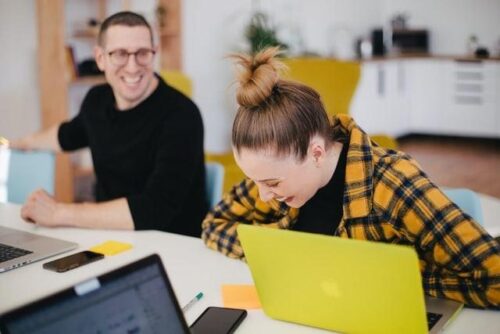 Teens: Ages 12 to 18 years
Learning activities: Now is a good time to teach your teen about money. Show them how to balance a checkbook, so they develop better math skills. It's also a perfect time to show them various chores like laundry and washing dishes.
Academic Skills: Allow your teen to do their homework independently but let them know you're available if they need help or have questions. Independent learning is crucial during the teenage years. Come up with a great reading list for the summer, so your teenager continues to read until the new school year starts.
Communication Skills: Build trust with your teen and encourage them to communicate openly with you on their own. Ask questions without being "nosy," like, "how was your day today?" or "did you learn anything new?" Make it, so your teenager wants to communicate with you willingly rather than forcing them to talk to you if they're not ready.
Social-Emotional Skills: This is an excellent stage to inspire your teen to learn how to listen to others actively. Teach them empathy and how to care for other people, which is a perfect tool for better social and emotional development. Allow them to express their feelings freely, so they aren't bottling up their emotions.
Fine Motor: Sports, dance, and playing a musical instrument are all good ways to encourage teens' fine motor skill development. Once they're old enough, teaching your teen to drive is another key element in fine motor development. Video games can also help, but they should be kept to a minimum.
Reinforce old skills: Keep encouraging your teen to continue reading books, playing their favorite instrument, or writing. The more they practice these old skills, the better they'll become at them.
Entertainment: Arrange for movie nights with your teenager so that they're entertained while you're all together as a family. Listening to music is definitely encouraged. It's also a good time to allow your child to spend some of their free time with their friends by going to the mall or checking out a movie together.
Games: Card games are a popular choice with teens. Uno, Skip-Bo, and Monopoly are fantastic games for this life stage.
Indoor: Most teens will be tempted to stay on the Internet when they're indoors. You can allow them time on their laptop or smartphone, but it's also a good idea to have some indoor activities together, like games or cooking.
Outdoor: Your teenager will probably like to ride their bike or skateboard at this age. A hike through a local nature park is another great outdoor activity. Encourage your teen to exercise as much as possible by promoting a range of fun outdoor activities like throwing around a football, playing horseshoes in the backyard, or heading to a local trail for a brisk walk.
 From infants to teenagers, participating in various home exercises and activities is crucial to foster brain function, body, and emotional development. These simple activities can make a huge difference in your child's life and how they'll function both at school and later in life as an adult. With the right mentoring, your child will become a happy, productive person who has the skills they need to flourish.