Starting big school is exciting and a huge milestone in a kid's life, and also for the parents.
Some things that might be different are a bigger school, having to wear a school uniform, new teachers, new kids, and not to mention having to keep your shoes on all day might be hard for Kindy kids (I know this will be a struggle for my little boy).
It is not just the Kindy kids that go through massive changes, moving into different stages within primary school can be a huge shift for kids and parents as well.
Moving from Stage 1 to Stage 2 is a dramatic change as more work is expected of you and therefore kids have more homework and work on projects.
Just when you think you have sorted out what you are doing, you are then thrust into being a stage 3 kid and the big kids at the school. This gives your child more responsibility and in turn more work.
This detailed checklist outlines what is needed for each stage of primary school.  I have some hot tips to help getting school supplies cheaper so make sure to look out for these.
TIPS TO HELP WITH THE FIRST DAY AT SCHOOL
Organise all the school clothes, bags and all items needed for the school day the night before. This will make the first day easier on all.
Chat with your child and show them the school, let them know how they will be getting there and getting home. If they are older enough to take the bus explain about it and go with them a few times to ensure they know how to do it, or partner with a buddy.
If your child is starting Kindy encourage them to do more on their own so that they are school ready and more confident.
Make sure that your Kindy kid can go to the toilet all by themselves. Accidents do happen and teachers are understanding (Ensure that your child has spare clothes in a plastic bag in their school bag – make sure to alter this with the changes with weather)
If there are other kids that are starting at the same school, make a playdate so that each child will know someone at school on day one.
LABEL EVERYTHING – You will be amazed at how many items get lost or go missing.
If you have kids already at school, check to make sure all the uniform still fits, and that all equipment is still in working order. Do this over the holidays and this will allow you enough time if you need anything new.
TIPS TO SAVE MONEY
Do you already have pencil cases?
If so, are they in good enough condition?
If you have pens, pencils, colour textas or other items that are needed you can use these.
A backpack that your child is already using can be used as a school bag
If your child is going to the same school as their big brother/sister, they might be able to use the same uniform
Friends that know you are going to the school might hand down the uniform to you
Many schools have a second-hand uniform shop where you can purchase the uniform at a cheaper price – our primary school sells preloved uniforms for $2 each no matter what the item is. Check out what days this is on and be there early to get a bargain.
Make sure to check out any sales for back to school supplies – big ticket items that cost are shoes and bags. Officeworks can save you 30% off your school list, all you need to do is upload your school list.
Here's a guide for each stage of primary school:
Early Stage 1 Kindy = Kindy (Starting from 5 years of age)
School uniform
School shoes (If they prefer black sneakers this might be an option)
Lunch box and water bottle (ones that your child can open easily)
Hat
Sunblock
Library Bag
Folder for Reader books
Spare clothes/uniform in case of an accident, either toileting or getting wet, dirty or too creative in art lesson
Jumper in case it gets cold (Even in summer when school goes back this can happen)
Kids in Kindy don't need to bring much with them to school unless the school tells you otherwise.
Make sure to label everything – you will be amazed at how many things get lost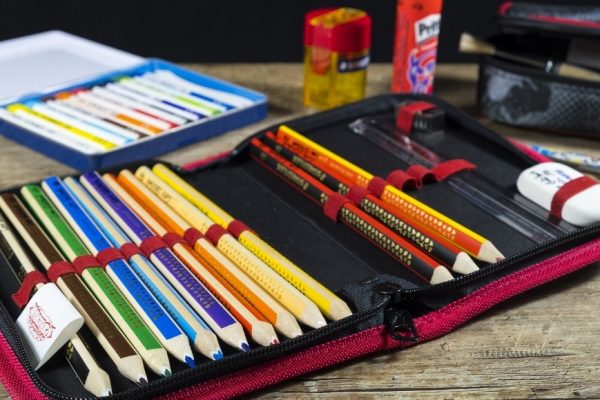 Stage 1 = Years 1 and 2
School uniform
School shoes
Lunch box and water bottle
Hat
Sunblock
Library Bag
Pencil case with the following: lead pencils, wooden 30cm ruler, coloured pencils, textas, glue stick, sharpener, eraser, books, whiteboard markers, and highlighters. A full list is always given to you at the end of the year for the next year. If need a certain item, the school will tell you.
Stage 2 = Years 3 and 4
School uniform
School shoes
Lunch box and water bottle
Hat
Sunblock
Library Bag
2 x 30cm ruler – Wooden
Scissors 6.5cm School
2 x highlighters (different colours)
3 x 40g Glue Stick UGU
4 Blue or Black Pens
2 Green Pens
2 Red Pens
Sharpener with barrel container
2 Lead Pencil Rubbers/Erasers
Coloured Pencils 12PK
Pencil Case Large
5 A4 Document Wallets
2 x 0.4 Fine Black Pens (Artline)
Large Sheet Cardboard – Coloured
2 x A4 128 Page Exercise Books
Faber Castell (any brand will work) Whiteboard Marker Wallet of 4
Shintaro Earphones
Photo by stem.T4L from Unsplash
 Stage 3 = Years 5 and 6
These are the older kids in the primary school and are required to be more responsible and take on more work at school rather than bring homework home. They do more projects/talks and assessments.
This group still needs:
–           School uniform
–           School shoes
–           Lunch box and water bottle
–           Hat
–           Sunblock
–           Library Bag
–           2 x 30cm ruler – Wooden
–           Scissors 6.5cm School
–           2 x highlighters (different colours)
–           3 x 40g Glue Stick UGU
–           4 Blue or Black Pens
–           2 Green Pens
–           2 Red Pens
–           Sharpener with barrel container
–           2 Lead Pencil Rubbers/Erasers
–           Coloured Pencils 12PK
–           Pencil Case Large
–           5 A4 Document Wallets
–           2 x 0.4 Fine Black Pens (Artline)
–           Large Sheet Cardboard – Coloured
–           3 x A4 128 Page Exercise Books
–           Diary 2020
–           Calculator
–           Faber Castell (any brand will work) Whiteboard Marker Wallet of 4
–           Shintaro Earphones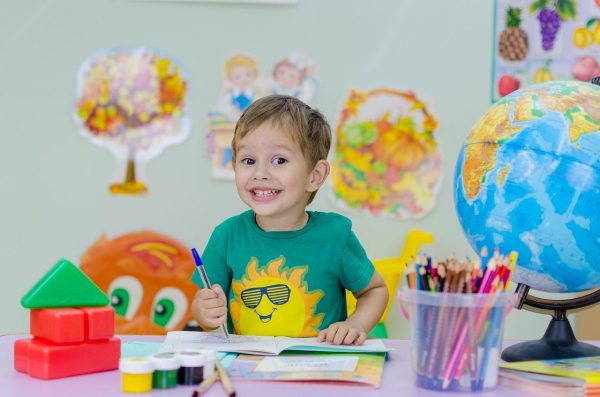 Your child should be familiar with the school if they participated in the transition to school program the year before, this would make it easier for your little one's first day.
It's a good idea to have the day off work for your child's first day of school, this will help your child adjust to the routine and what is involved in big school.
Let your child know where you will meet them at the end of the school day, make a designated meeting place for every day after school. It could be outside their classroom, or in the quad or elsewhere.
Keep in touch with your child's teacher if you are worried about anything.
Most schools have the SkoolBag App, if you are not familiar with SkoolBag it's an app for your school. It is a great way to keep up to date with events, notes, excursions and more! Ask your school if they have it and sign up to make communication and keeping on top of the many school notes easier.
I hope this list of what to pack for all the stages of primary school is helpful, and I hope that your little one will enjoy the exciting adventures of big school.
Note: If any of the equipment differs from what your school has asked for just work with the list provided from your school. The above lists have been the ones that our local primary school uses and I'm sure that it will apply to many, but there might be some things that are different.