From clinical nutritionist, blogger and author Jess Sepel
Easter is traditionally a time for overindulging in chocolate eggs or other sweet treats, however this year there's an even bigger focus on being with loved ones and looking after the wellbeing of yourself and others.
"Given the current global health concerns, boosting your wellbeing can be as easy as eating nourishing food, keeping hydrated, getting plenty of rest and practicing good hygiene.  Small changes, mindful choices, smart swaps, can make a huge difference to your overall health," says Jess Sepel from JSHealth, clinical nutritionist and best-selling author.
This Easter represents a good opportunity to rejuvenate and consider what's important.  Jess has put together some simple tips to help you on your wellbeing journey, and better still, these can be incorporated into your daily routine.
Jess's top tips for staying healthy this Easter:
Allow yourself treats
Don't deprive yourself, it will only result in overeating and bingeing. Instead allow yourself to indulge without guilt during the Easter festivities, but avoid packaged foods and drinks with hidden sugars and instead opt for healthier alternatives like my homemade Gooey Mocha Brownies. This recipe uses Califia Farms XX Espresso Cold Brew Coffee with almond milk which is much lower in sugar than other iced coffees and flavoured milks.
Choose healthier, energising sources of carbs
It's easy to fall into the trap of eating refined starches like white bread and bagels every breakfast, especially over Easter when there are hot cross buns everywhere. Of course, enjoy these delicious foods in moderation but also opt for gluten-free or ancient grains, healthier versions of hot cross buns and pancakes, and spread with good fats like avocado, nut butter, organic butter, coconut butter or tahini which keep you full for longer. Carbs like sweet potato, quinoa and brown rice are great too.
Eat more greens to curb sugar cravings
When you start eating more greens your taste buds begin to change. The bitterness in greens like rocket and kale will make you much more sensitive to the sweetness of sugar in foods so you don't need as much. Greens are also loaded with magnesium, the nutrient that aids in blood sugar regulation which is the key to reducing sugar cravings. Be sure to add greens to every meal where you can (smoothies are an easy win).
Go plant-based
Filling up on veggies, fruits and nuts is a great way to avoid going overboard on the sweets while also ensuring you're getting adequate vitamins and minerals from a range of vegetables and leafy greens. Overconsumption of dairy can be problem area at Easter, so try opting for plant-based cheeses, milks and chocolate instead. Plant milks like almond milk work wonderfully in smoothies, oats, soups, cakes and more. I use Califia Farms Unsweetened Vanilla Almond Milk as it's sugar-free and has a deliciously nutty flavour without being too overpowering. As I always say, animal protein is fantastic to include in moderation too, but consider focusing on plant-based foods over the Easter period
Prioritise protein in your Easter menu
Protein rich foods like almonds, eggs, chicken, Greek yoghurt, tempeh and quinoa are healthy and tasty and ensure you're eating a nutrient-dense, satiating and wholesome meal. Eating protein-rich snacks in between meals such as nuts, seeds, legumes and beans can also prevent overeating.
Reduce alcohol intake
Alcohol in excess is not healthy as it's usually high in sugar and should be enjoyed in moderation instead. So avoid sugary cocktails and added cordials and soft drinks, stick to wine and spirits, limit your drinks and drink water in between alcoholic beverages. If you're looking for another alternative, consider plant-based milks like almond which work wonderfully in mocktails, coffee, smoothies and by themselves or enjoy some sparkling water with fresh lemon, lime or cucumber instead.
The Califia Farms range of plant milks and cold brew coffees are available nationally at selected retail and independent supermarkets.   Go dairy-free this Easter and feel the difference to your wellbeing!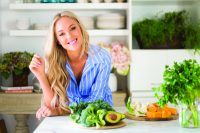 About Jess Sepel
Jessica Sepel (BHlth, Adv Dip Nutritional Medicine) is a clinical nutritionist, best-selling author and the beloved voice behind JSHealth and @jshealth. Her philosophy is focused around balance, rest and building a healthy relationship with food.  Jess is a longstanding advocate of Califia Farms and uses their product range in many of her recipes.
About Califia Farms
Inspired by Queen Califia, the mythical namesake of the state of California, Los Angeles-based Califia Farms was founded in 2010 and has become one of the fastest-growing natural beverage companies in the U.S. Renowned for its artfully packaged and disruptive curvy bottles, Califia Farms makes a wide assortment of plant-based beverages including delicious plant milks and ready-to-drink cold brew coffee. Califia Farms is on the pursuit to return food to its original nourishing purpose by applying creativity and innovation to make plant-based beverages that are both good-for-the-world and just plain good to drink.
For more details on Califia Farms and recipe inspiration visit: califiafarms.com.au or head to @califiafarms / #califiafarmsau
You may also like to read: