By Rebecca Micallef
Having a baby is one of life's most amazing gifts but it can also be a very stressful time to navigate. Many parents often have questions about the shape of their baby's heads, and whether the head shape is something to be concerned about.
What is Plagiocephaly and Brachycephaly?
Plagiocephaly, also known as "flat head syndrome", is a condition characterized by asymmetry of the skull bones, resulting in an uneven head shape. We commonly use terminology like "flat spots" and "high spots" to describe the head shapes of these babies.
Brachycephaly describes a condition of the head where the skull is wider than it is long. The head will often appear quite flattened at the back, rather than round.
It is also possible to have both conditions occurring at the same time, and the skull will be both asymmetrical around the sides and flattened at the back.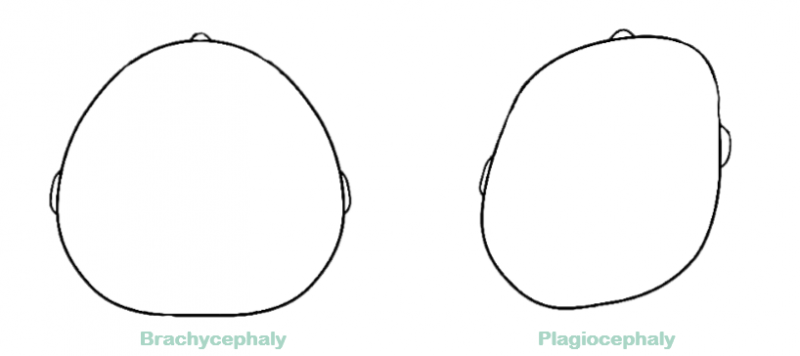 It is very important to note that both plagiocephaly and brachycephaly are cosmetic conditions. This means they will not impact your baby's brain development in any way.
Where to start? Serkel is here to help.
It can be very overwhelming when trying to find a solution to plagiocephaly or brachycephaly, and this adds to the significant parental anxiety these conditions can cause. In part, this is due to the limited options that have been available for parents and carers up until recently. At Serkel, we have worked very hard to find orthotic partners in almost every state across Australia to ensure a simple, effective treatment option is widely accessible. This has solidified Serkel as the leaders in 3D-printed helmet technology within Australia.
We generally find that there is about a 50-50 split between parents self-referring for treatment and those having been referred by a medical professional such as a paediatric physiotherapist, paediatrician, GPs and maternal health nurses.
It is always a good idea to visit a healthcare professional prior to booking an appointment with an orthotist, as it is important to rule out more serious conditions such as craniosynostosis, which is a premature closure of the skull sutures. Craniosynostosis can result in a head shape called 'scaphocephaly', and this can affect both skull growth and normal brain development.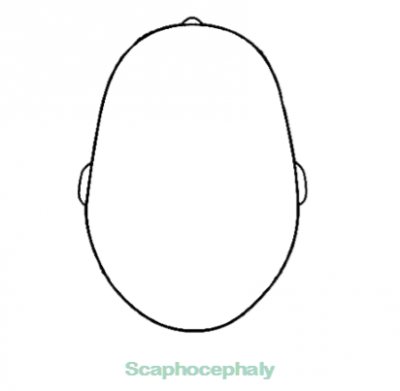 For the full list of orthotists supplying the Serkel helmet please see the clinic list at the bottom of the page.
How does the Serkel helmet work?
The helmets work by redirecting your baby's head growth. We custom 3D-print each helmet based on a 3D-scan of your baby's head, so we can have them fit exactly as we'd like. The helmet will sit snugly over the protruding areas (the high spots) and we create a space for the head to grow into over the flat areas. This means we are relying on head growth for the helmets to be successful. Therefore, the best time to start helmet therapy is when your baby is between 4-6 months of age (as there is the highest potential for growth), but we can treat anywhere from 4-12 months of age.
Treatment with a Serkel helmet will generally last about 3-4 months, and your baby will wear the helmet for 23 hours per day during the treatment period.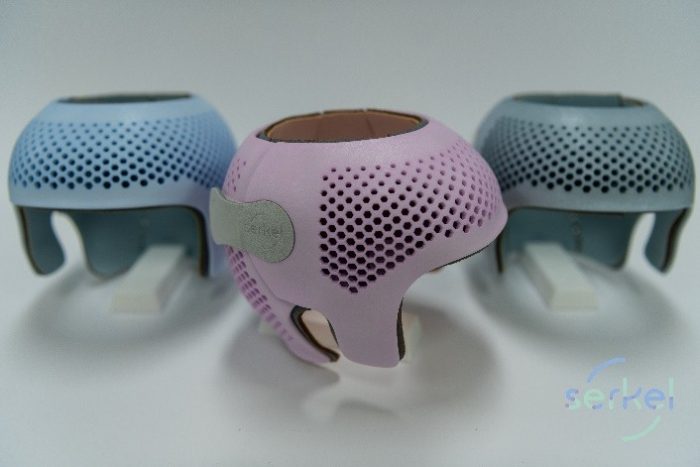 The Helmet Consultation
When choosing a Serkel partner, you will be booked in for a head assessment promptly and then be able to make an informed decision on whether to proceed with a helmet for your baby. This is especially important with conditions such as plagiocephaly and brachycephaly, where you will have better results the earlier treatment begins.
At your first appointment, your orthotist will take a comprehensive history including gestational period, sleeping position, development levels, whether there is a torticollis present (tightening of the neck muscles) and will document any other therapies that have been tried so far.
They will also examine your baby to ensure there hasn't been premature closure of the skull sutures. If closure is detected or suspected, you will be referred to an appropriate specialist for further investigation.
Once the initial assessment is complete, a state-of-the-art 3D scan will take place with a white light scanner. This is completely safe technology and will give both you and the orthotist a highly accurate 3D-image of your baby's head. Our Serkel partners have now performed over 3500 scans collectively and are highly experienced in their field. The 3D-scan will provide you with all the information required to make an informed decision on whether you'd like to proceed with a helmet:

CVAI/CR scores – every scan will generate both a Cranial Vault Asymmetry Index (CVAI) and a Cephalic Ratio (CR). The CVAI is an indicator of where your baby sits on the plagiocephaly scale, and the CR is an indicator for brachycephaly. You will then know exactly where your baby sits for each of these measurements.
Head circumference measurement – The orthotist will be able to see which growth percentile your baby's head fits into based on the head circumference. As the helmets rely on growth to be successful, the current size of the head will be weighed up against future predicted growth.
Age – Again, this is to do with potential for head growth, as younger babies tend to have more frequent growth spurts that can be redirected into the flatter areas of the head. In an older baby, there might be more urgency to be fitted with a helmet sooner, as there will be less growth spurts remaining overall.
Your orthotist will talk through all the information available and make a recommendation as to whether they think a helmet is necessary. It is ultimately up to you to make an informed decision on how you'd like to proceed. At Serkel, we aim to empower parents with knowledge, so you feel confident in making your decision in a timely manner.
Helmet Fitting & Follow-Up Appointments
If you decide to move forward with a helmet, Serkel will receive your baby's head scan and we will 3D-print a customized helmet, and laser-cut the helmet liners. You will have your fitting appointment with your orthotist about 10-14 days after the scanning appointment.
During this fitting appointment your orthotist will fit the helmet on your baby and ensure it is sitting well, especially around the ears and neck. They will then run through the more practical elements such as cleaning the helmet, changing the liners and how to fit the helmet yourself at home.
Once fitted, we recommend a follow-up scan every four weeks. This will allow the orthotist to track the progress of the helmet therapy and will help them to determine when to stop therapy altogether. We understand travel is sometimes a factor, so for parents living extended distances from their orthotist, the rescan appointment may be pushed out to six weeks instead.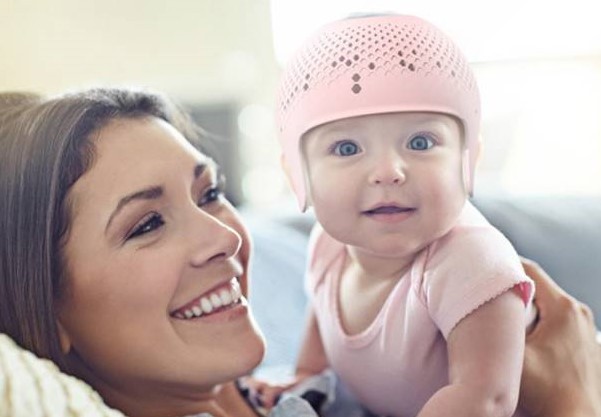 For more information, or to locate your closest orthotist providing the Serkel helmet please see the list below:
VICTORIA
Orthokids – Surrey Hills
18 Stirling Crescent,
Surrey Hills, VIC 3127
(03) 9836 4480
Orthokids – Frankston
80 Williams Street,
Frankston, VIC 3199
(03) 9836 4480
Head to Foot Orthotics
39 Centre Way,
Croydon South, VIC 3136
(03) 9870 2284
NEW SOUTH WALES
Zortex Orthotics
Level 2, 75 Carlotta Street,
Artarmon, NSW 2064
(02) 9438 5003
Nova Orthotics
53 Hanbury Street,
Mayfield, NSW 2304
(04) 3339 5173
Access Orthotics
167 Church Street,
Wollongong, NSW 2500
support@accessorthotics.com.au
AUSTRALIAN CAPITAL TERRITORY
Momentum Sports & Rehabilitation Services
Unit 6, Traeger Court Business Park,
28 Thynne St Bruce ACT 2617
(02) 6210 0060
SOUTH AUSTRALIA
Novita Children's Services
171 Days Road,
Regency Park, SA 5010
1300 668 482
QUEENSLAND
Freedom Prosthetics
1/222 Hartley St,
Cairns, QLD 4870
(07) 4035 1404
WESTERN AUSTRALIA
Interface Orthotics
14 Southport Street,
West Leederville, WA 6007
(08) 9388 9779
TASMANIA
Orthotic Prosthetic Services Tasmania
Launceston General Hospital, Level 2,
274 – 280 Charles Street,
Launceston, TAS 7250
(03) 6777 8562