Media kindly brought to you by On Chic Baby Clothes
If yourself and/or a friend has a passion for sustainability, you'll know that it cannot be discounted as a passing fad, but rather, a lifestyle commitment. One that will only strengthen as society collectively vows to do better in safeguarding the planet. With the purpose of preserving life for the next generations, it makes perfect sense for sustainability to be infused in baby-related products, and for parents to become more conscious consumers when raising their family.
As the saying goes, children are the future, so what better way to honour a child's future health and prosperity by choosing an eco-friendly gift for mumma? In fact, we reckon the gift of a liveable planet can't be beat! If you've got an upcoming baby shower and are racking your brain to think of suitable options for a soon-to-be mum with sustainable values – or simply want more insight on products for your own sustainable child-rearing – then read on!
Plastics (especially single-use) and heavily synthetic materials that have dominated the baby market for so long, are on the way out, as manufacturers respond to consumer demand for ethical goods that limit our carbon footprint. Although it can be quite the adjustment to wean off traditional baby items and the convenience they bring, this movement is showing no signs of slowing down. Just ask Natasha Hughes and the team at On Chic Baby Clothes, who specialise in sourcing quality, sustainable clothing and accessories for the growing number of parents who want a simple, beautiful and ethical solution to dressing their littlest loves.
Here, they share their tips for picking an ideal eco-friendly gift for any new or expectant mumma.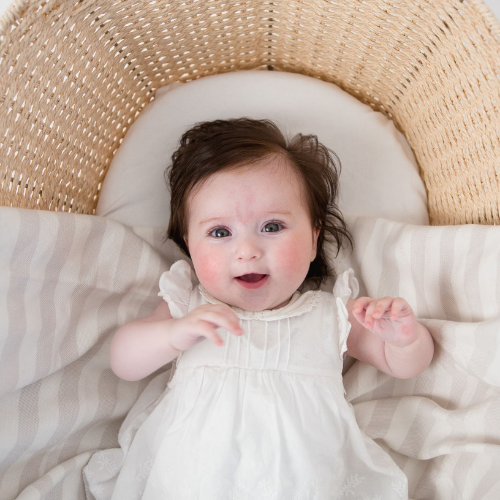 Eco-friendly clothing for baby
With babies requiring multiple changes per day, clothing has always been a popular choice of gift for a baby shower, ranging from singlets to rompers and everything in between. That being said, the popularity of fabrics used to make babywear has changed over time, and the choice of clothing at today's baby shower may look a little different to that of your mother's generation.
Following the period in the Mid 20th century of mass production of synthetic or 'man-made' fibres which came to dominate the clothing industry for the next several decades, society is actively rethinking this reliance. It's now widely accepted that the two core qualities of baby clothing – durable and hypoallergenic – are better served by natural, non-synthetic fibres, where possible. Driven by this ethos that natural is usually best, for both baby and environment, there is greater consumer-savviness nowadays for parents to be more discerning about this when picking up a cutely designed dinosaur bodysuit, for example. In turn, their purchasing power creates meaningful change.
A highly popular fabric like cotton is known to be strong yet gentle on baby's skin, but did you know that not all cotton clothes are created equal? A sustainable material can quickly turn if the manufacturing process is unsustainable. Traditional cotton harvesting and production is known to use huge amounts of water (up to 20,000 litres to make one kilogram of cotton clothing), involves chemicals including pesticides to grow the crop, not to mention poor treatment of overseas plantation workers. It's a bleak picture, but changes to 'fast fashion' and apparel is afoot. Experts agree that "despite decades of environmental mismanagement, cotton still has the capacity to reach its sustainable potential. In some places in the world, it already has. In 2016, a life cycle analysis found that organic cotton uses 91 percent less fresh water and could be processed using a third of the energy as conventional cotton" [source].
If your friend has a commitment to sustainability, a gift of clothing that features organic cotton or bamboo is sure to satisfy. The On Chic Baby Clothes range is proof that ethical and practical needn't mean frumpy. They go the great lengths to select the very best GOTS certified organic cotton baby wear, stocking only Australian designed baby brands that are known for their commitment to ethically made 'slow' fashion for babies.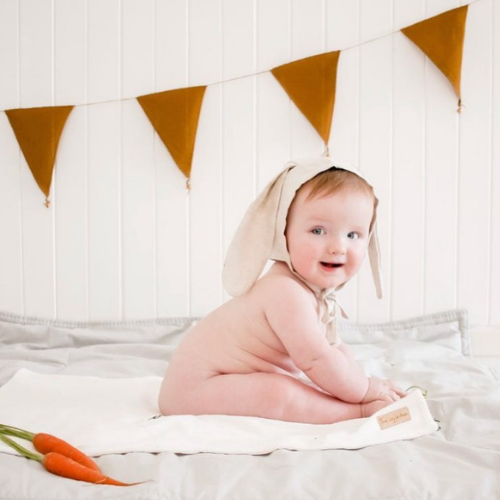 Eco-friendly stimulation for baby
Low cost, plastic-based kids toys adorn the pages of toy catalogues in the Western world, and it's reflective of our culture of excess and disposability. The push for a return to more eco-friendly toys puts the onus not only on toy manufacturers to improve ethical means of production, but on parents to embrace the idea of a 'circular economy' where we look to replace the short life cycle of a toy by reusing and recycling materials as much as possible. You may be thinking: 'what makes a toy sustainable in the first place?'. It's ability to biodegrade is the key to earning this status, and may include wood, organic cotton, wool, and bamboo. In fact, wood-based toys are enjoying quite a renaissance for today's modern, progressive parents, which may seem surprising given the rise of technology and screens.
Before we look at some examples, let's consider the definition of sustainability as "the processes and actions through which humankind avoids the depletion of natural resources, in order to keep an ecological balance that doesn't [compromise] the quality of life in modern society" [source]. The adoption of eco-friendly toys, especially for infants and toddlers, does not actually sacrifice on the entertainment or skill development we've come to expect for young children in the modern world. In fact, biodegradable toys without the 'bells and whistles' typical of plastic and battery-operated toys, can offer an enhanced sensory experience by way of encouraging more imaginative play that compels children to develop their creativity and problem solving to make play 'come alive'.
And for babies, teethers – which are the staple of early, oral exploration – come in a wooden form that brings additional benefit. For example, suitable wood offers a different texture that contrasts more common teething materials such as baby-safe silicone, and has in-built, anti-microbial properties. And if you're worried about this affecting forest conservation, there are initiatives underway to balance our use of this resource. The wooden teethers available at On Chic Baby Clothes are made from beechwood, which is among the most sustainable forms of wood available today. This is because the annual harvesting of beech wood is currently lower than its total growth, meaning we are not depleting the trees faster than we can regrow them [source].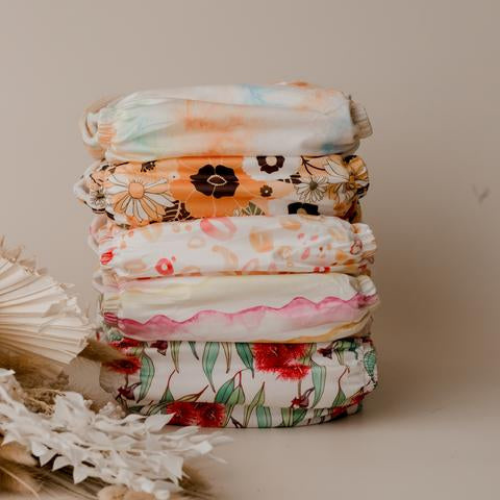 Eco-friendly nappy changing
Purchase of clothes and even toys are among the easier habits to adjust towards living sustainably, but there's another aspect of waste that we obviously can't ignore when it comes to babies! Nappies are a necessity for babies, but the big-brand varieties that line the supermarket shelves are very problematic in terms of their environmental impact. Not only do these plastic and polymer-based nappies contribute to a significant percentage of a country's non-recyclable landfill waste, they also release many harmful chemicals into the environment that are embedded in the manufacturing process [source].
Finding an alternative to traditional single-use nappies may be the last frontier for the sustainable mother, as convenience is undoubtedly a factor for the busy, modern parent. Although some companies are working to produce more eco-friendly and biodegradable disposable nappies, Rebecca Ciaramidaro, a baby and kids expert from CHOICE (Australia's leading consumer advocacy group), confirms that "the best way to reduce your environmental impact when it comes to nappies is to opt for modern cloth nappies" [source]. She helpfully points out that cloth nappies have come a long way since pre-industrialised times. If we think back to the concept of sustainability as a balance between environmental interests and quality of life, modern nappies are rising to the challenge to be relevant for the 21st century parent. You may be surprised just how similar they look to disposable, plastic nappies, featuring absorbent padding and liners, water-resistant covers and even leak-proof elasticised leg holes.
If your friend has already made solid progress in their sustainability journey by cutting out some single-use plastics from their life, cloth-based nappies are an ideal gift choice. On Chic Baby Clothes is proud to stock a range of snazzy, bamboo-based cloth nappies that are designed to grow with your baby right through to toilet training, and provide peace of mind that you are achieving zero waste in an area of child rearing that has a massive environmental impact. And for an even more economical and waste free nappy system, why not add Reusable Bamboo Wipes as part of the gift?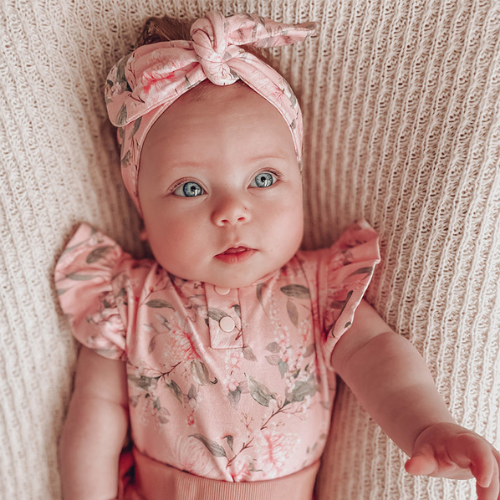 Some final pointers
The gifts themselves aren't the only aspect of an eco-friendly baby shower. Just as attitudes are shifting on the appeal and use of party accessories such as balloons which are not biodegradable, packaging and presentation should also factor in. Don't forget to be thoughtful in the way you wrap your gift. If you present something over-the-top with plastic embellishments – i.e. bubble wrap – it will defeat the purpose of the gift and serve to undo the care that went into its selection.
None of the naturally-occurring materials we have discussed are inherently unsustainable – it's how humans harvest and treat these resources that matters. A lack of visibility into manufacturing and even transportation of goods is undermining parents' ability to be fully informed of their purchase of truly sustainable baby products, but a little of your own research can go a long way in identifying brands that are legitimately backing up their claims of sustainability. You may have already seen labels and badges such as the Better 'Cotton Initiative', but of course, much more is needed. By choosing an eco-friendly baby shower gift for friends and family, you can help normalise sustainability in the community and push for change. Plus, you're likely to strengthen your bond with the mum-to-be in sharing your vision for a better world.
To view the full range of sustainable, feel-good products from On Chic Baby Clothes, visit their website.