Media kindly brought to you by Bugaboo
Let's face it, being out and on the go with a baby in tow can be an intimidating affair. Remembering to bring the necessary supplies, safely storing said items such as bottles and nappies, and having the space to conveniently pluck items at a moment's notice, can ruffle even the calmest parent. That's why investing in a quality baby bag is among the top priorities for new parents when baby shopping. Pick one that doesn't meet your desired (and unexpected) needs, and you may find yourself in some sticky situations, but pick the right one, and you'll feel much more confident in stepping out into the world with your baby.
Although it may seem like you need a magical, Mary Poppins-style bag to carry an infinite amount of baby supplies, rest assured that is not actually the case! In fact, a compact, well-designed bag that includes key features for the modern parent can do wonders in keeping you organised and fully prepared to meet your baby's needs. And while there is no one 'right' baby bag to suit every single parent, there are a set of tried and true features that cater to the common situations you may encounter with your little one.
To help Kiddipedia canvass the essential tips for choosing a baby bag, we enlisted the advice of our friends at Bugaboo. Known for their flagship range of prams, strollers and accompanying accessories, their mission is to make spending time together with your child exciting, memorable, and, most importantly, fun, no matter where you go. Having just released their new and improved changing bag and accessories, they certainly know a thing or two about how to stay well-stocked and organised when travelling with a baby.
Let's jump in!
Make sure it's easy to clean
When admiring a brand new bag at the store, it's easy for a new parent to underestimate how dirty it's likely to get through a variety of accidents and spills from milk to soiled nappies, and the need for frequent or daily spot cleans and washes. Even the most diligent bag owner will find that looking after a baby bag specifically, is a completely different ball game!
During those inevitable moments of scraping a sticky substance from the interior of the bag, you'll either be thankful for investing in easy-clean fabric and waterproof compartments that repel stains and lifts mess quicker, or cursing the fact you didn't opt for a bag that takes this into consideration for the busy mum or dad. Aside from convenience, easy-clean and waterproof fabrics also ensure a more hygienic storage of items, giving you peace of mind that your baby's belongings are kept as clean and free from bacteria as possible.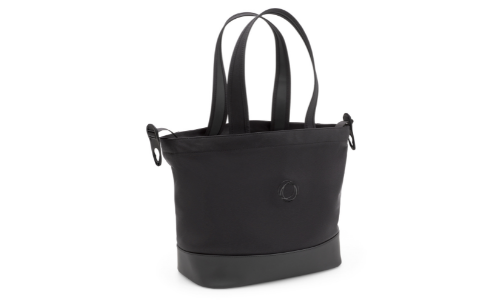 And don't worry, practical needn't mean frumpy! If you're looking for a fuss-free bag that can handle anything you and your baby throw at it, check out the Bugaboo Changing Bag. It features water repellent high-quality fabric on the exterior that makes it spill-proof, while the two roomy, wipe-clean compartments on the interior make it perfect for separating wet from dry and isolating items that are prone to a tumble or spill. It even features an insulated pocket to store food and baby bottles.
Look for an all-in-one nappy changing solution
Speaking of messes, if there's one thing that can make or break a baby bag, it's how equipped the bag is for spur-of-the-moment nappy changes when out and about. A compact, fold-out changing mat is a given for the modern parent, and many manufacturers are building this feature into their bags. However, even if you find a bag that is kitted out with all the features for a superior nappy change, they can be quite bulky and cumbersome to carry around all day and seem like overkill for the times of day when a change is not required. A lightweight yet feature-packed design will make your life much easier and is what separates the best from the rest, in terms of baby bags.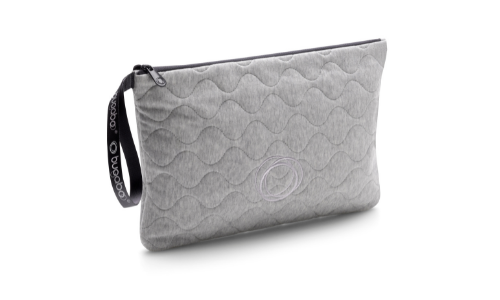 How about a 'modular' style of baby bag that allows you to customise what you carry as your situation and daily activities change? Check out the all-new Bugaboo Changing Clutch – your chic and convenient portable changing station. The perfect accessory for nappy changes on the go, store it in your favorite changing bag or use it as a small purse. This stylish clutch helps you with quick and easy changes no matter where your adventures take you.
With the Bugaboo Changing Clutch, you have all your essentials at hand for on-the-go nappy changes. It's large enough to fit multiple nappies, wipes and creams. And with the integrated changing mat, you can turn anything into a changing station, allowing your baby to lie comfortably wherever you are. Once you're done changing, just wipe it clean, stow it away in your bag or under-seat basket of your pram, and you're ready to go. The water-repellent and machine washable fabric means you never have to worry about unhygienic public changing stations, and when your days of changing nappies come to an end, you can still use the clutch as a stylish toiletry bag.
Insist on ample, thoughtful storage
If you thought packing your own personal bag was a complicated affair, wait until you get the baby bag experience! Throwing items in the bag indiscriminately, is a fast way to a cluttered mess that ends with the all-too-familiar and frustrating scenario of dumping everything out, in order to get to the one thing your baby wants. Ample storage compartments are your best friend, but their placement is also a key consideration. Is the bag designed intuitively, to be as practical as possible for the user?
If you've ever heard of the saying 'a place for everything and everything in its place', you may be getting the picture that compartments in a baby bag need to be purposeful, to allow for an organised mum and bub – or any caregiver for that matter. When considering a bag, you might like to envisage what you will store and where, and then mimic how you would access each of the items if they were all loaded inside. Furthermore, what options do you have in transporting the bag? Does it feature clips to attach to your pram or stroller, when you want a hand or arm-free option?
Recommendations for building the contents of your baby bag:
First add the bulkier, priority items for changes including nappies, wipes, nappy cream.
To be prepared for accidents, an extra set of baby clothes is always a good idea.
Next, pack feeding accessories such as bottles, a sippy cup, snacks, etc. in waterproof compartments
Consider a swaddle blanket for those times your baby needs soothing, and roll it up in an inside compartment.
Don't forget to add a couple of baby toys and teethers and place them in an easy-to-reach spot.
Finish by with any mum or dad essentials such as your phone, hand sanitiser, and snacks.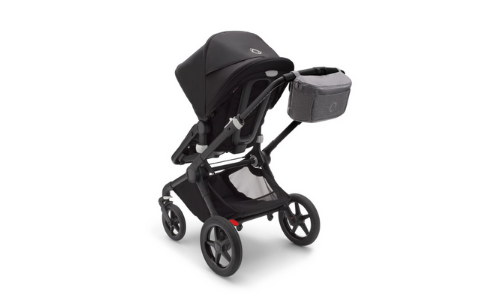 There is another relevant saying here, that the more you pack, the harder it will be to stay organised. While there is certainly some truth to this advice, if you're using the new look Bugaboo Organiser, you won't need to worry about lacking space or compromising on any of your baby bag essentials! Designed as a must-have attachment for your pram or stroller, it also serves as a sleek, standalone tote bag to store all your baby items conveniently in the one place.
Distinguished by a beautiful new design, this water repellent organiser is ready to use with your pram or stroller in mere seconds with the universal attachment, and comes with multiple, easy-access pockets, helping you keep your baby essentials such as a dummy/pacifier or extra snacks, always within arm's reach. Once baby's items are loaded inside, there's still dedicated space for you to store all your personal belongings in the convenient zipper pockets located on the outside of the bag. Truly a valuable companion on any adventure that makes yours and your baby's life easier.
Find a bag that suits your style
Yes, the purpose of a baby bag is to be practical above all else, but that doesn't mean it can't also be stylish and a reflection of the wearer. Baby bags have come a long way since your parents' generation, and now incorporate designs that recognise mums and dads' identities beyond parenthood. Some are also linked to a sustainable manufacturing process, to align with the values of the environmentally-conscious parent seeking products that leave a positive legacy for their child and future generations. Whatever your style, the idea is that if you have a fondness for the bag itself, you will be more open to taking it with you and keeping it maintained. And a bag that integrates your parenting responsibilities with the world around you, can make a huge difference to your wellbeing.
With this in mind, function and style are important elements in the Bugaboo brand. The latest Bugaboo changing bag has been revamped with a sleek new design and 4 eye-catching colours. Similarly, the fashionable design of the new Bugaboo Changing Clutch means it can double as a purse to carry separately to the changing bag it fits into. Even the all-time favourite Bugaboo Organiser has had a design refresh to ensure form and function. Whichever Bugaboo product you chose, you can be confident that it combines fashion and convenience for the modern parent to stroll in style.
To explore the full, exciting range of Bugaboo bags and related baby products, visit their website.