Written by Alice Zsembery
Have you got a friend that is expecting or recently had a baby? Lost for a gift idea?
The chances are that they have already stocked up on the essentials and are probably drowning in sleepsuits, cute (and totally impractical) baby clothes and a mountain of blankets and rattles.
And…If it is her second (or subsequent) child then she absolutely has everything she needs and then some.
So here are some gift ideas to stand out from the crowd; because they are both awesomely unique and downright practical.
[Note that this blog is not sponsored and any product recommendations come from personal experience and satisfaction.]
Coffee cup holder for the pram
One of those essentials that you don't even know is an essential until after baby is born.
Help a mama out and make sure that she is caffeinated on the go. Even better, get her a keep cup as well to match.
Real Milestone Cards
Help her capture the 'real' moments of parenthood with these hilariously unique baby milestone cards by Seriously Milestones. Checkout their list of online and physical stockists here.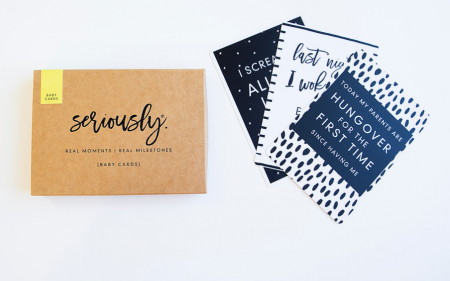 [Image courtesy of Seriously Milestones]
Home delivered meals/cleaning voucher
Particularly for the second time Mum, forget a present for the baby. It has everything. Really. If you want to get something Mumma really loves and needs, then how about a voucher for home-delivered meals or cleaning?!
When choosing a meal voucher, be conscious that there are different offerings; from ingredients to fully prepared meals, and from frozen to fresh. We love YouFoodz because it ticks all the boxes; it is fresh, fully prepared, has a low minimum spend, online gift vouchers and free delivery.
A batch of Lactation Cookies
When I had my first I spent the initial weeks consumed by trying to feed him and get my supply up… I had no idea how hard it was until I was in the thick of it!
One of the most wonderful presents I received was a bunch of freshly baked Lactation Cookies on the doorstep. There are many recipes out there, but my go-to is this one (be sure to add in the choc chips!).
[Image courtesy of Unsplash]
Teething Necklace
I never even knew about these until my second, but they honestly made me feel half-human (and 'dressed up') whilst serving a practical purpose.
Totally affordable and there are so many beautiful designs out there (like the ones below from Spunky Monkeyz)… you will be sure to find something that you love.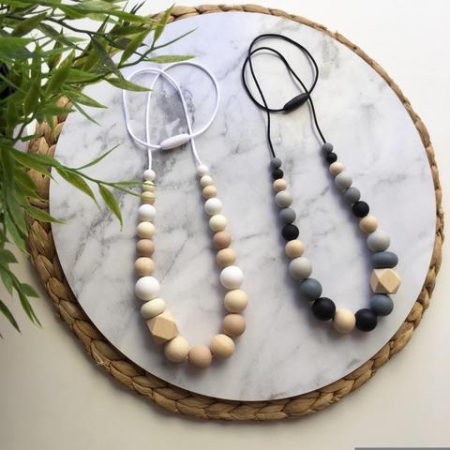 [Image courtesy of Spunky Monkeyz]
Real Kids, Real Play Book
Bring back real childhood and help relieve the financial burden on parents (as well as the toy clutter).  Real Kids, Real Play was written when I was stuck with a newborn and energetic toddler in the house and outlines 150+ activities for pre-schoolers to do around the home using household items. NO TOYS NECESSARY.
[Image courtesy of Jack and Lu's]
Kids First Aid Training course
There is no time more important in your life to learn First Aid than when you are suddenly responsible for little humans.
So give her the gift that you hope she never needs…
Providers like Save a Kid provide affordable first aid training run by paediatric emergency nurses… an essential for any new parent.
[Image courtesy of Save a Kid]
You may also like to read:
How to teach your kids the gift of giving
20 empoweing affirmations to help you rock your birth