by Krissy Regan
Many people are not ready to think about Christmas yet and I don't blame them – I'm not quite there yet myself.  I confess I feel a bit worried about Christmas because I see so many families around the world struggling this year.  I also know that many of us have been severely financially affected and the thought of shopping for gifts is the farthest thing from our mind.  As a parent all of this can become immensely stressful.
However, I would like to "Stress" a different point of view.  This year we have adapted, grown and innovated in different ways.  Children have seen how adults can change and adapt to these new challenges, and stop and go in a different direction really quickly, when we need to.  I would even go so far to say that our children may have seen a really different side to us this year, and probably they feel closer to us, because they have literally seen us work, rest and play in the same environment as them, often 24/7 for long periods of time.
So, how can we go into the festive season without the stress – an innovative spirit – and take the focus off stuff and make the focus on substance.
Here's my top 5 tips to make this year a message of Substance.
Sit down with your family and talk about expectations for the coming holidays.
Ask each person what they would like to do to help others these holidays.
Ask each person if there is something, they have been thinking about that would make life happier around the home.
Ask each person what has been their favourite part of this year, and if there is something that could be continued in 2021, what would it be.
Ask each person what they think other people will be doing this year to celebrate Christmas.
We often get trapped into the idea that our kids want stuff!  And what's interesting this year is that the movement of stuff around the globe has been hugely affected and the focus has been more on shopping local, supporting small businesses and being thrifty about how we use our money.
The team at MindKind Kids and Mindful Mums Queensland had a long chat about this and came up with a plan.  We want the focus to be on kindness, togetherness, mindfulness and oneness. Our unique take on the advent calendar which highlights each of these elements is now in a beautiful digital download product.
The MindKind Kids Christmas challenge is a countdown to Christmas – with a series of daily rhyming sensory challenges, which have mindfulness and kindness at the heart of every task.
Aimed at 4-12 years – children will be encouraged to use their superpower senses to help grow their confidence, improve their mental and physical health, and to show love and kindness to themselves, their 'bubble' and the wider community. The daily challenges are designed to be used by the whole family and for early years the tasks can be read aloud to them.
The journey begins on the 1st of December, with a personal letter from Father Christmas and the 'Day 1' challenge. The download pack also includes a 'Nice List' certificate to be given upon completion!
With a countdown of 'sleeps to go', and a different Christmas illustration and a hidden elf on each daily challenge, it can be used as a fun and interactive advent calendar in the lead up to Christmas.
The Download Pack includes;
1 x A4 letter from Father Christmas – for you to write their name(s) – Given on Day 1 alongside the first task.
1 x A4 'Nice List' Certificate – for you to write their name(s) – to be given on completion.
24 daily rhyming tasks, with a countdown of 'sleeps to go' and a hidden elf on each task (see tasks below).
1 x A4 paper Christmas colouring sheet (Day 22 task).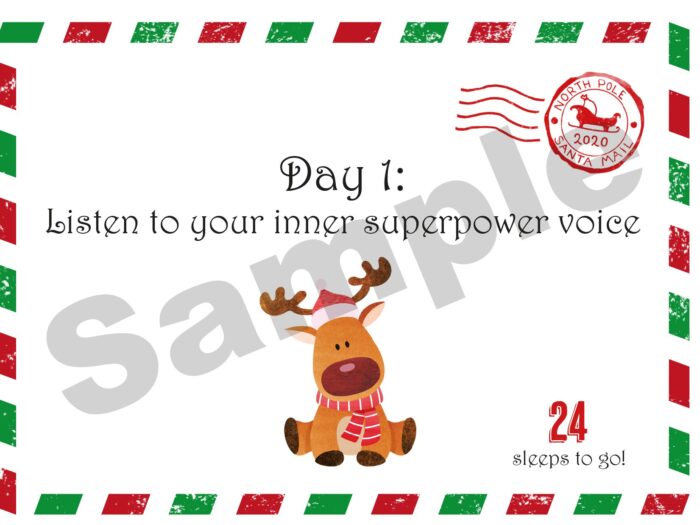 Daily Advent Tasks;
Day 1 – Listen to your inner superpower voice
Day 2 – Test your supersonic hearing
Day 3 – And breathe…
Day 4 – Superpower brain
Day 5 – Superheroes need superfood
Day 6 – Superpower sight
Day 7 – Create a Christmas card
Day 8 – Laughter is the best medicine
Day 9 – The gift of time
Day 10 – Exercise and energise
Day 11 – Be an eco-warrior
Day 12 – Smiling – a hidden superpower
Day 13 – You've got this
Day 14 – Hero hugs
Day 15 – Outdoor adventurer
Day 16 – Christmas codebreaker
Day 17 – Superstrength Yoga
Day 18 – Community acts of kindness
Day 19 – Superhero singing
Day 20 – Christmas tree decoration
Day 21 – Super scavenger hunt
Day 22 – Creative colouring
Day 23 – Being thankful
Day 24 – Recipe for reindeer food
You can order and Download right now for $9.99AUD.
https://bit.ly/MindKindKids2020DownloadPack
10% of all profits will be donated to a children's mental health projects.
Krissy Regan is The Wellness Poet and Founder of Mindful Mums Queensland.  She is author of 2 new books; Broken to Unbreakable, 12 Steps to an Unbreakable Mind, Body & Spirit and The Koala who Lost his Heart.
Krissy wrote both books whilst working part-time at home, raising 2 small children and juggling the demands of her household.
You can contact Krissy Regan at mindfulmumsqld@gmail.com or follow Mindful Mums Qld on Facebook and Instagram @mindfulmumsqld and view Krissy's work here:  https://www.thewellnesspoet.com/