Media kindly brought to you by The Natural Bedding Company
When it comes to bedding, we naturally all want the best for our families – especially our little ones, who are growing and developing. Since we spend so much of our lives in bed, with adults averaging 7 hours of sleep per day, it is absolutely vital to our wellbeing that we have a natural and healthy bedroom. If you compare this with children and babies who may sleep up to 18 hours a day, it becomes clear why it is even more important that their sleeping environment be non-toxic and safe.
You may think you've covered all bases by choosing organic cotton blankets and sleepwear and using an air purifier among other changes to your home. However, have you thought to consider the mattress your child is sleeping on? You may be unaware of the harmful toxins they are potentially being exposed to.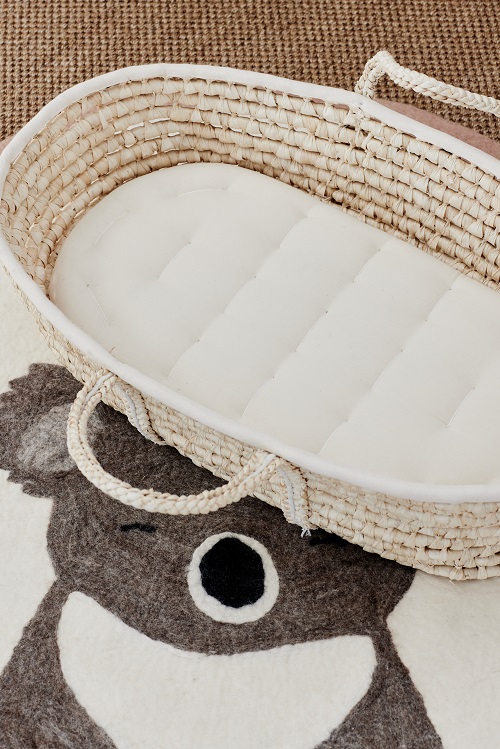 Naptime nasties
So, what should we be looking out for when it comes to cot and bassinet mattresses? We decided to ask Shani of The Natural Bedding Company, an Aussie, family-run brand that's been handcrafting natural and sustainable mattresses in Sydney since 1984 – so it's safe to say they know a thing or two about low-tox bedding!
"Many mattresses on the market are made from synthetic foams, usually polyurethane or memory foam, and have a polyester or nylon cover. One thing to be aware of when purchasing a mattress made from these materials is the level of off-gassing of VOCs. Synthetic materials tend to emit higher levels of VOCs and may also use toxic glues & flame retardants during production" says Shani.
Volatile Organic Compounds (VOCs) are carbon-based compounds used in the manufacturing process of a product. These chemicals evaporate at room temperature and combine with other molecules in the atmosphere, causing the VOCs to break down and create new compounds – this is what is responsible for the smell of fresh paint, a new car or new furniture. And, while some of these new compounds may be harmless, many are not (Ruiz-García et al., 2020). 
Shani explains that: "Mattresses made from synthetic materials have much higher concentrations of VOCs due to the manner in which they are made. We have seen a range of different health ailments present in clients over the years and many have attributed these concerns to the chemical off-gassing in their sleeping environment.  These health issues have manifested in a range of symptoms from itchy eyes and headaches to feelings of nausea and respiratory problems."
In fact, exposure to these chemicals has been linked to endocrine (hormone) disruption (Gallon, Le Cann, Sanchez, Dematteo & Le Bot, 2020), which for developing young children can cause lasting damage and a plethora of issues later in life. Glues and flame retardants have even been associated with cancer and reduced motor function as well as hindering brain development (Rudel & Perovich, 2009). Confronting the reality of the harmful irritants your family may have been unknowingly exposed to is an important first step in making positive changes.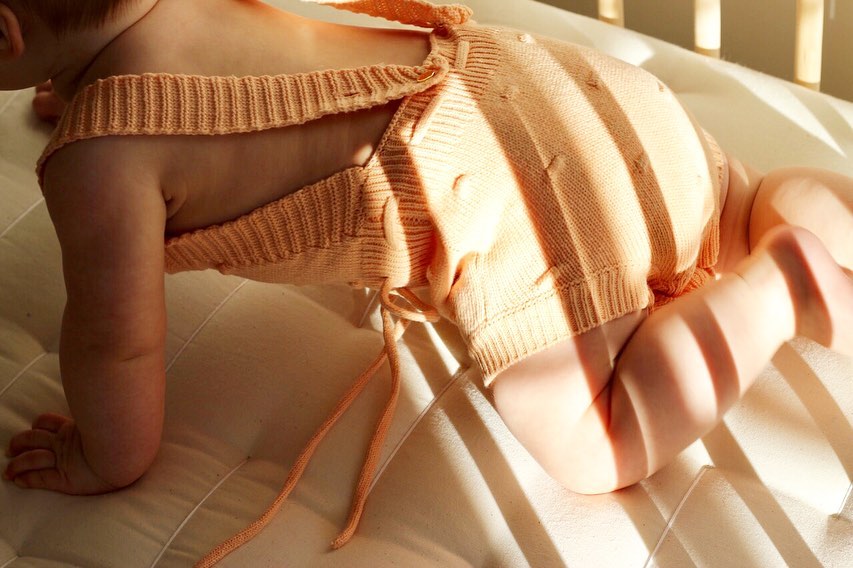 The healthy, low-tox way
Luckily, there is a solution. Choosing natural products limits the amount of VOCs your child may be exposed to and prevents interaction with harmful synthetics. Creating a healthy sleeping environment can be achieved by ensuring the mattress you choose for your child is not only made from natural materials but also offers the firm support that growing bodies need.
The Natural Bedding Company uses all-natural materials for each component of their mattresses. The covers are made from Organic Cotton, while the core is coir (coconut fibre sprayed with natural latex) that is wrapped in untreated Australian Downs wool. 
"We use coir in our cot and bassinet mattresses as it is non-toxic, firm, and boasts impressive natural properties such as being anti-bacterial, anti-fungal, dust mite resistant, and is naturally flame retardant. The wool that we use is sourced from farms in NSW & Victoria and has not been carbonised, nor does it undergo harsh chemical treatments of any kind. It is simply washed using a natural detergent which leaves a lot of the natural lanolin on the wool and ensures it has plenty of bounce. Wool is a wonderful natural material and is used not only for an additional layer of cushioning on our mattresses but is also an excellent natural thermoregulator. " – Shani.
Once you have selected a mattress that best suits your family and their needs, it is crucial to be aware of how to properly maintain and clean your new mattress.
Shani clarifies: "As our mattresses are 100% natural and undergo no chemical treatments, it is strongly advised to follow the care instructions and check for moisture, flipping regularly and vacuuming the mattress with a HEPA filter vacuum (using a HEPA filter vacuum is a great habit that we strongly advise for all mattresses, not just natural ones) . Placing your mattress on a base with slats is also recommended as it assists with airflow," 
The safety of your child informs every aspect of The Natural Bedding Company's design process and as such every cot and bassinet mattress is subject to strict procedures during its manufacture. All cot and bassinet mattresses are made to a uniform thickness and tested so they comply with AS/NZS Voluntary Standard for firmness. They may be the smallest mattresses they make, but their handcrafted cots and bassinets are the most time consuming due to their intricate detailing and the special attention they are given.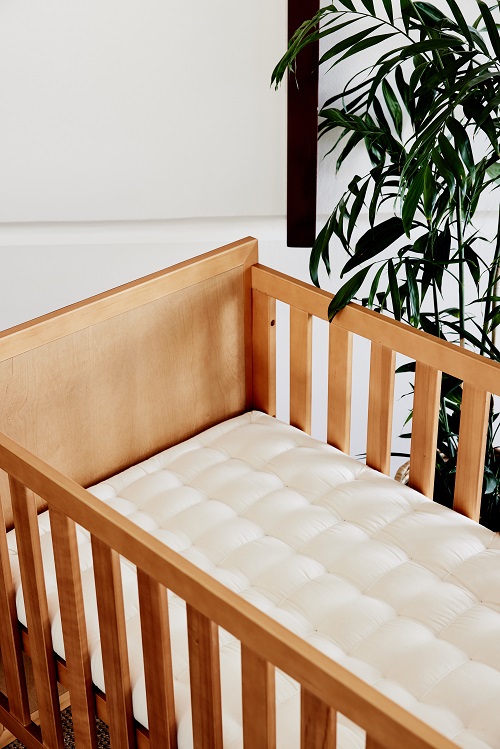 Natural and Sustainable
The Natural Bedding Company has a big focus on sustainability, partnering with organisations like Carbon Positive Australia in their reforestation projects, and handcrafting mattresses from sustainably sourced natural materials  – meaning they can even be recycled and composted at the end of their life cycle. No more contributing to landfills!
Handcrafted here in Australia, all of their cot and bassinet mattresses can be tailored to accommodate a range of dimensions at no additional charge. How good is that?! Plus, their website has heaps of handy tips and extra information so you can rest assured you're getting only the best for your family.
And now you can see for yourself! As a special offer for Kiddipedia readers, simply head to thenaturalbeddingcompany.com.au and enter the code TNBCKP22 at the checkout to receive a complimentary mattress protector with all cot and bassinet mattress orders.
It will be the best sleep your baby will ever have!
References:
Ruiz-García, L., Figueroa-Vega, N., Malacara, J., Barrón-Vivanco, B., Salamon, F., Carrieri, M., & Jiménez-Garza, O. (2020). Possible role of n-hexane as an endocrine disruptor in occupationally exposed women at reproductive age. Toxicology Letters, 330, 73-79. doi: 10.1016/j.toxlet.2020.04.022
Gallon, V., Le Cann, P., Sanchez, M., Dematteo, C., & Le Bot, B. (2020). Emissions of VOCs, SVOCs, and mold during the construction process: Contribution to indoor air quality and future occupants' exposure. Indoor Air, 30(4), 691-710. doi: 10.1111/ina.12647
Rudel, R., & Perovich, L. (2009). Endocrine disrupting chemicals in indoor and outdoor air. Atmospheric Environment, 43(1), 170-181. doi: 10.1016/j.atmosenv.2008.09.025