By Katrina Springer, The Organised Housewife
It's safe to say we've been spending more time inside this year than we probably ever have before, which has meant keeping the kids entertained has been quite a challenge. Now with school holidays right around the corner, parents will no doubt be scrambling to think of some new and creative activities to keep the kids occupied.
While being stuck at home or keeping your distance from those around you can be challenging or 'boring', I believe it is actually the perfect opportunity to think outside the box – you'd be surprised by what weird and wonderful activities you can devise when left with the contents of your home!
To give you a bit of inspiration, here are my go-to social distancing approved activities that will help you when the kids start saying "I'm bored" these winter school holidays.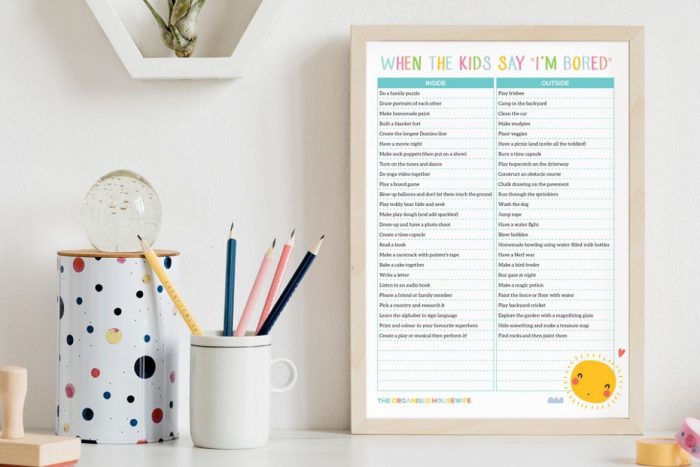 Have a holiday at home                                                                                                                                                      
Our travel options may be limited at the moment, but that is the perfect excuse to turn your home into a holiday spot! Why not create your very own camp site in the backyard? Pull out the tents or the swags and sleep under the stars. If you don't have a tent, you can make some with a few pieces of plywood and some cloth or blankets or even challenge the kids to create their own backyard fort using a table and sheets. Make hot chocolate, roast marshmallows, tell stories, play some board games or even have a family singalong!
Movie marathon                                                                                                                                                                   
Is there a better way to spend a winter's night than rugged up with some movie classics? Set up the loungeroom to be your own makeshift theatre fit with blankets, pillows and bean bags, and create a movie list with each family member contributing. Don't forget to prepare all your favourite movie snacks! Let the kids help pop the popcorn and portion out all their favourite lollies and chocolate.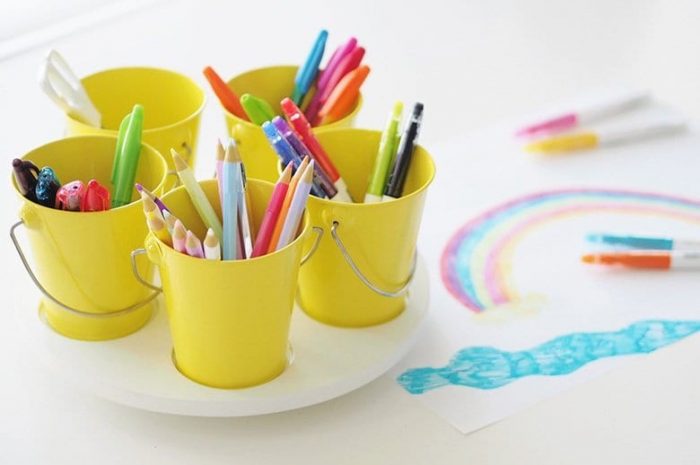 Create activity stations in the backyard                                                                                                                          
Keep the kids amused with a day full of rotation activities. An art and craft station always works well! Lay out some pens, crayons and paper for the kids to draw whatever their imagination tells them. For some extra creativity, look inside your cupboards for other crafty items like GLAD Aluminium Foil, tissue boxes or toilet paper rolls, and challenge the kids to make something with it – whether it be shapes, figurines or maybe even a robot! Other stations could include a sports area complete with soccer ball, skipping rope or maybe a scooter; a bubble blowing station where the kids can blow bubbles until their heart's content; and a cloud watching station where you ask the kids to see what shapes and images they can form from the clouds – always a hit with curious minds!
Put on a performance
Encourage your kids to put on a show – maybe recreate an episode from their favourite TV show or if they are really up for it, create their own story! Let them build a set and create props, using everything from chairs to pillows and GLAD Bake & Cooking Paper which is great to make all kinds of shapes like the sun and stars or maybe even some rain or snow for the performance. It will keep them busy for hours and will be so exciting and fulfilling for them to present to you.
Have a cook-off
Cooking with the kids is a great way to fill up a morning or afternoon at home. It's a great opportunity to teach the kids some important literacy and numeracy skills too – like reading recipes and measuring quantities. Learning disguised with food works a charm every time! Best of all, they get to eat their hard work. Here are some of my favourite recipes to make with the kids.
Pikelets– let the kids help make breakfast with this super simple recipe. They can be easily whipped up in minutes and taste delicious!
Bliss balls– these are great, especially for younger kids because they usually require no cooking and can be made with any number of yummy combinations of fruit and nuts that you already have in the fridge – plus children love to get messy and hands on as they help to roll them out. Some of my favourite combos are Chocolate Brownie Bliss Balls and Strawberry Bliss Balls 
Muffins:What kid doesn't love muffins?! They are easy to make, taste delicious and are also great for popping in the freezer in a GLAD SNAP LOCK Reseal Bag as a ready-to-go morning or afternoon snack. I love these Chocolate Chip and Zucchini Muffins because they taste so yummy, yet come packed with veggies that the kids won't even taste!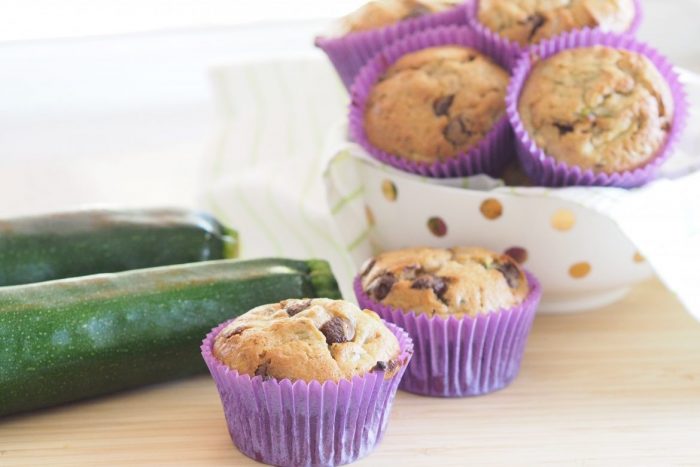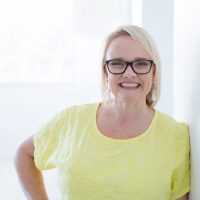 Kat is the founder of The Organised Housewife blog, which she started in August 2010 to share recipes, printables, tips and ideas of how to keep a home clean and organised. She's not an expert,  just one mum sharing a journey of how to manage a family and home, aiming to provide her readers with daily tips and ideas to keep them and their family organised. Ideas to create new habits like making the bed first thing in the morning, creating a routine for the kids to make mornings chaos and frustration free or suggesting areas to clean that you may forget about, such as the dust on the ceiling fans. Kat's aim is to motivate and inspire readers to enjoy the journey they are living with their family while easily keeping a tidy home.
You may also like to read: