Winter is a time for hot chocolates, warming fires and snuggling into scarves and beanies, but when nasty colds and flus come knocking on our doors they can really knock us off our feet. To boost our immune system we turn to foods that typically contain Vitamin C, but did you know that Vitamin E and zinc can help support your immune system too?
We spoke to leading dietitian and Mayver's ambassador Susie Burrell to learn more about the power of these two lesser known nutrients and how best to support you and your family's immune systems.
"During the cooler months our bodies need good quality energy to help optimise immune function and to help the body respond to the drop in temperatures.
"Vitamin E is a powerful antioxidant and plays a role in helping the immune system to fight off infection, and a naturally high amount is found in nuts and seeds, such as peanuts, almonds, hazelnuts and hemp seeds.
"Similarly, zinc plays an integral role in the immune system and is crucial for the development and functioning of the immune cells. We do not store zinc in the body so ensuring we get enough on a daily basis is crucial, especially during the winter months when there are more bugs and infections going around. The richest natural sources come from lean meats, nuts, seeds and dairy.
"Not only are nuts a naturally rich source of both zinc and Vitamin E, their high protein content helps to keep you fuller for longer, adding to their superfood status especially when it comes to optimising our immune health.
"Adding a handful of nuts or a spoonful of a 100% natural nut spread like Mayver's Peanut Butter to sweet winter dishes is easy.
"I really enjoy porridge on cooler mornings and to make this a balanced meal you need to make sure you add a protein (nuts, eggs or dairy) and some form of fruit or vegetable (you get the wholegrains from the porridge!).
"I'll always add a swirl of peanut butter as a topping and alternate between a mix or pepitas and cranberries or dates and fresh banana for an extra boost of energy, minus the added sugars.
"You might be a bit more stuck on how to add peanut butter or nuts to your savoury winter meals, so I recommend adding them to soups like the Thai Peanut Butter Ramen, curries such as my Peanut Butter Chicken Curry or blending them in marinades.
"If all else fails, just add a handful of nuts as a dish topper for a delicious crunch!
"Other foods that can help optimise immunity include ginger, garlic, broccoli, oranges, berries and yoghurt that contains live cultures.
"Including these foods as part of a balanced diet, regular exercise and good hygiene practices is the best way to support you and your family's immune system, so you can get back to enjoying the most of winter together."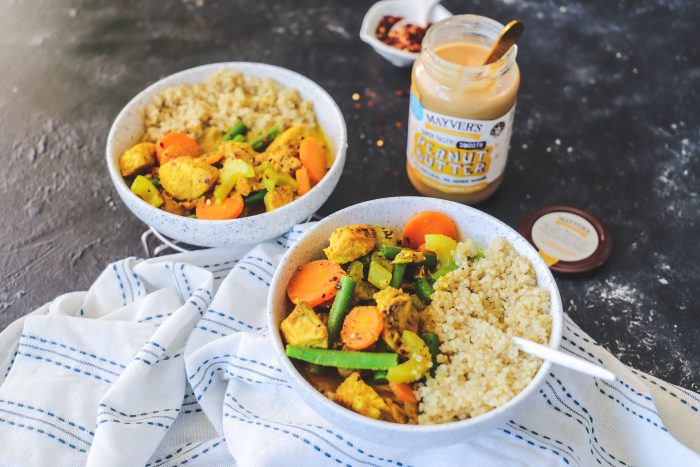 Peanut Chicken Curry
Recipe by Susie Burrell
Serves 4
Ingredients
600g skinless chicken breast, cut into cubes
1 tbsp. turmeric
½ tsp. ground ginger
½ tsp. cinnamon
½ tsp. chili flakes
½ tsp. sugar
3 tsp. olive oil
3 carrots, sliced
1 celery stick, sliced
½ cup Mayver's Smooth Peanut Butter
1 ½ cups water
1 cup green beans
Method
1) In a snap lock bag mix together the turmeric, ground ginger, ground cinnamon, chilli flakes and sugar. Add the chicken pieces and shake well to evenly coat in the spices.
2) Heat the oil in a casserole dish over medium heat. Add the celery and cook until it begins to soften.
3) Add the carrots, peanut butter and 1/2 cup water. Bring to the boil and then reduce heat to a simmer for 5-6 minutes, until the carrots begin to soften.
4) Add the chicken and cook for 2-3 minutes. Add 1 cup of water and bring back to the boil; reduce the heat to simmer covered for 15 minutes or until the chicken has cooked through.
5) Add the green beans and cook a further 5 minutes.
6) Serve with 1/2 cup quinoa or rice if desired.
Peanut Butter Breakie Bowl
Recipe by Susie Burrell
 Serves: 1
Ingredients
1/3 cup oats
1/2 cup Greek yoghurt
1/2 small apple
2 tbsp Mayver's Dark Roasted Smooth Peanut Butter
1/2 cup blueberries
2 tsp chia seeds or pepitas
Method
Cook oats to your preference with milk or water.
After oats are cooked, remove from heat, transfer to bowl and mix through the Greek yoghurt.
Top with fruit, peanut butter, seeds and serve.
Susie Burrell is one of Australia's leading dietitians, known for her extensive background in both nutrition and psychology and for her practical, easy to understand approach to diet, nutrition and wellbeing.
Early in her career, she spent almost 10 years working at The Children's Hospital and with elite sporting teams including the St George Illawarra Dragons and the South African Blue Bulls where she gained much applied experience working with children, families and elite athletes.
Susie is currently the resident dietitian on Channel's 7's SUNRISE and writes regularly for news.com.au.
Susie holds a Master's Degree in Coaching Psychology at Sydney University, loves going on long walks around Sydney and is kept pretty busy with her twin boys, Gus & Harry.
You may also like to read:
The Secret Life of Nut and Seeds