by Susan Taylor
It's that time of the year again! Of course, the school summer holidays are fun, but boy can they also be long if you're a parent (working or not). There's only so many trips and outings you can do, and it's not ideal to have them on screens for too long.
Enter books! I used to love a fresh new book (or twenty) to read over the holidays when I was a child, escaping into my imagination when I was worn out from too much sun and swimming. It's a great way for some solo downtime for the older kids, and for the little ones it's always nice to have something new to read at bedtime or for those lazy holiday mornings.
Here are some great new titles that are out now and ready to hit your bookshelves this summer: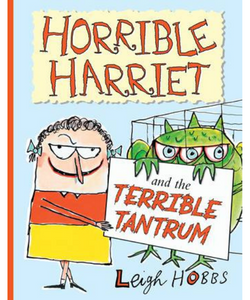 Horrible Harriet and the Terrible Tantrum – by Leigh Hobbs
What's green, has three eyes, and lives in a cage by Horrible Harriet's bed?
And what happens when it goes missing…? Another extraordinary adventure for Horrible Harriet from the creator of Mr Chicken and Old Tom.
Ages 5-8. RRP $24.99. Allen & Unwin – more info here.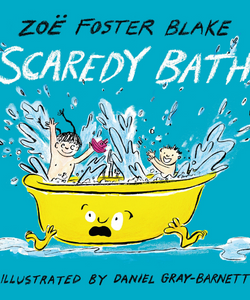 Scaredy Bath – Zoe Foster Blake
Bath-time is fun! There's the bubbles, the bath toys and lots of splashing of course. But have you ever wondered what it's like for the bath? Scaredy Bath does not like bath time . . . the piping hot water, the gooey muck and especially not the small boisterous grubby ones that shout and splash and make Scaredy all mucky! What's a bath to do? Will Scaredy Bath ever enjoy bath time?
Ages 3-5. RRP $19.99. Puffin – more info here.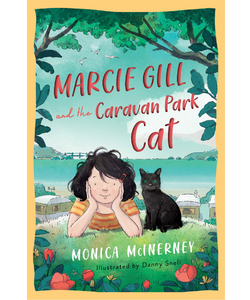 Marcie Gill and the Caravan Park Cat – by Monica McInerney
Marcie Gill hasn't had a great start to the Christmas holidays. Her parents aren't talking to each other and the family business – the Snorkel Bay Caravan Park – is in financial trouble. Her younger brother will only talk about his 23 goldfish and her sister is obsessed with tennis. To make matters worse her gran is in the hospital after a bad fall and won't be home for ages. But then something magical happens. Something that involves a Christmas competition, a black cat called George and a wishing stone. Marcie is about to discover that if you wish hard enough, dreams can come true.
Ages 9-11. RRP $19.99. Puffin – more info here.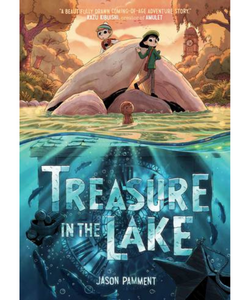 Treasure In The Lake – by Jason Pamment
A fantasy-adventure graphic novel about two best friends and their discovery of a mysterious village, perfect for fans of Kazu Kibuishi's Amulet. From South-Australian based author and artist Jason Pamment.
Ages 8-12. RRP $16.99. Allen & Unwin – more info here.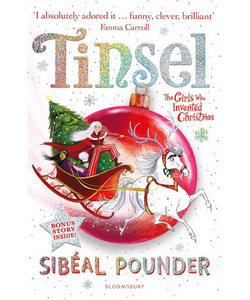 Tinsel: The Girls Who Invented Christmas – by Sibéal Pounder
What if somewhere along the way we've all got the Santa story a bit wrong…? Join Blanche Claus and her best friend Rinki for a funny festive sleigh ride you'll never forget! From the bestselling author of the Witch Wars and Bad Mermaids series, this tale of friendship and mince-pie feasts is the perfect book to curl up with this winter. Funny, feminist and with a huge heart, it's a gloriously Christmassy adventure that will delight even the biggest Grinch.
Ages 8-12. RRP $13.49. Bloomsbury – more info here.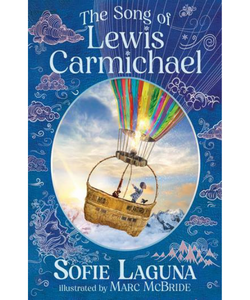 The Song of Lewis Carmichael – by Sofie Laguna
A beautiful, illustrated adventure story with a classic feel, about a quiet boy and a talking crow on a hot-air balloon ride to the Arctic. An unforgettable tale from award-winning children's book author Sofie Laguna, with enchanting illustrations by Marc McBride.
Ages 8-12. RRP $16.99. Allen & Unwin – buy online here.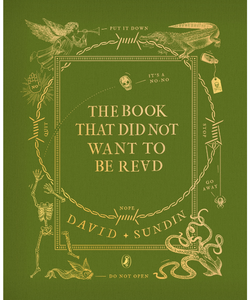 The Book That Did Not Want To Be Read – by David Sundin
The bestselling Swedish children's book of 2020, translated and ready for little Aussies.
WARNING! Stop what you're doing! Don't you know that this book does NOT want to be read? Not now and not ever. Because if this book is read all kinds of strange and magical things might happen. Silly things and secret things… Alligators might appear, the book might try to fly away, and before you know it you'll be having all kinds of unexpected fun. How AWFUL. Don't let this book be read. You're not prepared. Or are you?
Ages 4-7. RRP 24.99. Puffin – more info here.