I'm literally bursting at the seams to tell you about this exciting event that Little Rockers Radio is running. As with all of our events, we make them fun and interactive, so all the kiddies can be involved. The cause is a serious one though.
Over one million children are affected by Family Violence in Australia. According to the Family Law Court of Australia, children of all ages have been found to have more problems when they have been exposed to family violence, particularly coercive and controlling family violence, however, there are very few support services to help these kids heal.
Research has consistently found that children who are exposed to family violence have higher levels of emotional and behavioural problems than children who have not. Children who are in violent homes are also at a greater risk of physical abuse or having their physical and emotional needs neglected.
Younger children are more vulnerable than older children because they are with their parents more frequently, and are more dependent on their parents for care and protection. Teenagers exposed to family violence may be more aggressive to their parents and other acquaintances and constantly be at greater risk of retaliation.
Now, I have no doubt that if you are anything like me, this just breaks your heart. I think of my precious two children and I want to do something more to help.
So, I am! And, the best part is, you can too!
Little Rockers Radio has teamed up with the charity, Share the Dignity to host Australia's largest simultaneous kids yoga class, and we're encouraging Mums, Dads, Carers, child care centres, play groups, mums groups and of course children right around the country to NAMASTE together to help break the cycle of family violence.
Little Rockers Kids Yoga 4 Dignity will help to raise funds to provide free kids activities, classes and sport's lessons to children as they recover from long-term exposure to family violence.
Tens of thousands of Australian kids are growing up in violent homes. This violence can scar little minds for life and contribute to ongoing cycles of violence.
It's easy for you to be involved and support, by simply registering at the link below to take part and then Pressing Play on Little Rockers Radio on Friday 31st August.
This is such a fun and healthy way for everyone to get involved and support the tens of thousands of children who are victims of family violence and I am so proud to be supporting Share the Dignity in this cause and be working with some of the best of the best in the children's entertainment industry. Tina, better known as Lah-Lah to the kids, is the voice of the yoga class which was written by the talented team at fun-key yoga.
Tell me how I can support!!!
To register to host your own mini yoga class in your home or a bigger class in your play group or centre simply visit www.littlerockersradio.com.au/little-rockers-kids-yoga-4-dignity
Press Play on Friday 31st August 2018 at 10am or 2pm AEST and enjoy a fun 15-minute kids yoga class, followed by a short meditation and some relaxing music…. NAMASTE!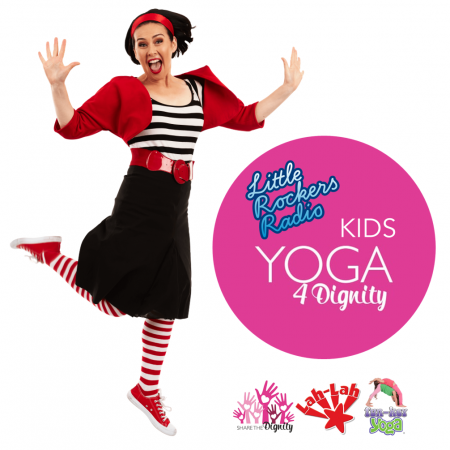 *********************************************************
Written by Sarah Morrissey, founder Little Rockers Radio
Sarah is a social entrepreneur who believes the power of community can change the world.
Little Rockers Radio is my small way of changing the world. Simply PRESSING PLAY to support Little Rockers Kids Yoga 4 Dignity, the Little Rockers Red Nose Disco or any of our upcoming fundraising campaigns, pressing PLAY to listen to our fun radio programming 24/7 and joining our community of Parents & Carers who want a better world for our kids makes you, our listeners the CHANGEMAKERS too!
70% of our profits go to our charity & impact partners and help make the world a better place.