Media kindly brought to you by Gazillion Bubbles.
The choices we make and how we focus our time around children can significantly impact the strength of our relationship with them, not only for the short term but for the rest of their lives.
No matter where you are on your parenting journey, creating lasting memories with your children is the perfect approach to strengthening your bond with them. Children feel seen, heard, loved and fulfilled when we take the time to create meaningful memories with them outside of their typical school day and after-school activities. When adulthood is difficult — or when adolescence has them bewildered and seeking to forge their path apart from you — they will have a solid foundation of fond memories of your time together as a family to fall back on. This will help make them feel safe and secure. No matter what happens to them in the future, they will always have these magical moments to hold dear.
There are several benefits to spending quality time with your child, including the child's well-being and development. Unstructured playtime with other kids, especially siblings, and even alone time is beneficial for children of all ages. But, there are unique advantages to playing with a parent.
We consulted with our friends at Gazillion Bubbles by Funrise Inc. to help us understand how to create fun and magical moments with your children. Known for their world-class range of bubble products, Gazillion Bubbles' mission is to provide products that help you create magical moments with your children. They have been industry leaders in bubble products for almost 20 years, and through their bubble wands and premium solutions, they foster the imagination of creativity of children.
Importance of promoting magical moments with your children
Children benefit emotionally and physically from parents' intentional investments of time and attention. Creating fun moments with your child strengthens your bond and makes them feel more confident about themselves. Having positive, stress-free memories of time spent with you might help your child feel more self-assured as they enter their teenage years. Children's mental, physical, social, and emotional health is boosted by sharing magical and enjoyable experiences with their guardians.
Strengthen your children's hearts and minds by constantly reminding them of your love and concern. You and the other adults in your child's life are the primary sources of their sentiments of safety and security. Your child will feel more at ease and protected if you have a good bond with them. They will feel more secure when they venture out into the world. As a parent, the ideal strategy for doing this is to spend quality time with your children regularly. Making every moment magical and fun helps develop your child and creates lasting memories.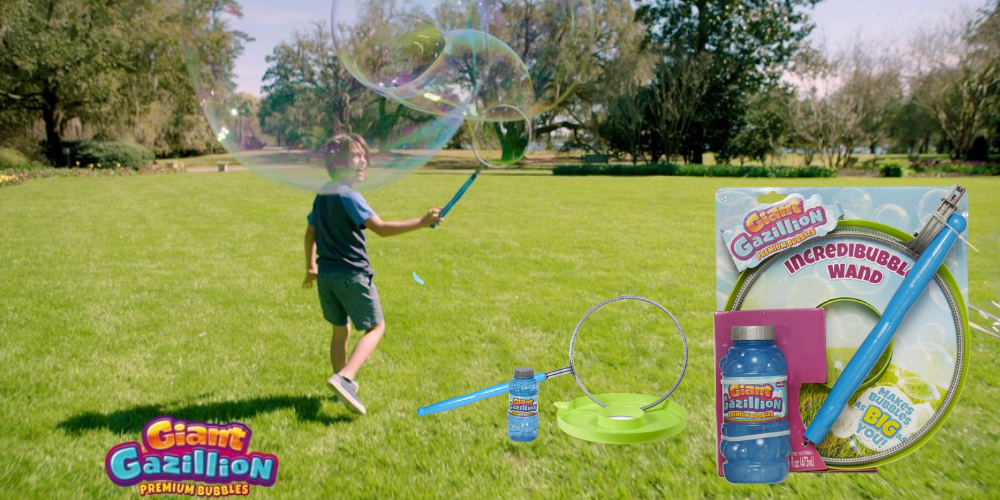 5 Ways to Create a Strong Emotional Bond With your Children and foster their emotional-wellbeing through fun
Spend time with your child
You probably have a day job and many other responsibilities at home. But children crave your attention and time and giving them both is necessary. Spending time with your child and showing interest in their development are two of the most important things you can do for them. You can boost your relationship with your youngster by taking them out for coffee or a stroll on the weekend. Purchasing items from Gazillion Bubbles will allow you more leisure time with your child.
With Gazillion Bubbles Premium Bubble Solution, children of all ages may have hours of fun making and popping bubbles. This bubble solution has been recognised for its excellence because it creates long-lasting bubbles of varying sizes and shapes, it's non-toxic to children, and doesn't leave any stains. Young children can exercise their creativity by trying out various forms when blowing bubbles. This is a fun way to spend time with your children and make them happy by playing with them and focusing all your attention on them.
While it's lovely that you've developed such a strong connection with your child, it's important to remember that children, like adults, require personal space. Give your child some room to breathe, and they'll feel much more at ease. Allow your youngster some time for self-directed play while you keep an eye on them. Gazillion Bubbles Premium Bubble Solutions are perfect for helping your child engage in self-directed play.
Your child is a sweetheart who, unlike most children, demands your undivided attention. So, it's essential to occasionally surprise your child with gifts to make them happy and to demonstrate that you understand their interests. The Gazillion Bubbles Spinnin' Bubbles bubble wand is a great way to surprise a young child. Just twirl the wand after dipping it into the Gazillion Premium  Bubble Solution to create an instant shower of bubbles.
From the time they are toddlers, most of our interactions with our children revolve around giving them instructions or trying to influence their conduct. It's important to remember to treat our children with kindness and openness at all times. We invite children to connect with us when we hug, embrace, smile, make eye contact, and speak warmly.
Get engaged in the hobby of your child. 
Knowing what your child enjoys doing is critical. Knowing your child's interests is a great way to bond with them. A bottle of premium bubble solution from Gazillion Bubbles will be perfect if your child enjoys playing with them. You can also purchase The Gazillion Bubbles Incredibubble Wand to make massive bubbles. This giant bubble wand is complete with a tray and a bottle of Giant Gazillion Premium Bubble solution. Fill the tray with the solution, dip the wand into it, and then wave it to make giant bubbles! Through this routine, you and your child's bond will strengthen, and the child will likely grow closer to you. Find your child's passion and pursue it together in their spare time.
Spend quality time with your children by purchasing Gazillion Bubbles
Gazillion Bubbles has been the industry leader for nearly twenty years, repeatedly making magical memories with the help of their premium bubble solution and innovative bubble toys. With their top-secret bubble solution, you can create bigger, brighter, and more brilliant bubbles than ever. Discover the goods they offer by checking out the related product pages.