SERVES 4-6
Prep time: 10 minutes
Ingredients
1 carrot, grated
1 zucchini (courgette), grated
1 cup of grated sweet potato
½ cup of coconut milk
2 tablespoons of coconut oil
3 eggs, whisked
2 cups of almond flour
1 teaspoon of baking powder
Pinch of cumin
Pinch of salt Pumpkin seeds, to sprinkle on top
Goat's feta cheese and salad leaves, to serve
Cook time: 30 minutes
Method
Pre-heat the oven to 180°C (355°F) and line a loaf tin with baking paper.
Add the carrot, zucchini and sweet potato to a muslin cloth and squeeze out as much water as possible, then place in a large bowl.
Add the eggs, milk and coconut oil and mix well.
Add the rest of the dry ingredients and mix well. Pour it into the loaf tin and sprinkle pumpkin seeds on the top.
Bake for 30 minutes or until an inserted knife comes out clean.
Serve with goat's feta and salad leaves.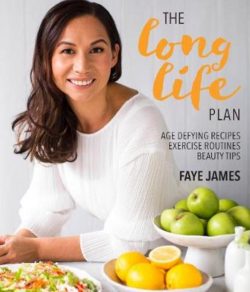 Faye James is the author of The Long Life Plan (New Holland)
and a food, beauty and health journalist and health and wellness coach
with over 20 years of experience.
You may also like to read: