By Becky Searles – Family Garden Life
It's time to get the kids outside in the garden and hopping around like bunnies this Easter. I'm sure after all the chocolate eggs they'll be in need of some fresh air and sunshine.
Temperature wise, April is a great month in the garden. Everyone has lots of energy and a list of garden chores a mile long that have been waiting for the heat to subside. The biggest things on the list in a family food garden is tending to your new autumn crops, replenishing the soil, keeping an eye on the pests and looking ahead at the cooler months to come.
Planting at Easter
Even though we are midway through autumn, there are still lots of crops you can plant now and these will vary depending on where you live. Climates vary considerably around Australia and what you plant in one area can be quite different from another, so make sure you follow the right planting guides for your garden.
Asian greens
You can't go past Asian greens this time of year and they come with loads of health benefits. Rich in vitamin C, beta-carotene, fibre and many B vitamins and they even deliver high levels of calcium and iron.
There are so many awesome varieties of Asian greens such as pak choi, bok choi, Chinese cabbage, Chinese broccoli and tatsoi. They are super easy to grow and a great choice to start from seed if you're up for the challenge.
Carrots
Seeing it's Easter, you have to add some carrots to the mix. You never know what shape or size you're going to get until you pull them out, and kids just love carrot surprise time.
Carrots need lots of sun, and loose soil so they can grow straight down. If during the growing process they hit a rock, this usually results in some oddly shaped carrots that will make the kids giggle.
There are lots of different types of carrots, but for baby carrots, you just need to pick them when they are small or if you want big carrots simply let them grow.
Leeks/Spring Onions
I love growing leeks and they'll be ready to harvest right when you need them for your winter soups. Leeks are really simple to grow and you'll get great value buying them in punnets.
They love a sunny spot in your garden and require little effort after planting.
Spring onions are another crop which grows well in autumn. You can harvest spring onions by simply cutting them off down low, and they will keep growing back if the roots are left in the ground.
You can never have enough spring onions for a garden kitchen so plant many and enjoy harvesting fresh for your meals.
If you're starting your food garden from scratch, you need to get your soil right first and make sure your food garden is positioned in 6-8 hours of sun a day. Water supply is important and needs to be close at hand. Keep an eye on your babies as they grow because the pests will love them just as much as you!
The choices to plant this time of the year are plenty in a food garden, so don't stop here. Check out the planting guides and plan your Easter garden activity and your family will be enjoying homegrown fresh produce in no time at all. Hop to it!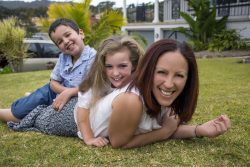 Becky Searles – Family Garden Life
You may also like to read:
Planting a seed of health in your child
How to get your kids outside & active