I like to think of the garden as an outdoor classroom – it's tactile, it's ever-changing, there are lessons to be learnt in the smallest details and it's a fantastic place to get dirty… something I know my own sons seem to relish.
Spending time in the garden is also a great mood-enhancer, making it the perfect circuit-breaker for *those* days that I know all parents experience.
Regardless of your own skill as a gardener or the size of your outdoor space, there are plenty of activities to enjoy and things to notice year-round.
My advice is to try and incorporate some time at home outdoors every weekend if you can, and I've included some inspiration below to help get you started.
Things to do in winter
Many think the dropping temperature is a sign to stay out of the garden when in fact it is time to dust off those wellies and get the kids outside.  Winter can be a great time to get on top of maintenance and this is something that small apprentices often enjoy a lot getting involved with.
Think about:
Raking up leaves – encourage the kids to pay attention to the different colours of the leaves as you remove them (or collect them for compost).
Teaching them about how different things work – my boys love to know how different tools work, especially lawn mowers and blowers…. usually the noisier the better!
Planning a project – get the kids to think about what they would do in a space outside if they had the chance. This can be a great wet-weather drawing or even Lego-building activity and gives them a chance to be creative, while keeping their hearts outdoors.
Good things to plant/grow in winter:
Vegies including snow peas, silverbeet, spinach, carrots and kale grow well in cooler weather, although if you can try to plant them at the end of autumn before the soil gets too cold.
Fruit including apples, apricots and plum trees are good for winter as they will produce fruit the children will love to eat or cook with in the kitchen.
Roses should also be pruned and fed (Black Marvel is my go-to fertiliser) in winter too – but this is one best left to the adults!
Things to do in spring
I love getting out with the boys in spring as it is a great time for them to see the efforts of their winter gardening and to get stuck into more fun activities.  Flowers are particularly great to grow in spring and kids generally will love them for their colours and scent.
Think about:
Giving them their own bit of earth – my boys love having their own vegie and flower patches. Establishing a sense of ownership and responsibility can be an easy way to encourage an interest in spending more time outdoors. Spring is a great season to set one up, work together to get the space ready, take them shopping to choose some plants and talk to them about what they need to do keep their garden healthy.
Getting creative – make a scarecrow using an old shirt and hat to add some creative flair to their garden and to keep those vegies well protected.
Looking for bugs – see if you can identify what they are (and if they aren't the type of bugs that you want in your garden you might wish to apply a natural-based bug killer or deterrent such as Richgro Beat-a-Bug when the kids aren't looking. I like this one as it's safe to use around kids and pets).
Good things to plant/grow in spring:
In my experience most kids love picking fresh strawberries, spring is the perfect time to grow them at home. Growing them in trough planters and raising them off the ground will help keep the slugs and snails off them.
Vegies including potatoes, beetroot, pumpkin, and zucchinis.
Herbs including basil, parsley, rosemary, chives, and mint.
If they love flowers then marigolds, lavender, and sunflowers are good options.
Things to do in summer
Summer is a great time in the garden as many plants and fruits flower in this season and children will love picking what they grew over spring and winter.
Think about:
Making rock plant labels – paint some rocks with some blackboard paint and encourage the kids to write the plant names on them with chalk – this encourages them to practice their handwriting and teaches them about some of the different things they can find in the garden.
Creating an indoor garden – grab an old egg carton or line a container with toilet roll tubes, fill with potting mix and plant some seeds.  Encourage the kids to check on them daily to watch them grow. This is a great project to kick-off on a day when you want to stay indoors (either due to the heat, or because of rain). Once your seedlings have sprouted you can report them outdoors.
Getting dirty, get mulching – when I let the boys help with the mulching, I know it is a win-win. They get messy and the garden benefits.  Good quality mulch is an essential in Australia because it assists with water retention.  I recommend Richgro All-Purpose Water Saver Mulch.
Watching sunflowers – these flowers are great for growing with kids as they germinate quickly, are fast growing, flower for ages and go to seed completing their lifecycle in a way that excites children – its also fun to move as they track the sun across the sky.
Summer is a good time to pick:
Most children can't resist the sweet delights of the summer picked pea.
Collect those spring planted strawberries and make a delicious summer berry smoothie.
Things to do in autumn
I love spending time outdoors in Autumn as the weather starts to cool off. It can be a good time for planting, as well as some of those general maintenance jobs that you might have put off doing over the summer.
Think about:
Hold a weeding competition – who said weeding can't be fun? Most kids relish a challenge especially if a competition is involved.  This activity can be rewarding as they will be able to see a difference in a short period of time, even just a 10-minute burst.
It is also a good opportunity to teach them about weeds and how they steal all the good things in the soil – like nutrients and water.  Don't forget to teach them to pull from the roots (this may take a few attempts to get the hang of).
If they find the pulling too tough, then get them spraying with something like Richgro's Beat-A-Weed which is a natural kid-safe weed killer.
Build a worm farm – these can be an excellent way to establish a connection between indoors and outdoors. Kids tend to love the idea that worms can eat their leftovers and you can use their wee and poo (vermicompost) to help the garden grow better.
This is something that can be built from scratch by reusing items like a couple of old polystyrene boxes or an old esky.  The kids can also add some paint to the outside to really make it their own. Look online for a tutorial to help get you started and head to the local garden centre to get your worms.  Do not forget common worms are different to compost worms so make sure you supplement the farm with some compost worms.
Good things to plant/grow in autumn:
This is the perfect time for planting spring bulbs. They are big in size which makes them easy to handle for little hands.  Daffodils are a popular option due to their bright and colourful flowers
Vegetables including broccoli, cabbage, cauliflower and Asian greens including bok choy and wombok are also great choices.
Whatever the season or the size of your garden, spending time with children outside is a great opportunity to connect with nature.  Encourage them to pause, watch the birds and insects move around the garden, point out buds that are about to bloom or new shoots on a plant.  Set up a treasure hunt or just lay on the grass and see what shapes you can spot in the sky.  Whatever it is, being in the garden is a great place to create family memories that will last a lifetime.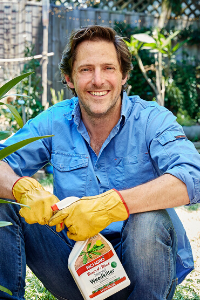 About Charlie Albone and Richgro
Charlie Albone is a landscape designer and television. He has worked internationally and in Australia for almost two decades, designing and building gardens that are timeless, inspiring, and enjoyable to spend time in. He has long advocated for the mental health benefits that come from gardening and believes that fostering a love of pottering outdoors is a life-long gift that a parent can bestow on a child.
Charlie is an ambassador for Richgro, a family-owned garden products business that has been helping to bring Australian backyards and gardens to life to more than 100 years.  With a business-wide passion for sustainability and the environment, Richgro's range features a strong line up of natural and organic fertilisers, soil soakers, potting mixes and products to help control pests and diseases. Richgro products can be found in most Bunnings stores nationally as well as selected nurseries and hardware stores. For more information visit www.richgro.com.au.
To view on YouTube:

You may also like to read:
Gardening with Kids – A great opportunity for nature play