Families Urged to Set Their Backyard Pool Defence to Reduce Toddler Drowning Deaths
Australian families are being urged to check their pool and spa barriers and 'set their backyard pool defence' in the lead up to the warmer months, to reduce the number of toddler drowning deaths in backyard swimming pools.
Olympian Matt Welsh OAM, this morning joined Kidsafe Australia to launch the seventh annual 'Safe Barriers Save Lives' backyard pool safety campaign at the Melbourne Sports and Aquatic Centre.
A series of humorous skits featuring parents employing an over the top defence and celebrations while playing backyard sporting games with their children, are being utilised throughout the campaign to remind families that when it comes to backyard pool safety, 'the best offence is a good defence'.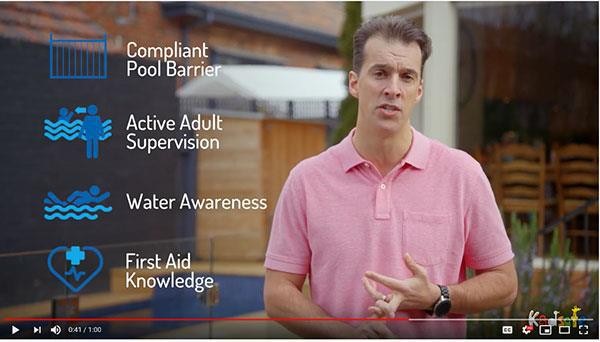 Matt Welsh in one of the 'Safe Barriers Save Lives' campaign videos
Figures released in the Royal Life Saving Society of Australia's National Drowning Report show that in 2018/19, 19 Australian children aged 0-4 years drowned. The majority of these incidents (63%) occurred in swimming pools.
Despite significant reductions in toddler drowning deaths over time, drowning continues to be one of the leading causes of accidental death for Australian children under 5 years of age.
While safety barriers can be effective in reducing the risk of backyard pool drowning incidents, evidence suggests that a large number of drowning deaths are the result of barriers that are faulty, or non-compliant with Australian standards.
Common faults or non-compliance issues include gates and doors that are no longer self-closing or latching, gates that are propped open and climbable objects near the barrier – all of which can provide children with unsupervised access to the water area.
Kidsafe campaign ambassador Matt Welsh OAM knows the benefits that learning to swim and growing up around water can provide for children. As a father of five, he also understands the risks that swimming pools and spas can pose if strategies aren't put in place to keep children safe.
"There is no better use of 15-20 minutes of your time than setting your defence for the warm summer months ahead and checking the safety of your pool barrier. By doing so, you could save a child's life", said Mr Welsh.
While pool and spa barriers play an important role in reducing the risk of childhood drowning, Kidsafe is reminding the public that their home pool defence should also include a number of other actions.
"Children drown quickly and silently. Together with a compliant pool barrier that is regularly checked and maintained, your home pool defence should also include active adult supervision of children in and around water, water awareness and first aid knowledge to keep your family safe this season," said Mr Welsh.
For further information on the campaign and to access resources including home pool safety checklists, please visit https://kidsafe.com.au/closing-the-gate-on-backyard-drowning/.
You may also like to read:
How to clean safely with a baby in the house