With the much-awaited long weekend here, McKenzie's has shared two delicious salad recipes, which are perfect to bring along to a BBQ or get together!
After a quick recipe to pull together in less than an hour? McKenzie's Lentil, Beetroot and Feta Salad is ready to go out the door in 40 minutes.
While McKenzie's Sweet Potato & Pear Salad with Crunchy Chick Peas is an absolute crowd pleaser, packing mouthfuls of sweetness and crunch.
Lentil, Beetroot & Feta Salad
Serves:  4
Preparation Time: 15 minutes
Cooking Time: 25 minutes
Tips: Replace tinned beetroot, with warm roasted fresh beetroot.
Ingredients:
3 cups water
1 cup McKenzie's French Style Lentils
1 bay leaf
3 tbs olive oil
2 tbs lemon juice
1 tbs Dijon mustard
1 garlic clove, crushed
McKenzie's Himalayan Pink Rock Salt, to taste
McKenzie's Whole Black Peppercorns, to taste
½ red onion, finely sliced
425g tin whole baby beets, drained and cut in half
½ cup Italian parsley, chopped
½ cup coriander leaves, chopped
½ cup feta cheese, crumbled
Method:
In a medium saucepan, bring the French Style Lentils, water and bay leaf to boil over medium-high heat. Reduce the heat and simmer until tender, about 25 minutes. Drain off any excess water and remove the bay leaf.
Combine olive oil, lemon juice, Dijon mustard, crushed garlic, salt & black pepper. Pour over warm lentils and lightly toss.
In a serving bowl, lightly toss the dressed lentils together with the red onion, baby beets, parsley and coriander. Top with crumbled feta.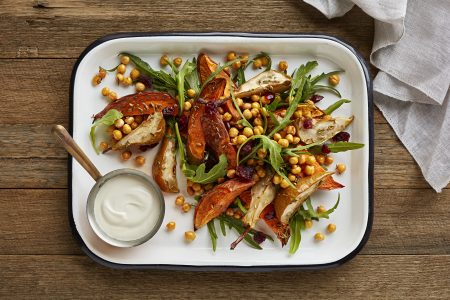 Sweet Potato & Pear Salad with Crunchy Chick Peas
Serves:  4
Preparation Time: 15 mins
Cooking Time: 2 hours (includes pea cooking time)
Ingredients:
375g McKenzie's Chick Peas, uncooked
¼ cup olive oil
1 tbs fennel seeds
2 tbs fresh rosemary, chopped
650g sweet potato, unpeeled and cut into wedges
2 medium pears, unpeeled, cut into eight wedges
¼ cup dried sweetened cranberries
1 cup boiling water
1 cup Greek style yoghurt
1 tbs tahini
200g rocket
Method:
Prepare chick peas according to packet instructions.
Preheat oven to 220oC.
Pat chick peas dry with paper towel and place on an oven tray.  Drizzle 1 tbs of the oil over the chick peas and sprinkle with half of the fennel seeds and rosemary. Bake for 20 minutes, stirring occasionally or until chick peas are golden and crisp.
Reduce oven to 180oC. Combine sweet potato and pears on a large oven tray with remaining oil, fennel and rosemary.  Bake for 40 minutes or until browned and tender.
Meanwhile, soak cranberries in boiling water for 10 minutes or until softened.  Drain, reserving 2 tablespoons of the soaking liquid.
Combine yoghurt, tahini and reserved cranberry soaking liquid in a small bowl and season to taste.
To serve, arrange rocket, sweet potato and pears on a large platter. Top with chick peas and cranberries, then drizzle with yoghurt mixture.
You may also like to read: