The annual pancake-munching day is here, but do you know why we have Pancake Tuesday??
Well, it's the traditional feast day before the start of Lent on Ash Wednesday. Lent, the 40 days leading up to Easter, is traditionally a time of fasting.
Pancake Tuesday became a great way to use the foods that were given up for Lent: milk, butter, and eggs.
So, here are our top 4 recipes:
Kiddi-Perfect Pikelets

Fluffy Pancake Recipe

Pancakes (NO eggs)

Vegan pancakes (No Egg, Milk or Butter)
But before we get into the recipes here's our Top Tips:
The right frypan temperature makes all the difference.

To see if skillet is hot enough, sprinkle with a few drops of water. If drops skitter around, heat is just right.

Pancakes are ready to turn when tops are bubbly all over, a few bubbles have burst, and the edges begin to appear dry.

Use a quick flip with a broad spatula to turn pancakes.

Turn only once.

Bake until bottoms are brown and dry.

Try adding fresh blueberries or bananas to the batter before cooking.

Top with maple syrup, squeeze of lemon juice with sugar, fresh fruit or applesauce if you have some in the fridge.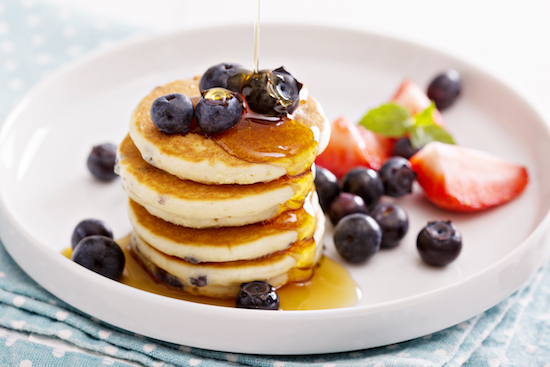 Kiddi-Perfect Pikelets
Ingredients
1 cup plain flour

1 tsp baking powder

1 tbs caster sugar

3/4 cup milk

1 egg, lightly beaten

A knob of butter or oil, for frying
Method:
Whisk in the milk and egg to the dry ingredients and mix until just combined.
Sift the flour, baking powder and sugar into a large bowl.
Try not to overbeat the batter as it will make the pikelets go tough.
Add a knob of butter to a frypan and heat.
Drop tablespoons of the pikelet batter onto the pan and cook until bubbles appear on the topside. Flip the pikelets over and cook for another minute or so, or until golden.
Serve immediately.
Fluffy Pancake Recipe
Ingredients
1 egg

1 1/2 cups milk

2 cups self-raising flour

1/4 teaspoon bicarbonate of soda

1/3 cup caster sugar

25g butter, melted

2 teaspoons vanilla extract
Method:
Whisk eggs, vanilla and milk together in a jug. Sift flour into a large bowl. Stir in sugar. Make a well in the centre. Add milk mixture. Whisk until just combined.
Heat a large non-stick frying pan over medium heat. Grease pan with butter or spray with cooking oil.
Using 1/4 cup mixture per pancake, cook 2 pancakes for 2 minutes or until bubbles appear on surface. Turn and cook for a further 1-2 minutes or until cooked through.
Repeat with remaining mixture, greasing pan with butter or cooking oil between batches.
Pancakes (NO eggs)
Ingredients
1 1⁄4 cups all-purpose flour

1 Tablespoon baking powder

1 Tablespoon sugar

1⁄4 teaspoon salt

1 cup non-fat or 1% milk

2 Tablespoons vegetable oil

2 Tablespoons water
Method:
Mix dry ingredients together: flour, sugar, baking powder and salt in medium bowl.
Combine water, milk and oil. Add to dry ingredients.
Stir just until moistened.
Lightly oil a non-stick frying pan and place over medium–low heat.
Heat fry pan over medium-high heat (350 degrees in an electric skillet).
For each pancake, pour about 1/4 cup of batter onto the hot frypan.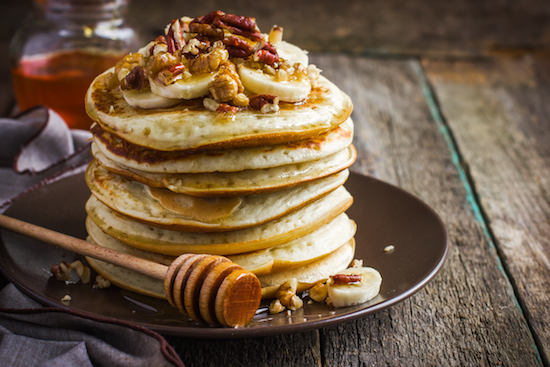 Vegan pancakes (No Egg, Milk or Butter)
Ingredients:
1 cup plain flour

2 tablespoons sugar

1 tablespoon baking powder

1 teaspoon cornflour

1⅓ cups soy milk, or other dairy free milk, adjust to suit your preference

1 teaspoon pure vanilla extract

2 tablespoons vegetable oil, plus extra for pan-frying
Method:
Lightly spray a large fry pan with non-stick cooking spray or lightly wipe with oil.
Combine the sugar, flour, baking powder and cornflour in a mixing bowl. Add a pinch of salt.
Gradually whisk in the soy milk, vanilla and the two tablespoons vegetable oil until smooth.
Depending how you like your pancakes add a little less (or more) soy milk.
Pour about ¼–⅓ cup of pancake batter into the pan.
The pancake should start bubbling — flip it over when it's firm enough to do so.
You might also like to read:
Quick, Easy, Delicious Chocolate Crackle Recipe
Classic Christmas Pudding Recipe
Healthy Chocolate Superfood Bliss Balls
Allergy-Free Coconut Bounty Bites