Childhood is a time of unlimited opportunity, fun, hope, happiness, bright colours and laughter.
The formative years of a child's life are intended to be carefree where their hearts and minds are led by inspired imagination and paint a colourful picture of their hopes and dreams.
Children, by their very nature, are curious. Inspired by knowledge, children strive to understand the world around them as they ask parents countless questions each day.
As a parent, it can be tough to understand the reasons why children become seriously ill. For those children, it can be challenging to understand their diagnosis as they turn their attention to asking different types of questions and focus on coping with the ups and downs of dealing with their illness rather than just being a kid.
When a child is impacted by cancer, it affects the family unit as a whole. Thankfully, Camp Quality offer services and programs to help support children and their families during this challenging time.
For the last 35 years, Camp Quality has been providing a support network for children living with cancer and their families.
Camp Quality gives children aged 0-13 years facing cancer the chance to be kids again. They believe in creating positive memories, making friends, dreaming up glorious,  grubby new adventures, and that laughter is the best medicine.
Camp Quality not only supports children diagnosed with cancer but offers their parents with emotional support. They offer the chance to share their fears with other parents who "get it" and the relief of laughter.
Camp Quality also provides support to children who have a parent diagnosed with cancer, as they help answer questions children are bound to ask by speaking to them in a way that they understand through the use of technology and within their schools.
All services are free of charge.
Kiddipedia is thrilled to support Camp Quality, giving children facing cancer the chance to be kids again.
Let's take a look at this incredible organisation and the impact their services and programs have on kids dealing with their diagnosis and their families and or the diagnosis of someone they love.
Why was Camp Quality founded?
Vera Entwistle founded Camp Quality in 1983 because she understood that while she couldn't improve the quantity of life for kids facing cancer, she could improve their quality of life.
How does Camp Quality help children and families, what kind of support do you offer?
At Camp Quality, we know a cancer diagnosis in a family can have a devastating impact, particularly on the children involved whether that is the diagnosis of a child themselves, or the diagnosis of someone they love like their brother, sister, mother or father.
That's why our services and programs are provided to all children who are dealing with the daily ups and downs of a cancer diagnosis completely free of charge.
By being there for them, as well as their wider family, we work to provide opportunities for them just to be kids again specifically.
Where a cancer diagnosis disrupts a childhood, our services and programs are designed to bring moments of joy, laughter and friendship back into their everyday lives.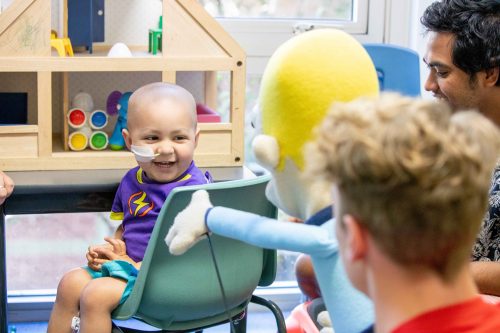 School can be hard for children facing cancer, as they can be teased and left out. Can you tell us a little about your Primary School Education Program and how it is helping? 
The Primary School Education Program, which has been running successfully for over 30 years, helps kids better understand what cancer is and how they can support someone who is facing it.
The Camp Quality Puppets, Kylie, Dean and Mel, visit primary schools and preschools across Australia. They perform a fun, empowering, interactive show that dispels cancer myths and creates an inclusive community for children who have been diagnosed with cancer or have a diagnosed parent or sibling. Importantly, kids who see the show are left in no doubt that "you can't catch cancer!"
It includes a range of age-appropriate, downloadable resources for teachers and parents to keep the discussion and education going well after the puppets have left the stage.
Giving students the facts about cancer in this way helps reduce the likelihood of bullying, exclusion and anxiety.
How does fundraising help make a difference? 
In 2018 Camp Quality raised funds to ensure over 8,000 kids who were registered for our services and programs had the chance to be kids again. We do not receive any substantial financial support from the Australian, State or Territory Governments.  Instead, we rely almost entirely on the generosity of everyday Australians and corporate partners to help us provide services and programs free of charge.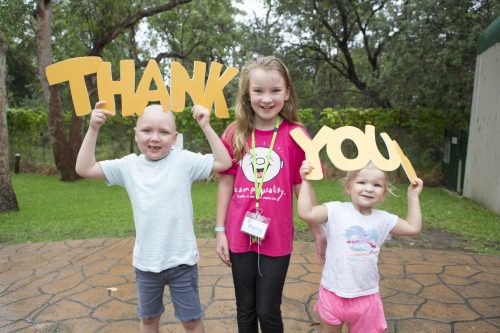 Could you tell us a few stories about how Camp Quality has helped children and families?
We have several case studies which illustrate the life-changing impact Camp Quality can have on kids and families facing cancer, you can read them on the Our Stories page
Here are two as examples
Nicholas Story https://www.campquality.org.au/about-us/our-stories/nicholas-story
Sophies Story https://www.campquality.org.au/about-us/our-stories/sophies-story
How can the Kiddi-community help support Camp Quality? 
There are countless ways the Kiddi-community can support kids facing cancer – donate today, attend one of our fabulous events, donate a day of your time or become a Camp Quality volunteer and put a smile on a face.
You can access the links here:
For more information, please visit  https://www.campquality.org.au/
You may also like to read: