Your Journey to Healing
Author Dr Melissa Raymond
So I have a question for you.
How many different chemicals are we exposed to every day?
5…..10…..20?
Higher?
Surely it's not 50?
Higher?!
Well, for many women, 200 different chemicals are exposed to over 200 different chemicals per day.
Now, I'm not saying all chemicals are bad, but some of them are. And some of these chemicals that are potentially harmful to our health, are put on our bodies every single day.
How?
Great question!
Run through this list and see what you use as part of your daily routine:
Shampoo
Conditioner
Hair product
Moisturiser
Cleanser
Soap
Body wash
Foundation
Primer
Lipstick/Lip gloss
Eyeliner
Eyeshadow
Mascara
Blush
Perfume
Tanning lotion
Now this post isn't about guilt or shaming.
It's about information sharing.
Now I've never been one for makeup (it's more of a time thing) but I really, really wish someone told me years ago about perfume.
That perfume is full of potential carcinogens, respiratory and skin irritants, hormone disruptors. That perfumes were protected by their trade secret formulas and were therefore exempt from labelling the chemical thunderstorm that they are.
What a fabulous loophole.
For me, I loved perfumes. Delicate scents that triggered fond memories of people, places, and of times gone by.
To be honest, I did know they were not good for my health or the health of those around me.
But I loved them so much that it was an inconvenient truth.
Because sometimes we hear stuff but we're not ready to listen. We're not ready to give up the things that are important to us.
In the end, there's a choice.
And whatever the choice is, we make the best decision we can at the time, with the best available evidence we know COMBINED with our emotions, and a whole lot of marketing spin.
Many personal care products sold in the supermarket shelf have not been tested for safety.
Many of the ingredients in these areas every day products contain potentially harmful ingredients.
Skin irritants.
Hormone disruptors.
Potential carcinogens (cancer causing ingredients).
Studies have shown that some of these chemicals accumulate in our tissues and remain in our bodies for years.
Some of these ingredients have even been detected in breast milk!
For those with sensitive skin or issues like eczema, some of the top ingredients to avoid are: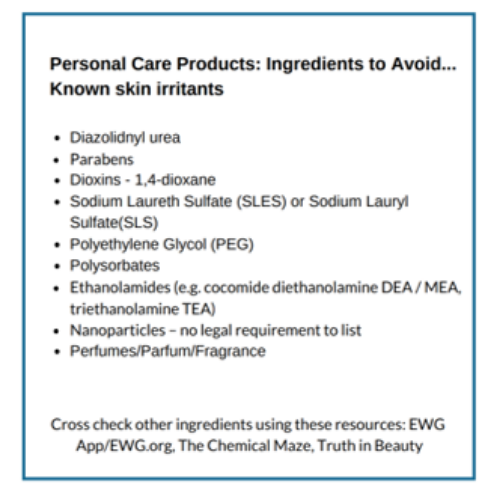 Other ingredients that have been shown to be potentially harmful to our health include: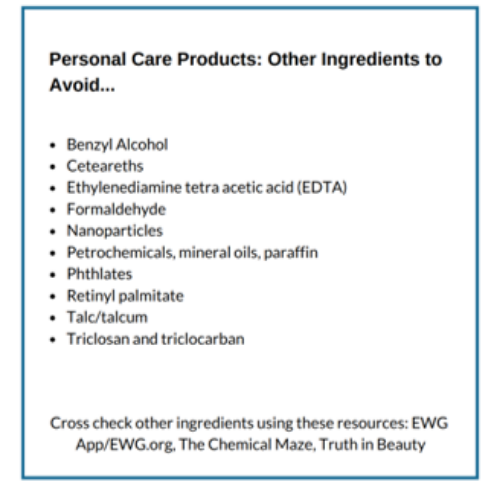 So we have a choice as consumers to vote with our dollars.
We have the tools to find out what is in the products we use.
We can empower ourselves with the knowledge of what we're putting on our bodies and what are we spraying within our homes.
The Environmental Working Group's website Ewg.org has their Skin Deep Database.
This Skin Deep Database shares information on the known safety testing reports for a wide range of ingredients.
Do yourself a favour and take 5 minutes to find out for yourself. Grab your shampoo and conditioner bottle from the shower, your moisturizer bottle that you use for you or the kids and cross check the ingredients on the label.
Yes it takes a few minutes but it's worth it.
If you investigate and determine that you're happy to continue using your products, awesome!
If you're shocked and surprised and angry by what you find, that's okay too.
Because now you can make an informed decision.
You can decide whether or not you're comfortable with continuing to use that product for your family's health future health.
Or if you're ready to stop using that particular product altogether or find a better replacement.
When we know better, we do better.
Remember, no guilt, blame or shame.
It's exciting to find a healthier way forward and make informed decisions to lift our health.
If you'd like to know more about living a cleaner and simpler life. Click here to join us on our new program for a healthier and simpler future.
"Melissa Raymond is a researcher, mum and physiotherapist based in Melbourne. Having helped her son no longer have to deal with eczema, she helps other parents frustrated with the old approach to eczema with a safe and supported way forward for a healthier future. Sign up for her free eczema training via her website, yourjourneytohealing.net."
You may also like to read: