By Sarah Smith, Accredited Practising Dietitian
FB Bayside Dietetics
I am stoked by the positive feedback I've been receiving about my blog. I'd say the most common reflection I get is parents appreciate the blog as a source of food inspiration and easy ideas to get healthy. So here's a full blog dedicated to taking the after-school snack your child asks for and boosting its nutrition… without wrecking dinner. So both you and your children are happy.
If your child likes to come home to crackers or chips, try this…a tapas plate
Draw an imaginary line on a plate to divide it into four. Within one of these sections, add a few chips or crackers. Your child's request for crackers or chips is now ticked. Now use your instinct on what food you'd like to provide your child to fill in the remaining three sections, aiming for roughly a quarter of the plate each. Here are a few ideas:
Carrots, hommus and olives
Cheese, apple, cucumber
Salsa, beans, capsicum
Sliced boiled egg, dip, cucumber
Tinned tuna, avocado, lettuce
Nuts, cherry tomatoes and carrot
Slice of leftover chicken or meat (from last night's dinner), cob of corn, celery sticks
Falafel balls, hommus, mini salad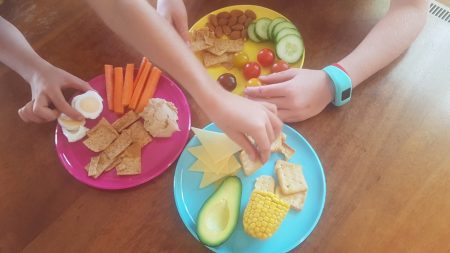 What these changes have done is to take food that isn't really nourishing to a mixture of foods that will give some important nutrients to your child. They are also a more satisfying snack than plain chips and crackers. This is because all the options I've listed have a good source of protein and a good source of fibre that your child will take a while to digest, making them feel full.
This kind of plate works particularly well for kids who are so busy at school lunchtime that they don't eat much. The tapas plate can be made up to be a reasonable "lunch replacement".
For families that pop into the bakery on the way to an after-school activity…Try stopping at a sushi shop
A sushi roll has a similar energy to a hot cross bun or finger bun, but tuna or egg sushi roll will have a whole lot more nutrients like protein, iron and magnesium that can be hard to get in a child's diet. If your child likes salmon sushi that's a huge bonus as it provides those nutrients, as well as a, being a source of particularly good fat, known as omega 3. Omega 3 is helpful for brain development and overall health. Avocado in a sushi roll is another source of good fat.
A sushi roll is filling but it has less energy than a cheesymite or apple scroll which is important for some families worried about their child eating too much after school and wrecking dinner.
For a child that likes to come home to a glass of milk…Try a super smoothie
Smoothies would have to be one of the best ways to "sneak" in some great nutrients for your child. Sit back and have a think about what it is you think your child misses out on in their diet then have a look below for inspiration on how to sneak it into a smoothie:
Wholegrains (this is great for a child with a diet based on mainly packet foods) – there are 3 things that could be mixed into almost any smoothie recipe, just blend well:

1 tablespoon of oats
1 Weet Bix
1 teaspoon of LSA mix (ground Linseed Sunflower Almond – found in major supermarkets alongside dried fruit and nuts or with the oats and brans).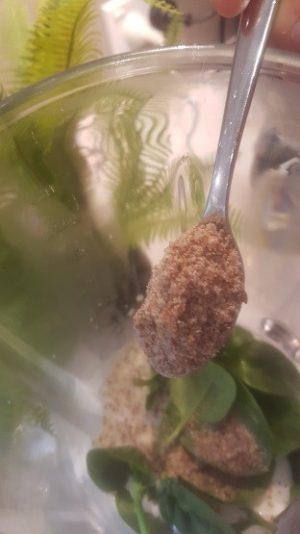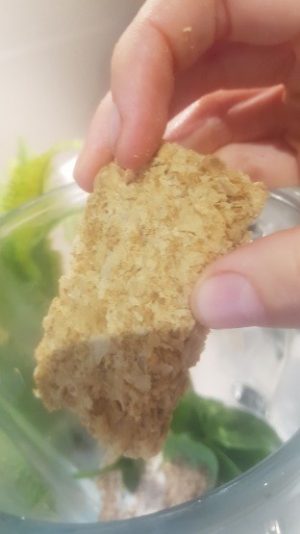 Fruit – here are some stunning fruit smoothie recipes:
https://www.taste.com.au/recipes/collections/smoothies
Vegetables – ssshhh but here are some ways to get your child eating spinach (which can be substituted for kale in any of these recipes if you prefer)

From Buzzfeed, blend together:

½ cup frozen spinach or kale
½ cup frozen pineapple
½ cup plain kefir or pourable plain yogurt
¼ cup water into a blender

From cuisinicity.com, blend together:

1 cup fresh baby spinach
1 cup water
1 whole pear (diced)
1 cup ice
Creativity has also drawn people to create smoothies with carrot, beetroot and other vegetables. Just plug your vegetable idea with the word "smoothie" into google.
Healthy fats – frozen avocado is a wonderful product to keep in your freezer to mix into smoothies at any time of the year. Kids that don't love avocado might still take a couple chunks mixed in, while an avocado lover will like a recipe like this from thelemonbowl.com:

¼ avocado
¼ cup blueberries
½ banana
¼ cup oats
1 teaspoon flax seed meal (another source of good fats that mixes well into most smoothies)
¼ cup yoghurt
¼ cup water
2-3 ice cubes
A child stuck on fruit but you want them to have a little more…Try a fruit and yoghurt sundae
Simply layer your child's favourite fruits with a couple of spoons of yoghurt. For even more nutrition add a layer of muesli or chopped nuts.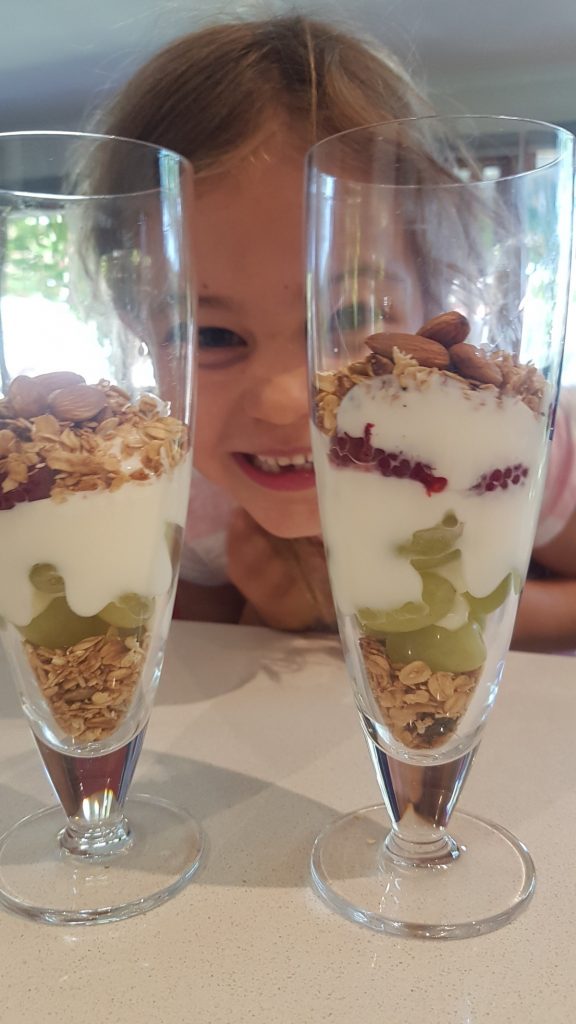 For a toast-loving child…try an autumn vegetable soup with a slice of toast
Adding a bowl of vegetable soup to your child's afternoon toast adds a whole lot of good stuff for your child's body and they still get their favourite warm toast. Here is a sample basic soup recipe:
https://simply-delicious-food.com/easy-vegetable-soup/
Worried your child will be full for dinner? Remember it is vegetables that will be filling their bellies 😉
Bon Appetite
You may also like to read: