How often do you throw a hard plastic bottle into the recycling bin without first checking whether it's actually recyclable? The answer is probably more often than not and you might be surprised to learn that not all bottles in your bathroom are created equal.
To find out more, Kiddipedia spoke to Elise Synnott, Personal Care Marketing Manager of Natures Organics, a company leading the way in sustainability.
Elise says there is one particular material often used in the manufacturing of dark or tinted plastic packaging, which affects a bottle's recyclability.
"It's something called carbon black pigment and when it's added to plastic packaging, it's unable to be detected through the recycling sorting process and therefore isn't able to be recycled into future bottles," Elise says.
"As an industry leader in the use of recycled plastics, Natures Organics has long been committed to creating an 'endless bottle' philosophy. An idea that encourages the creation of packaging that uses recycled plastics, which can then be recycled to create new bottles over and over again.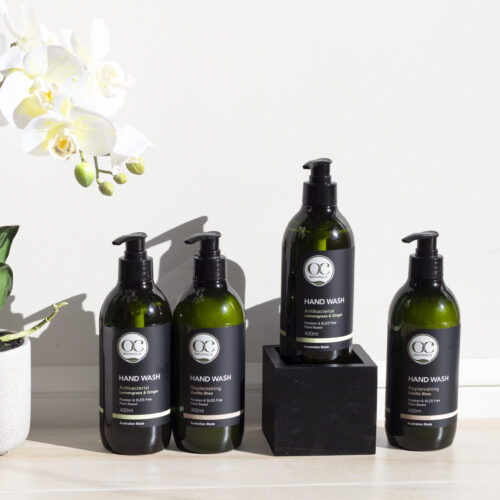 "Because of this philosophy, when we developed OC Naturals new Hand and Body Wash bottles we knew the design had to be completely free from carbon black pigment, so the bottles could be detected through the recycling process, making them 100% recyclable.
"As a result, OC Naturals Hand and Body Wash range comes housed in a modern shade of bottle green that's stylish and sustainable."
Elise says there are plenty of easy switches Aussies can make at home to reduce their impact on the environment, but getting the whole family involved is key.
Start the recycling discussion early with kids
"Teaching our children about recycling from an early age will help to ensure future generations make sustainable decisions. It also creates a stepping stone to raising awareness and driving change for environmental impacts on a larger scale.
"There are many different ways you can start the discussion at home, but creating activities for children is a great way to make recycling education a bit more engaging.
"Some great activities you can do together include making a recycling chart with images of what can or can't be recycled, water play to show the different materials that can end up in our water systems or you can even create a 'craft bin' of recycled materials that can be repurposed for arts and crafts."
Rinse out your bottles before recycling
"Rinsing off food scraps or the remaining excess of products like hand wash, lotions and dishwashing liquid, before placing it in the recycling bin is really important. Additionally, packaging should also be dry before popping it into the recycling bin.
"If it isn't, there's a chance it might not get recycled properly and it can potentially ruin the integrity of other recyclable materials like cardboard and paper."
Check local recycling capabilities
"Familiarising yourself with what items can and can't be recycled is important, as not all councils have the same recycling capabilities.
"Every council should have information online or you can always call them too. It's a simple step but together it helps to make a monumental impact.
"This can be made into a fun research activity by comparing the different recycling capabilities of different areas and it also serves as a reminder to check before putting things in the bin at other people's homes."
Give children special recycling tasks around the home
"If your children are a bit older, giving them individual recycling jobs around the house is a great way of teaching them about the family's environmental responsibility.
"Some easy recycling chores include putting someone in charge of remembering the reusable shopping bags when going to the shops, sorting or checking the recycling bin every week or being in charge of the kitchen compost."