Media kindly brought to you by the Label Kingdom
Kids are expensive. No sooner have you bought them something and they are starting to grow out of it. Even worse when they accidentally loose or leave items, and you have to purchase them again, it can definitely take a hit to the back pocket.
A recent study published by the Australian Institute of Family Studies showed that the minimum cost of raising one child ranges from $140 to $170 a week. The research was carried out by the UNSW Social Policy Research Centre using a 'budget standards' approach to estimate the cost of children's food, clothing and footwear, health, personal care, school expenses and general living costs.
Naturally, the costs of raising children increases as they grow older. Based on an average family income of $,1160 per week it costs an average of $85 for 0-4-year-olds (not taking childcare costs into consideration) $132 for 5 to 9-year-olds and $153 for 10-14-year-olds.
In short, when we purchase items for children, we don't want to replace them because they have been lost or confused with another child's belongings, life is expensive enough.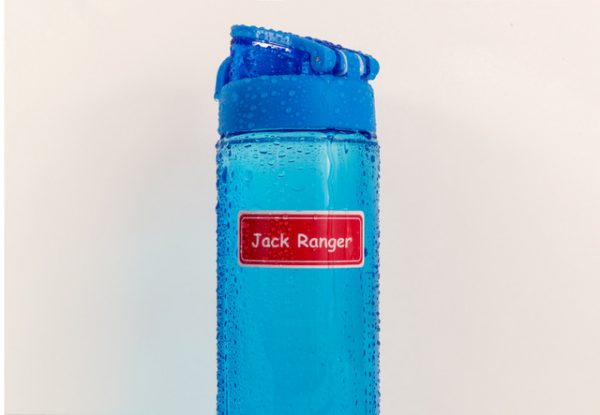 Personalised labels are a great way to ensure items such as school supplies, lunch boxes, water bottles, school uniforms and school bags are easily identifiable to children and are less likely need to be replaced.
Should you have a child in a long daycare centre, kindergarten/preschool they are most likely going to be too young to recognise and read their name; however, they can identify their belongings via pictures and images. Personalised name labels can be customised with fun visual designs to assist with young children, and their educators, to identify their belongings and to confuse them with another or avoid losing them altogether.
When primary or secondary aged children return back to school, they are no doubt excited to see their friends, anxious with a new teacher, classroom location and classmates. Personal belongings can easily go a miss as their concentration is being pulled in different directions. Personalised labels can give parents peace of mind knowing that items you have spent your hard-earned money on will quickly return back to you should they find their way out your children's hands.
A lot of parents, however, purchase personalised labels only to find their money to be washed down the drain as the adhesive does't last. How incredibly frustrating is that!
Good quality labels don't need to be expensive, you need to know where to find the right ones. The Label Kingdom offer superior quality and great value for money. They are designed to keep children's clothes, school uniforms, lunch boxes, drink bottles and personal belongings safe and like a boomerang return right back to you.
Label Kingdom labels are 100% Waterproof Stick-on & Iron on labels, Dishwasher, Microwave and Freezer Safe & Kid Tough. This means their personalised name labels will last through the laundry and stay stuck- just what you need.
You can put their name on everything, and it will stay for the entire school year.
Preparing for Back To School can be a busy and stressful time. The benefit to parents is that you won't waste any time looking around, order yours here today!
They offer a 100% Satisfaction Guaranteed Or Your Money Back.
Choose from a wide variety of eye-catching colours and custom designs you can co-create with your children.
Welcome 2020 with stickers and personalised labels you know will last the entire school year.
If you have had a poor experience with another label company, be sure to give them a go. They are renown to offer fantastic customer service and talk the time to help.
Check out their other product lines and customer reviews.
https://www.labelkingdom.com.au/testimonials
https://www.labelkingdom.com.au/kids
You may also like to read:
Your Guide to Back to School Organisation