Have you ever found it hard to choose which of your children's drawings to keep?
When you feel stuck you could sort your children's artwork into one of four piles:
one for display

one for storage

one to give away

one for the trash
but even then it can be difficult to know which drawings should go into which pile.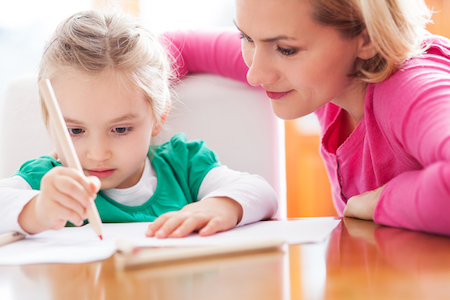 We've put together some tips, for next time you feel stuck, that will help you to help interpret their drawings and to understand a little about what they were thinking and trying to communicate.
When you understand these indicators a little more it may help you choose and arrive at a decision a little easier.
How to Tell What Emotions The Drawings Reveal.
There's a multitude of emotions that can be interpreted from children's drawings. A good place to start is to ask your children to explain what the drawings mean.
Below are a few examples that researchers have found that might display what a child is really feeling.
Shy child: Short figures, no nose or mouth, tiny figures and arms close to the body
Insecure child: Monstrous figures, tiny heads, no hands, and slanted figures
Anxious child: Clouds, rain, flying birds, no eyes on the figures
Impulsive child: Big figures, no necks, and asymmetry of limbs.
Angry child: Big hands and teeth, long arms, crossed eyes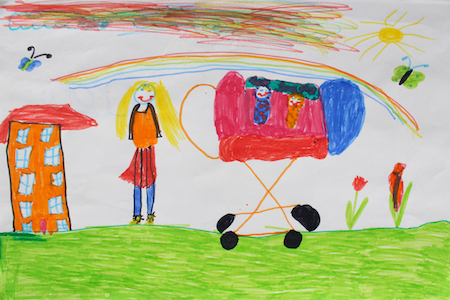 The significance of colours
Yellow also demonstrates intelligence and a sunny nature.
Green is the colour of those who like to be different, like space, and are artistic and intelligent.
Pink shows a need for love and appreciation and is favoured by girls
Red is the colour of excitement, may be used especially by children to don't want to miss out on anything, and is one of the most popular colours for children to use.
Blue is popular with children who have a caring nature and enjoy the company.
Black and purple suggest dominance and can be favoured by a child who is relatively demanding. 
Here's a breakdown of the 3  Drawing Stages, Scribbling, Pre-Schematic, and Schematic categorised by age range:
At this age, the drawings are simply marks on a page and don't display any truth or realism. You may be able to see certain shapes of people, pets or a house. For the children's drawings that you can see clear shapes this type of picture it is known as "fortuitous realism."
Pre-Schematic

 

(4-7 years)
This is an exciting age as the children try to duplicate and reproduce things they see with their eyes. This could be as simple as cars, trees, houses, people through stick figures and pets.  You will find at this stage the drawings don't have any realistic details however at the end of this age phase (around age 6 to 7 years) they begin grouping objects together better for example such as clothes on the stick figures and or flowers in front of a house.
By now you start to see construction, composition and clearer methodology in their drawings. For example, a picture of a park might include swings, slides, trees and people walking their dogs, etc. They may also add in symbols and words that would add additional information to better explain the drawing. Drawings of people will have more details, possibly curly red hair. This demonstrates the use of original viewpoints and much more depth and realism.
Did you know there's a new way to keepsake your child's creativity and that you can transform your children's drawing into timeless memories is to have them made into wearable art objects? Yep, you heard me, your children's drawings can be made into a piece of jewellery.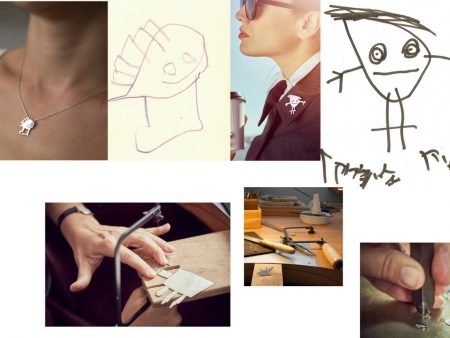 Tasarim Takarim transform your children's drawings into stunning handmade silver, wearable jewellery as a timeless, precious memory.
We are thrilled to partner with Tasarım Takarım who have been featured on The Huffington Post,  O, The Oprah Magazine, Marie Claire, Bored Panda, Colossal and now Kiddipedia
You might also like to read: