Music plays such an important role in everyone's life. It can stir up emotions, help people to heal, educate people and take people back to a time and a place. This is why finding a children's group that appeals to the whole family is so important.
We are extremely lucky to have so many amazing children's performers in Australia and below are my 5 top favourite groups that the whole family can enjoy.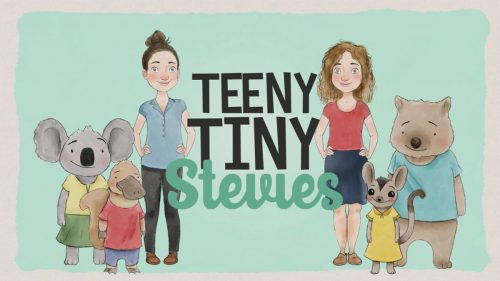 The Teeny Tiny Stevies
The Teeny Tiny Stevies was formed by sisters Byll and Beth from their grown up folk-pop band The Little Stevies. After writing music to encourage Byll's three year old to use the toilet, the group was formed as a side project and has since produced two albums including loads of songs with social messages such as my favourite, 'Boss of my own body' which teaches children about body consent and empowerment and 'Boy or girl colour' which is a song educating children, (and most likely loads of adults) that colours are not gender based. They have also published several books such as 'Family' which is a beautifully illustrated book embracing differences in families and celebrates love in the most inclusive way. The Teeny Tiny Stevies have the most stunning harmonies which blend in a way that only sisters can probably achieve, and their tunes are so catchy. You would think the most exciting thing about The Teeny Tiny Stevies is that their videos are being played on ABC4Kids along side Bluey but what I love most about The Teeny Tiny Stevies is Byll's stories on Instagram. Her sarcasm is truly wonderful and her interpretive dance moves are simply marvellous.
The Teeny Tiny Stevies are in the process of writing another cool album and will be announcing some new tour dates in the new year. Check out their YouTube channel and stayed tuned for more exciting things to come. https://www.youtube.com/channel/UCHHUKYSkr9n9UPtXe0jCR_A
The Mik Maks
The Mik Maks are a down to earth children's group which is made up of brothers Al and Joel and their fuzzy friend Drums the panda.
I had the pleasure of discovering these guys a couple of years ago and was able to see them in concert last year and they were fantastic. Their performances are high energy, child focused and loads of fun whilst having a touch of rock to also appeal to adults.
What makes the Mik Maks even more likable, (if that is even humanly possible) is that when I arrived at the venue for their concert, I was greeted by Joel who took my ticket and then the entire group came out at the end of the concert for a meet and greet. It's little touches like this that made me fall in love with these guys.
If you haven't already heard their music, get on board. You can find it in all good online music stores or on their YouTube channel which includes many fun filled songs like my absolute favourite 'The Belly Button Song.'
https://www.youtube.com/channel/UC66KzYUMWmN4PralND7cgAA
The Mik Maks were awarded 'Best Live kids act' at the What's on 4 Kids Awards in Brisbane last year and this is a big call but they seriously have the potential to become as big as The Wiggles…there, I said it, these guys truly rock.
The Mik Maks are constantly churning out new music videos on their YouTube channel which is refreshing for their over 600,000 YouTube subscribers when their children want to watch them over and over.  They are also currently on tour and have a new album set to launch this month. There's never a dull moment for this talented family.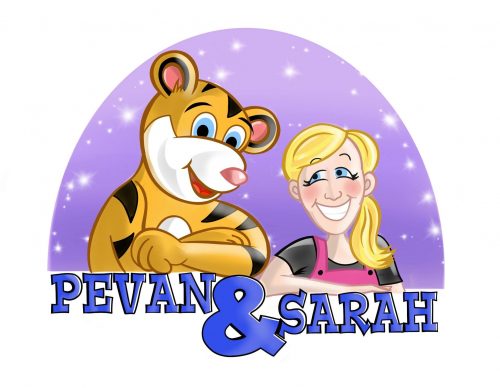 Pevan and Sarah
Pevan and Sarah are Teacher's who have created a quirky music duo to help to guide children with literacy, numeracy and positive guidance messages through their music and fun to watch videos on their YouTube channel.
https://www.youtube.com/channel/UC8VyjeNlE1QbyQ7WWyUevHw
They are a massive hit in my house with my 6 year old loving 'The Alphabet Jam' series, my 3 year old loving 'The Tidy Up Song' and my 9 year old loving  'Funny Face Time' series.
Recently, Pevan and Sarah teamed up with Taryn Brumfitt from Body Image Movement to write their latest single called 'Embrace.' It was released last month and went to no.1 on iTunes, taking out 'Baby Shark' which is no easy task. It's a song to encourage positive body image in children and the proceeds are being donated to the making of Taryn's new documentary 'Embrace Kids' which will educate children on body positivity https://ABCMusic.lnk.to/Embrace
Their third album 'Be Kind' was released by ABC Music in August. The album's main theme is kindness to others and yourself and includes loads of tracks about patience, friendship, resilience and self care.
The thing I love about Pevan and Sarah's music is that they tackle all sorts of musical genres and although they touch on some quite serious and important topics, they have a knack for making everything fun.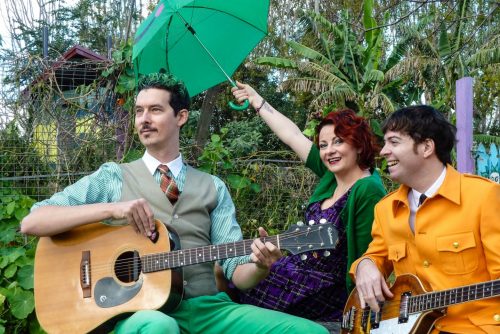 The Vegetable Plot
The Vegetable Plot is a talented group of musicians who help children to love vegies and live a sustainable life through the power of music and puns.
The group consists of Sir Paul McCarrotney, Aspara Gus and Ru Barb and their songs are puntastic.
I was lucky enough to catch their show at Scienceworks during their trip to Melbourne earlier this year and they had 100's of children up on their feet, including the most magnificent conga line.
Their music is a perfect mix of bluegrass, jazz, Dixieland, ragtime, folk, pop rock, funk and everything in between.
Each song has a different feel which is often performed in different character voices and includes well thought-out sound effects which complement each songs story perfectly.
Listening to their music is like going on an adventure with a constant smile on your face.
I just love Sweet corn from their latest album 'The Vegetable Plot season 2,' which is available to purchase from their website www.thevegetableplot.com.au and also available on iTunes and their award-winning Spanish Onion video, it's sure to make you smile. https://www.youtube.com/watch?v=vPLBLzL4sAQ
The Vegetable Plot will be performing as a part of the children's program at the up and coming Queenscliff festival in a stellar line up alongside The Mik Maks, Justine Clarke and Tip Toe giants.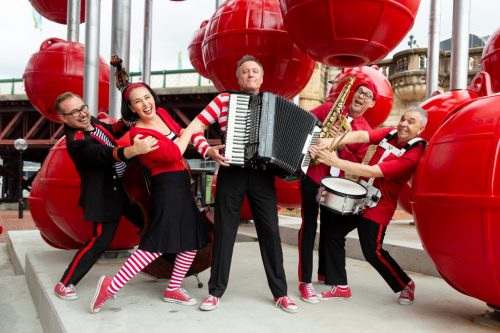 Lah Lah's Big Live Band
Lah Lah's Big Live Band has been around for over a decade and they are still just as amazing as they were back then.

The band consists of members Tom Tom on drums/percussion/backing vocals, Squeezy Sneezy on piano accordion/keyboards, Lah-Lah on vocals, Buzz as the Band Leader and player of Lola Double Bass and Mr Saxophone on tenor and soprano saxophones/clarinet/flute.

What I love most about the group is that they are real musicians who play real instruments and although they have enough fans to play in large venues, they play in smaller more intimate venues so that their concerts are up close and personal. I also love that they do a meet and greets with the audience members after every show and allow the children to explore and play their instruments. Their successful series Lah-Lah's Adventures has aired on ABC kids since 2015 which includes live action and animation where the band is taken on an adventure each episode. They are currently working on a new series for ABC kids called 'Stripy Sock Club' where they will explore instruments from different cultures and experience even more adventures than ever before. They also have a YouTube channel filled with full episodes of Lah's Lah's adventures, oldschool children's classics and Lah Lah's originals. https://www.youtube.com/user/LahLahsBigLiveBand

Lah Lah's Big Live Band are currently on tour and I highly recommend taking your little music lovers along for a fun filled adventure with Lah Lah and the gang.

https://l.facebook.com/l.php?u=https%3A%2F%2Ftickets.lah-lah.com%2F%3Ffbclid%3DIwAR1Ak7N7OrrVdt2M36zHJJyvgemKpO0D_LzPp9h4sw5RPY4ULy25G7lZJJ4&h=AT1YP8wNso2m8tDvYE2KTmv2mrklqCCJzO4GwMHrfqr9Oj5L_flAM-EUOt79hUYVdk8t1uJJFQ7KCzMPKt4G6mUdPIE6xv1cN4_T-_lnf-hUhOO5ISB2wbq3An8muf_wqCY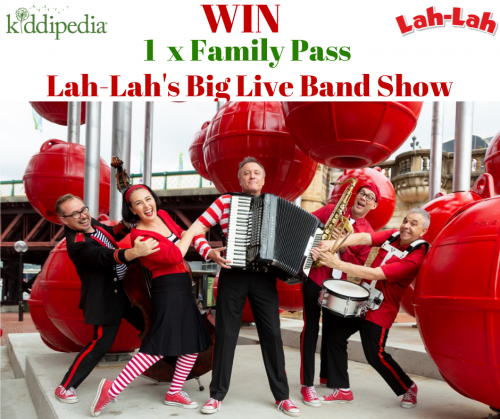 ***GIVEAWAY***
WIN 1 x Family VIP Pass to Lah-Lah's Big Live Band Show in Melbourne
To enter simply:
Leave a comment here with your answer :
"Why Do you think Music Important In Children's Development?"
For a Double Chance to enter TAG your friends in this post.
Receive one additional entry per TAG
Competition closes Wednesday 11th September AEST / Winner announced Thursday 12th September 2019.
Winners must also 'Like' the Kiddipedia Facebook Page.
Good luck!