Eli's cancer pushed his family to breaking point
Now they are sharing their story to help others
Peter and Jenny Northey's lives were turned upside-down when their son Eli was born in August 2019 unable to breathe. He was ventilated and put in a coma where his health rapidly deteriorated.
At five weeks old, Eli underwent a tracheostomy; a procedure to cut an opening into his windpipe to assist breathing. It was during this surgery that doctors found a lump on Eli's neck. Tragically, the lump was cancer, and Eli was diagnosed with neuroblastoma, an aggressive tumour that takes the lives of more children under five than any other cancer.
Eli began chemotherapy, which had devastating side effects. Over the next two years, his ill health and ongoing care took a huge toll on his family. His parents were barely sleeping and struggling to give their three other children the attention they desperately needed. They were at breaking point in 2020 when they reached out to Camp Quality for support.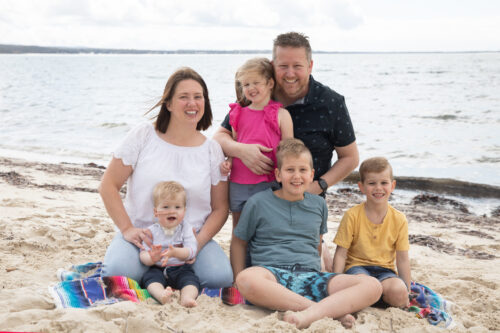 Peter says the support received was nothing short of lifechanging. He says,
"Camp Quality provided a week away at a retreat where two Camp Quality medical volunteers provided 24-hour care for Eli. Something as simple as family time was what brought the family back from breaking point."
Peter says, "Time spent together away from regular stress and worries with volunteers to help look after the kids makes a world of difference for families facing a cancer diagnosis. And we really want other families to have the same opportunity Camp Quality provided for us."
Camp Quality continues to support Eli's family. After waiting over a year due to COVID-19, Eli's family were finally able to attend a Camp Quality Family Camp in March 2021 where they made happy memories together and met families facing similar struggles.
Camp Quality needs help to continue support for Eli and other Aussie kids and families facing cancer. Sadly, many children and their families facing cancer are still on the waitlist to attend a Camp Quality Camp or Retreat.  Donate Now to give these kids a much-needed break from cancer.
To view on Youtube: